Event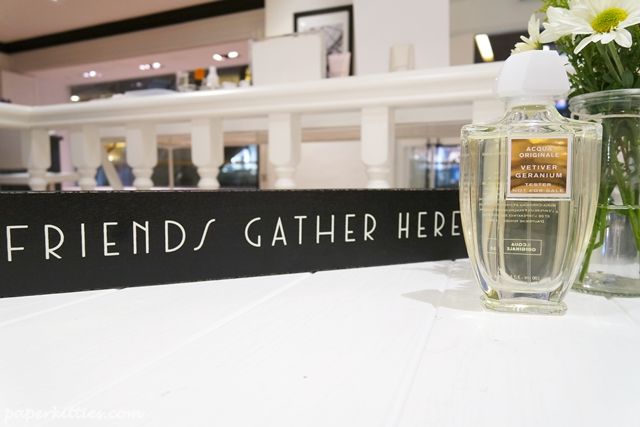 Remember the previous time I briefly talked about the
Escentials Fragrance Experience
whilst reviewing about
Annick Goutal's Petite Cherie
? Well, I'm back with more and today we will be mainly focusing on the woody scents (but not all) for this fall!
Vent de Folie by Annick Goutal
Fans of Annick Goutal will be no stranger to the newly launched
Vent de Folie
– think a free, bold and uncompromising young lady who embraces her life in a wind of craziness! At first whiff,
Vent de Folie
smells of crushed green leaves, you get to enjoy the sweet floral fragrance comprising of blood orange, geranium rosat, blackcurrant, raspberry before settling down to white musk and cedar bark. Like a soft, powdery veil on your skin, its composition is smooth with plenty of sparkle.
Essences Insensées by Diptyque
Inspire by the Mille Fleurs (thousand flowers), a new fragrance addition to Diptyque's Collection 34 line was born –
Essences Insensées
. Heavy with mimosa, it is a complex unisex scent that I grew to love with each sniff due to the perfectly understated green floral scent. A fleeting fragrance whose origins lie on the hillsides of Grasse,
Essences Insensées
starts out cool with a dash of pink pepper to mark a subtle spiciness. Followed by heliotrope and provence rose to enhance the naturalness of the mimosa flower before gradually softened by vanilla, maté and beeswax. Engraved with a pattern of leaves and flowers unquestionably reminiscent of mimosas, the bottle is the epitome of timeless classic and elegance!
Diptyque's Le Redouté scented candle
Moving on, here's featuring a candle version of the famous mysterious potpourri by Mrs. Merwin (whose recipe dates back to Elizabethan times),
Le Redouté
fills the air with the scent of flowers and spices… Cinnamon, clove and orange float on a warm breeze over a bed of roses, cedar and amber. It comes in a matt porcelain pot handmade with the "terre mêlée" (mixed clay) technique by the one and only unique glass maker left, meaning every piece is one of a kind. Truly a collector's item.
Comme des Garcons: Wisteria Hysteria & Wonderoud
Often nicknamed as "the garlic",
Wisteria Hysteria
is an Oriental Floral fragrance for women created by Stephen Jones for Comme des Garcons. Clean but seductive, familiar yet strange, futuristic and rococo.. it's hard to put a finger on this fragrance. Basically a fresh floral musky delicate and innocent feminine girly scent with a bright metallic presence, it is both a warm and cool scent all at once! Top notes are cloves, mate and carnation; middle notes are wisteria, rose and incense; base notes are musk, styrax, benzoin and amber.
Wonderoud, on the other hand, is a unisex Oriental Woody fragrance. It is simply the bolder and more sophisticated brother of Wonderwood, both holding cedar and synthetic sandalwood accords. Expressed through the most exquisite wood notes, Oud adds a powerful and rich character to the fragrance. If you like woody scent, this would be the one for you.
Creed Acqua Originale
Last but not least, Creed newest fragrance line
Acqua Originale
is inspired by Olivier Creed's travels and each fragrance represents his search for the world's finest ingredients. The
Acqua Originale
collection consist of:
– Iris Tuberose, a shimmering white floral scent that combines the romance of Tuscany and the exotic allure of India. Delicate iris (one of the most expensive raw materials gathered from the root), fresh galbanum, tender green violet leaf and orange open the scent. Indian tuberose (the finest in the world collected by moonlight), follows with ylang ylang and lily of the valley to create an unforgettable bouquet of scent. Sicilian orange blossom, musk and Mexican vanilla orchid create the sensual dry down of Iris Tubereuse. Floral with prominent tuberose, it is not too heavy and makes the perfect Summer fragrance. I really love this.
– Geranium Vetiver was inspired by the Island of Java, Olivier's favorite destination east of Bali. The accord brings to life Indonesian vetiver and pairs the sensual, soothing essence of geranium to create a vibrant juice. Handpicked crisp granny smith apple, bergamot and lemon make a luminous debut, while warm cinnamon and rose lead to hearty patchouli, cedar and relaxing amber. It really do remind me so much of Bali, a place my family used to travel on a yearly basis, this has become a very personal scent for me.. every whiff brings me back to the good old childhood memories spent in the paradise island. It was a tie for me between Iris Tuberose and Geranium Vetiver. Though oddly enough, I would prefer this as a home fragrance to a personal fragrance; the scent of this modern musky wood scent lingering in the air is how I've always imagine my future home to smell like (:
– Aberdeen Lavander is a tribute to Creed's early client and endearing patron, Her Majesty Queen Victoria, whose heart lay always in the Highlands of Scotland. Mysterious anise-flavored absinthe, rosemary, bergamot and lemon give way to a bouquet of annual lavender – flowering in the same year in which it is sown, sumptuous tuberose, iris and full rose. Dark, dry patchouli, smoky leather and vetiver complete the unique dry down. It's oriental, dry, spicy.. it smells of a masculine scent at first, until you get the beautiful subtle lavender and rosemary scent lingering on your skin. It is the kind of scent you would reach out for when you're in the mood to feel cozy, safe and sound; a must have for the fall/winter season, just like a comfortable cashmere sweater!
– Asian Green Tea opens with green, golden notes evoking the landscape of Malaysia, one of his favorite Eastern destinations. The fragrance bows with sparkling bergamot, mandarin and essential oil of lemon petitgrain, then uncovers a fragrant floral bouquet of violet, heliotrope, rose and sweet cassie blended with green tea. The finish is a warm melange of amber, sandalwood and musk. A citrus fragrance abounding in relaxing floral and tea aromas. Very soft, clean and refreshing, this beautifully composed fragrance is easily my favorite after the first two!
– Cedre Blanc captures the woodsy floral scents found in the untouched beauty of the Blue Ridge Mountains in Virginia adored by Olivier. Beginning with fragrant laurel, spicy cardamom and bitter galbanum, the scent reveals transparent floral notes of geranium, water lily and jasmine leaving a base of Virginian cedar, vetiver and sandalwood. A woody-floral fragrance that is very natural and crisp, it is an interesting scent that transport one into a cedar forest.
Hope I didn't overload you with perfume choices! If you're really intrigued but uncertain of what's best for you, it's always good to pop down to Escentials and give them a sniff.. no one truly knows what you are looking for but yourself, so just go in and pick out the most beautiful smell. Sniff the scent and see with your mind, eye the vision that it brings to your heart. If you want to wear that vision every day until the bottle is all used-up, then that's the perfume you should purchase. Fragrance, to me, is about wearing a perspective on your skin. The scent itself is the vehicle by which you can be reminded of those pictures that those notes have opened in your soul. x