Editorial Review
I've always wanted to dry a facial oil in hopes of making my dull complexion a little more radiant despite the initial fear that oil-based products will make my face icky. Thankfully, I finally have the excuse of giving it a go when Biotherm sent me its Blue Therapy Serum In Oil (Night Care) ♥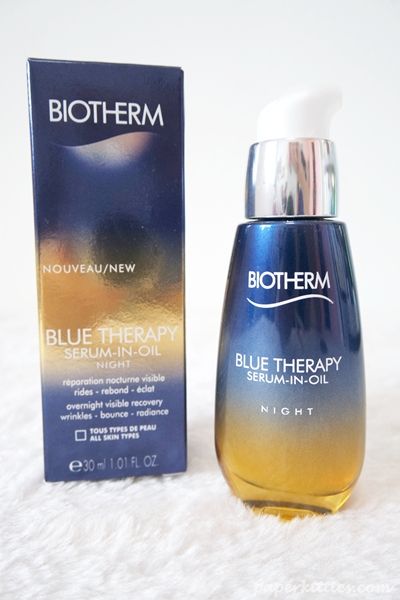 A new micro-algae oil that is suitable for all skin types, Biotherm Blue Therapy Serum In Oil is rich in a specific omega 3 fatty acid whose lipid composition so closely matches the skin; it also has the capacity to fuse with the skin's cellular membranes to repair fast and deep. Key ingredient is Ulkenia – extracted from micro algae and used in skincare for the first time, it is rich in anti-oxidants and you will be happy to know that the serum is completely paraben free!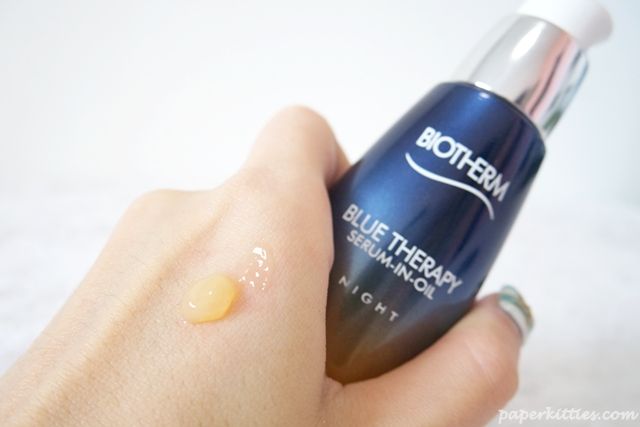 One pump of this jelly-like consistency breaks into a lightweight nourishing oil (pic below) upon spreading it out on my skin , I'm surprised it is not heavy nor sticky at all! When it is fully absorbed, my skin feels velvety smooth and moisturized. If you have dry or dehydrated skin, you can also layer your moisturizer on top of this. I find the Biotherm Blue Therapy Serum In Oil more than enough for my oily skin so I tend to skip that moisturizing step whenever I use this though.
Overall, I like that I do not wake up to grease all over my pillows nor breakouts after using Biotherm Blue Therapy Serum In Oil (as compared to horror facial oil reviews I've read). Instead, my skin looks much more radiant and plumped after few weeks of using it. It doesn't clogged my pores and is also one of the few Biotherm products where I actually really love the scent!
Biotherm Blue Therapy Serum-In-Oil retails at SGD109 and is available at all Biotherm counters.