Editorial Review

And I am back with another COLLECTION Cosmetics post! This time round, I was invited to COLLECTION Urbanista Makeup Party Bus that is currently making its rounds around Singapore on locations such as Cathay Cineleisure, Changi City Point, Downtown East and Fuji Xerox! You can find regular updates of the bus whereabouts on COLLECTION Cosmetics's FB page:
https://www.facebook.com/CollectionSG
Introducing COLLECTION Cosmetics 5 newest ranges of makeup must-haves are:
– Urbanista Lip Crayons (swatches below!)
– Does It All Mascara (5-in-1 benefits: curl, volumise, lengthen, condition and long-lasting)
– Luscious Lashes
– Work The Colour Eyebrow Kit
– Work The Colour Nail Polishes

Urbanista Lip Crayons
Swatches as per above lippies, c/o
Musicalhouses
arm, with eight rich hues of red to choose from, these lip crayons are very pigmented and easy to apply.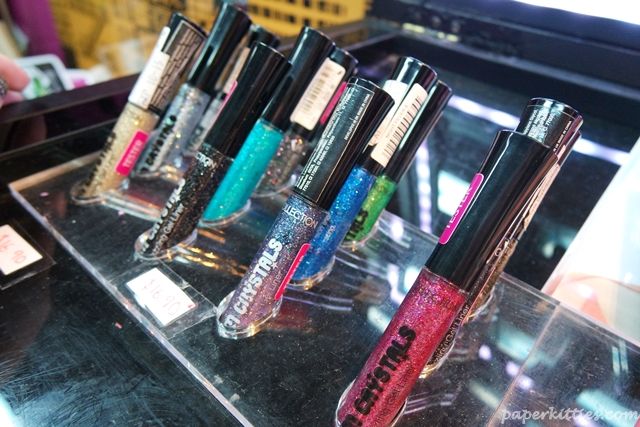 Glam Crystal Dazzling Gel Liners
This glitter liner first caught my eye when I saw how sparkly it was on Nad's pretty eyes! Tiny glitter particles suspended in a clear, quick-drying gel; it can be apply on its own, over a liner or even over your lashes. This has got to be my favorite of all!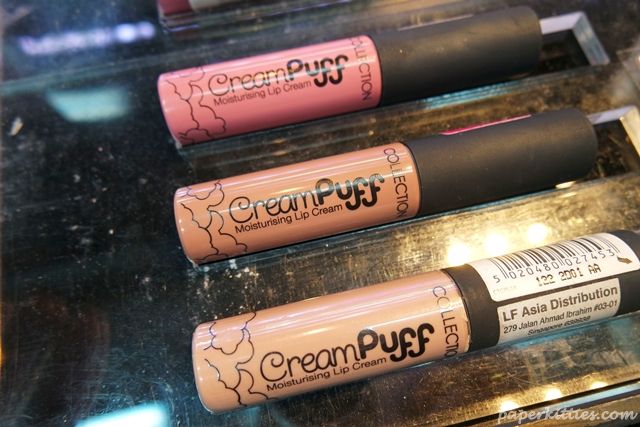 Cream Puff Lip Cream
Velvety soft, matte-finish lip cream enriched with an ultra moisturising and vitamin-rich formula. This creamy hues give your pout the perfect powdery finish. It's also good for layering lippies and to create the ombre lip look too~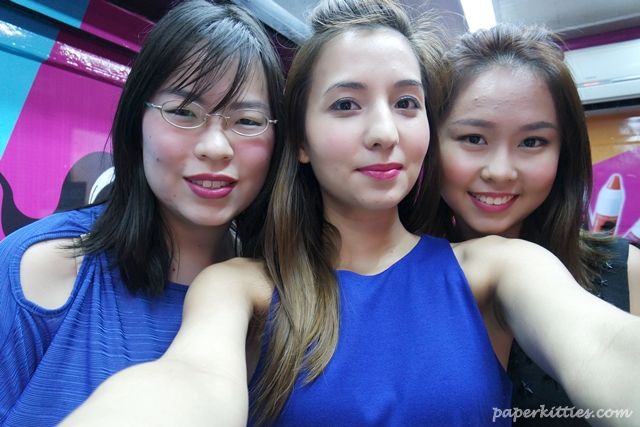 When you enter the COLLECTION Urbanista Makeup Party Bus, you will be given 4 Urbanisa Looks to choose: The Boss, The Diva, The Lady and The Street Chic. Being a little adventurous that day, we went for
The Diva
look completed with glittery eye liners and bright lippies. LOL. I think my two girls pull of strong lip colors better than I do!
What I brought home was a complete set of COLLECTION Cosmetics products to recreate
The Lady
look (oh yes, they provide face charts for a step by step makeup guide!) since it is more.. ME (: I did switch my bright lip crayons with
Musicalhouses
since I prefer pink shades btw.

The Lady Face Chart
Step 1: Start with the Ultimate Fix Compact Foundation to create a flawless base with a matte finish. Conceal any dark circles with the Lasting Perfection Concealer.
Step 2: Dust on the pink blusher with Shimmer Shades in Blushalicious on the cheeks.
Step 3: Draw a thick line on the eyelids with the Work The Colour Eyeshadow Pencil in Vintage Blush and blend out the edges using the fingers. Line the lower waterline with the Work The Colour Eyeshadow Pencil in Vanilla Sky to give the appearance of bigger eyes.
Step 4: Curl the upper lashes and apply generous coats of mascara using the Does It All Mascara. Achieve doll-like eyes with Luscious Lashes in Natural Length.
Step 5: Lightly fill in the brows and brush through with a brow brush for a softer look with the Work The Colour Eyebrow Kit.
Step 6: Mix the Urbanista Lip Crayon in Bella Fortuna and Work The Colour Eyeshadow Pencil in Vintage Blush on the back of the hand. Lightly dab the colour on the lips with fingers to give a soft tinge of pink.