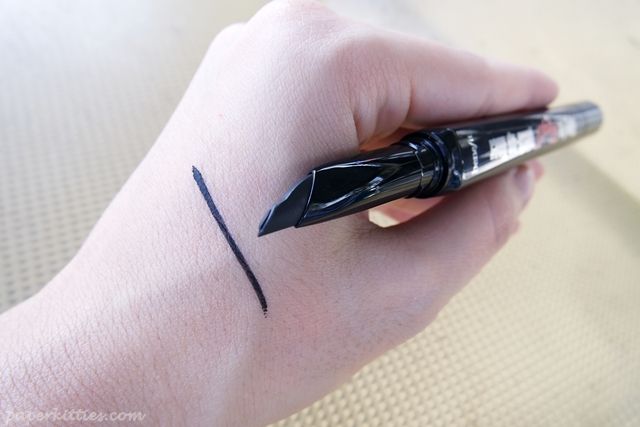 They're Real! Push Up Liner
I know there is a lot of hit and miss on the reviews when it comes to this particular eyeliner.. for me it is a hit on my left eye and a miss on my right. LOL. First up, this pitch black gel eyeliner is deeply pigmented and matte which makes it perfect for dramatic cat eyes. It stays on for ages and hardly smears. However, it can get quite messy if you accidentally have too much product at the tip, which can become a disaster when you apply it.
The flexible, calligraphic style nib of the pen is angled; so once you get the hang of it, it easily glides on and ends off with a lovely cat-eye flick. Although I got it right the first time on my left eye, it was alot harder on my right eye as I'm not used to drawing it with the right hand so the it came out pretty messy and jagged.
Basically, the trick is to not over-click the pen and pay attention to how much liner comes out of the applicator. That and a few more practice will make this a holy grail in most girls cosmetics pouch!
They're Real! Beyond Mascara
Compared to the former, this mascara is more preferred by many and it is not hard to understand why. It's very natural looking, separates my lashes beautifully, and still gives me volume and holds a curl. My boyfriend even asked if I was wearing falsies as he felt my lashes was unusually long when I first tried it out (:
They're Real! Remover
Claiming to be the best product strong enough to remove They're Real! series, I was surprised that this product stung my eyelids when I applied it. It has the the consistency of a lotion but without the stickiness, and does a perfect job in removing eye product when I tried it on my hand. However it stings so badly, I can never completely remove them on my eyes ): I reckon an oil-based eye remover will do the trick just fine in removing They're Real! eye makeup without paying extra only to experience so much discomfort.