It is the time of the year again where my skin is giving me severe acne problems – which to be honest, is the most depressing thing ever and really makes me lose my confidence every single time. I have been battling these acne issues since I was 17 and although it is no longer as drastic and frequent as before, it still upsets me alot. I tend to beat myself about it and wonder why I am so unfortunate to be cursed with this shit. Afterall, it is not just a typical pimple problem that can be easily popped and ignored… it is the dreadful ones with no heads and will eventually turn into nodular and cystic acne. I have previously blogged about "How to avoid Nodules" few years ago, and today I will be following up on the issue and some updated solutions to actually combat them and your typical acne problems.
1. Keep you face clean and moisturized
It goes without saying that washing your face twice daily to remove impurities, dead skin cells, and extra oil from your skin's surface is important – be it with or without acne. However, I tend to be more anal about the products I used when an acne breakout occurs as I don't wana agitate it nor unknowingly spread bacteria that eventually causes more acne to pop up.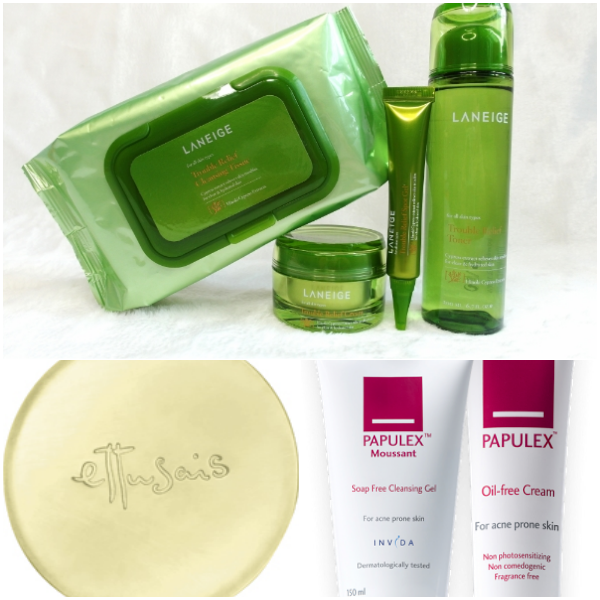 My picks:
Ettusais Acne Soap Bar, Laneige Trouble Relief Range, Papulex cleansing gel and oil free cream
During this period of time, I tend to use specific acne care range that I've grown to trust. Mild facial cleanser to prevent hurting the already inflamed skin and causing more irritation. Don't forget to moisturize your skin with oil-free products to minimize dryness and skin peeling! The exfoliating step is skipped entirely as well, which brings me to the next point…
2. Clay masks
They are a must-have for my oily/acne-prone skin as they not only soak up all traces of dirt and sebum, they can also help exfoliate dead skin cells and blackheads without friction. I tend to use them twice a week during a breakout, and once a week for normal skin days.
My picks:
Origins Out of Trouble, Kora Clay Purifying Mask, Glamglow Supermud
3. Keep you hands away from your face
That means no popping the zits that are begging to burst outta your face, avoid touching your face and avoid propping your cheek or chin on your hands. I know, easier said than done! But it is so important to avoid the risk of not only spreading bacteria, but also irritating the already inflamed facial skin.
4. Try an over-the-counter acne product
They may have ingredients such as benzoyl peroxide, salicylic acid, glycolic acid, or lactic acid, which curb bacteria and dry your skin. You need to be careful with this though, as some may be plain useless and causes scarring instead. I have used some popular over-the-counter acne brands during my younger days and quite frankly they suck real bad.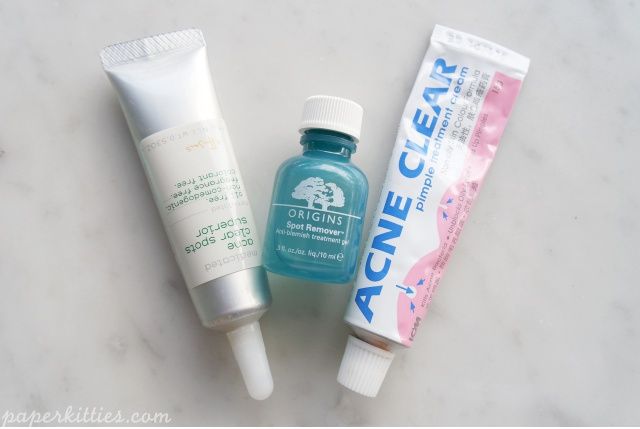 My picks:
Origin Spot Treatment, Acne Clear Cream, Ettusais Spot Gel
Tip: If you tend to have back acne, I would recommend you to try out Ettusais White Body Mist. Although it is said to lighten dark pimple scars while preventing pimples on your body, giving you clear and smooth skin… I realize that it is very good at combatting back acne as well. I used to have really bad back acne because my body couldn't adjust to Singapore's humid weather and nothing works until I tried out this mist. Not to mention how easy it is to use, just spray all over my cleanse back twice a day and I'm good to go. Back acne cleared out a month or two later, nowadays I only have a maximum of 2 per month.
5. Consult a doctor
I tend to put this option as my last resort since I only believe in the really good doctors and let's admit it, the fees rarely come cheap. After my previous Sculptra treatment with Dr Dylan Chau, I have grown really comfortable in placing my entire trust on him.. so who else but him to seek advise with my devastating acne woes. And well, one look from him was enough to confirm the severity of the situation (and prove that I am not being dramatic!).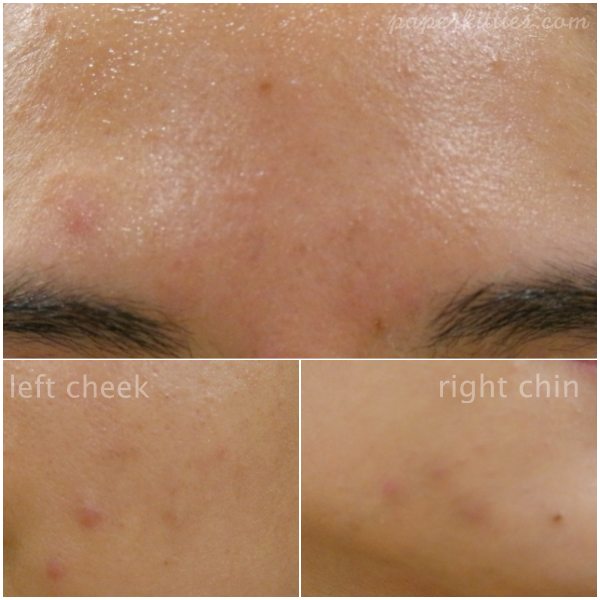 Dealing with nodular and cystic acne that I am really prone to having, Dr Chau suggested on the CO2 laser to burn off these bumps with no heads. A brief explanation on my much hated acne problem: Nodules are large, hard and painful lesions that form deep under the skin. Because they have no head, they tend to reoccur at the same spot again and again, or worse still.. spread to its surrounding areas. A vicious cycle that never ends, it may stop swelling and shrink to a little bump but it will always be there, like a volcano waiting to erupt.
I have heard about laser treatments for acne but have never really gone through them so this was definitely my first! After thoroughly cleansing my face and applying topical anaesthesia, the fractional CO2 laser treatment started with a laser beam directed towards my face heating the deeper layers of the skin. There was slight pain during the procedure but I find it very bearable, well anything for clear skin is bearable for me x: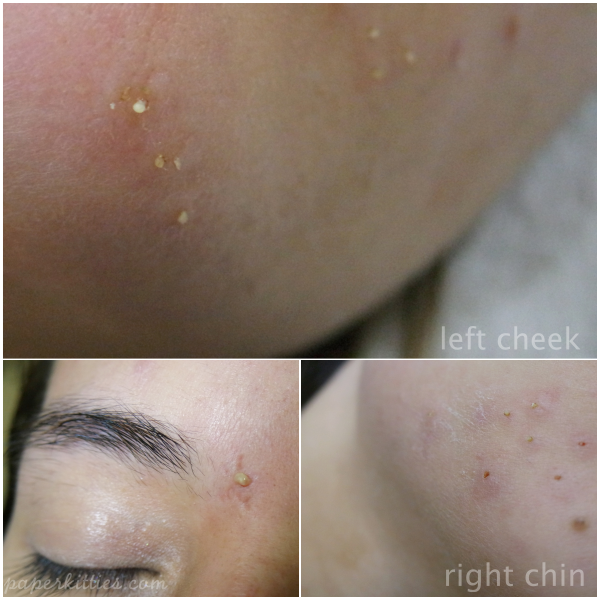 Sorry for the disgusting sight!
This was the gross amount of pus hidden way beneath my skin all these while. Anyone who tried squeezing nodular and cystic acne before (please don't ever do it, it only makes it worse!) will know that no amount of squeezing will ever get you much pus out, if any to begin with. Yet here I am, seeing them finally purged out of my skin is just so freaking satisfying. After the CO2 treatment, it is best advised to avoid sun exposure and makeup for at least 7 days and apply an ample amount of sun block and moisturizer to aid in optimum recovery. Depending on the amount of bumps to burn off, CO2 laser starts from $250 up at Celevenus.

Face red 90% from post CO2 laser, 10% post extraction
The next day, I tried Celevenus' most popular treatment choice: Acne Facial + BBL (Broadband Light) Package to clear up the less severe clogged pores clutter all over my bumpy face. My therapist of that day was Li Hong; she began with the usual facial cleansing before steaming my face and proceeding with extracting the clogged pores. Swiftly and almost painlessly, she concurred them without hesitation. I was surprised when she managed to spot a few old bumps and asked if I squeezed them previously.. which I shamefacedly tried to deny initially. How did she even know?! We finish off the facial treat with an acne treatment mask applied all over my face to calm my skin and prevent any possible inflammation.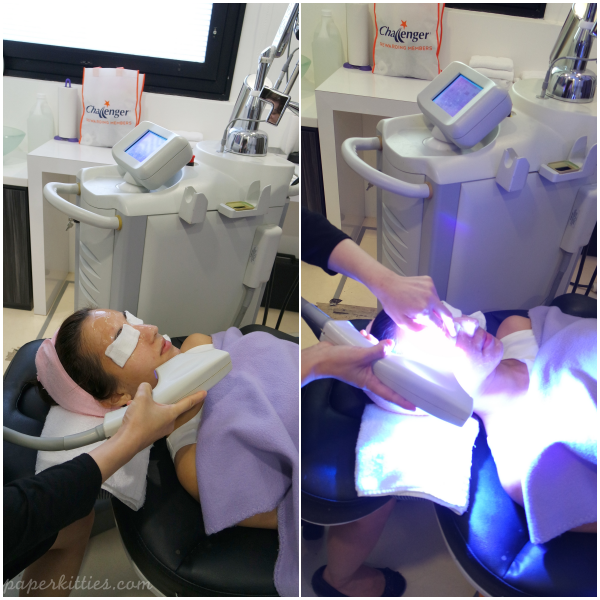 Next up was the BBL (Broadband Light) therapy to treat pigmentations such as pigmented leisons, vascular lesions, acne, skin firmness, uneven skin texture and unwanted hair. BBL utilizes a blue filter to selectively target the p-acnes bacteria that are partially responsible for acne in the skin. There is almost zero discomfort with minimal to no downtime and makeup can be applied immediately, if desired. As it was a day after my CO2 laser, I have to go about without makeup. The redness you are seeing is actually from the CO2 laser instead of the Acne Facial + BBL (Broadband Light). However, as the treated area will be sensitive to ultraviolet light, it is recommended to avoid direct sun exposure until completely healed.

To end off the entire Acne Facial + BBL (Broadband Light) Package, my therapist applied a thin layer of Jan Marini C-ESTA Face Serum Oil Control. Meant for oil-control & lightening of scars, the cream smells sooooo good I wish I could taste the sweetness of it.

CO2 laser starts from $250 up Acne Facial + BBL (Broadband Light) Package Price – $250 (ala carte) or $1050 (6 sessions). Personally, I reckon I will be going for a monthly treat with them from now on to maintain my skin and prevent my skin for becoming too clogged up.

Post Treatment
I was advised against applying makeup for at least a week or two to allow the lasered "holes" to heal without being clogged up instead. It was really hard initially, having to head to work with the fresh scars and not being able to conceal it. All I ended up applying each day was concealer on my undereyes and Celevenus sunblock SPF90 to give my skin the ultimate protection (texture was light and absorb really quickly, face remains matte throughout the day). I also took the liberty to lunch in for the entire one week to avoid the sun even though that was not entirely neccessary – I admit I am so vain, I will do anything to prevent it from becoming worse.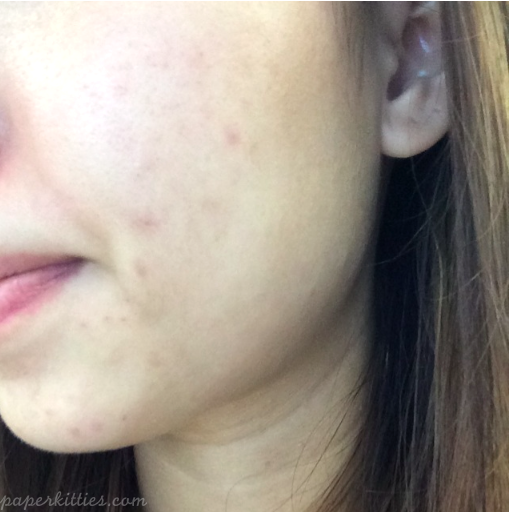 1 week later..
For maintenance wise, I was given the Papulex cleansing gel + Papulex oil free cream samples to try along with their inhouse acne treatment creams. Although the cleansing gel gave my face quite a taut feeling and had me rushing to moisturize my face soon after, I notice my skin stayed matte throughout the day.. making me rethink if I should change my current skincare regime… what do you think?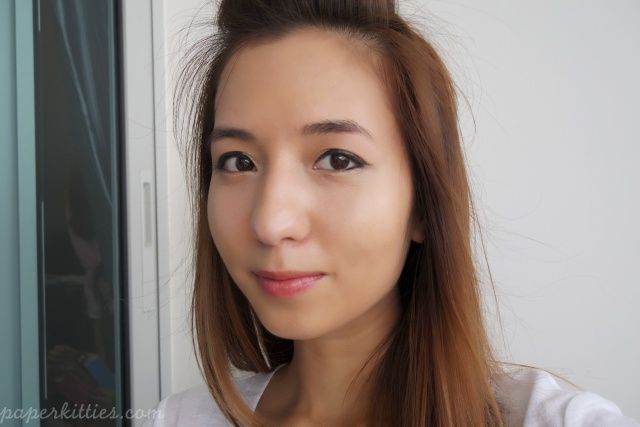 1 mth+ later with makeup, of course (:
Despite the long healing process from the CO2 laser, my skin is much better, clearer and less bumpy. It may take a slightly longer period of time for some of the scars to heal completely but at least the breakout is now well under control and I can resume back to my normal routine!

I hope you guys will find this useful and feel free to leave a comment should you have any enquiries or better still, tips to combat acne.. I would love to hear from you! (:


X