Editorial Review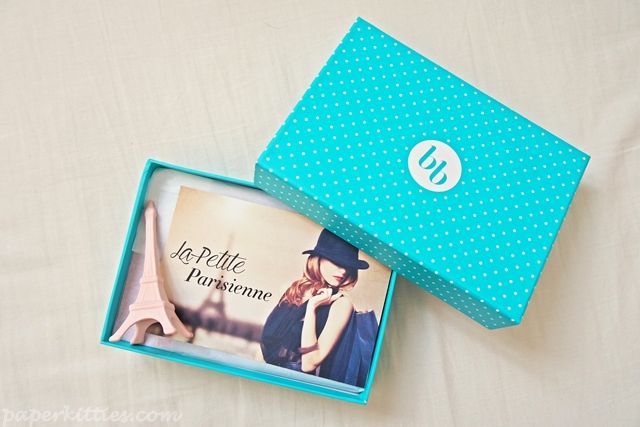 This month, Bellabox brought me on a mini beauty adventure to Paris all at the comfort of my own home! Don't you just love beauty boxes with different themes every month? Always something to anxiously anticipate and unveil every month ♥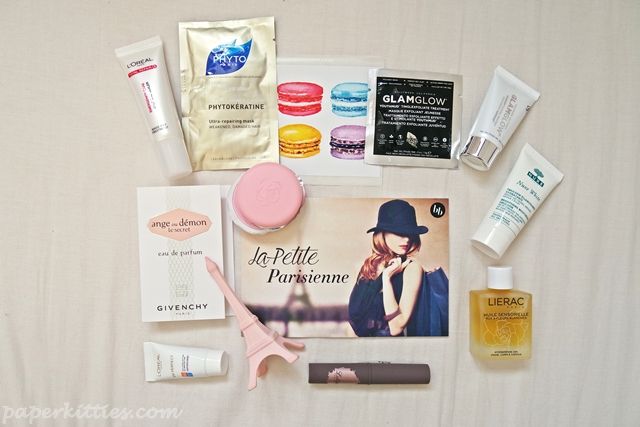 We'll begin with the first item that caught my eye:
Hanaka Hydro Rejuvenate Set by Beautify Me
looking like a perfect pair of macaron shells! Well I was quite confused initially if it was leave-in or a wash-off as there weren't much details to be found be it on the description or the web. Pop over to
Bellabox's Shop
and well thank goodness I did.. This specially curated skin-nourishing and rejuvenating facial masks aims to provide your skin with maximum hydration for a natural glow. Apply an even layer before washing it off with warm water after 20 minutes. My skin was pretty dry from all the acne treatments these days so I decided to indulge in this and am pleased to find my skin no longer as taut after my facial wash.
Lollipops Glossy Lipstick in Fatal Cocktail
is an ultra-nourishing lipstick with a shiny, shimmery finish. This coral shade with tiny specks of glitter feels really moisturizing on my lips and I appreciate how the color is not as loud as it seems. You will be pleased to note that this lippie is also paraben, preservative and lanoline free!
Next is the
Loreal Paris Total Repair 5 Emergency Care (Miracle Split End Sealer)
hair mask packed with active ingredient LAK1000 to address 5 signs of damaged hair making it look stronger, nourished, shinier, smoother and lesser split ends. It is a concentrated, 1 minute rinse-off treatment gel to be used once a week.
Loreal Paris UV Perfect Anti-Dullness UV Protector
, on the other hand, is a silky smooth sunscreen that offers lasting UV protection. Its lightweight texture absorbs quickly into the skin with no greasy afterfeel and offers sun-shielding properties of SPF50+ UVB,UVA PA+++.
An uplifting fruity floral scent for the ladies,
Givenchy Ange Ou Demon Le Secret EDP
is brilliantly refreshing and seduces with its unique "jasmine tea" theme. I'm not sure about you but there is always something about fragrances with a "tea" theme that always evokes my interest.. I bet everyone still can't get over Ion's signature "White Tea" scent eh? 😉
Nuxe White Brightening Moisturizing Emulsion
that brightens and moisturizes the skin, it contains a power-packed rize powder ingredient that absorbs excess sebum and mattifies skin without clogging your pores! Perfect for the ultra humid weather in Singapore these days, it's a miracle my make-up is hardly streaking these days!
Glamglow Super Mud Clearing Treatment
and
Glamglow Youth Mud Tinglexfoliate Treatment
should be no stranger to my blog/instagram readers. Highly raved by me and my favorite go-to masks before events, you can read them in thorough detail
here
.
Multi-purpose oil for the face, body and hair have been trending in the beauty world these days, thus I am glad that Bellabox has included
Lierac Sensory Oil with 3 Flowers
to add it to my collection 🙂 A silky smooth formula that nourishes while releasing a calming and relaxing scent, it absorbs quickly and doesn't leaves behind the oily feel that most people are fearful of. Skin is left feeling hydrated but not the least icky.
Last but not least, we are treated with a bonus sachet of
Phytokeratine Ultra-Repairing Mask
. A 95% natural botanical formulat to relieve unstructured hair from further damage, this ultra-repairing mask intensively repairs battle-damaged hair without a trip to the salon!
Thank you
Bellabox
for the lovely treat this month and the most kawaii macaron stickers ever! I've almost forgot how much I love sticker until I saw how pretty they were sitting on my envelopes.. hees ♥
X