Event
I believe it is no secret by now that skincare is one of my many indulgences. I can scrimp and save on clothes and exercise discipline on cosmetics, but I just can't help hoarding on different range of skincare to experiment on. Recently, Diptyque is after more space on my vanity table with their new facial skincare range – L'Art du Soin, which means the Art of Skincare.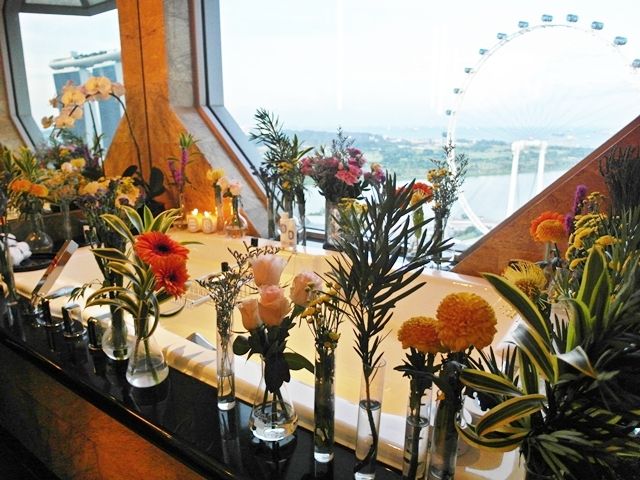 One of the first "niche" houses, Diptyque was founded in 1961 by three friends into design who opened their first boutique in boulevard Saint Germain in Paris. This French brand is now familiar to many for its gorgeous candles and simple-yet-complex fragrances, not to forget a body care line that was so popular it inspired them to give us a skincare line. I was lucky enough to get a personal introduction to L'Art du Soin at The Ritz Carlton – an intimate session with a gorgeous view ♥
To cut to the chase, this isn't a range that will target any of your specific skincare concerns. I like to nicknamed it as "Back to Basics", very simple to use with no crazy technologies/invention marketed. Simple but luxurious, Diptyque's L'art du Soin is a pampering treat to one's skin and could easily transport you to those once-in-a-blue-moon holiday spa experience. It is the type of skincare I would use every weekend – to remind myself to take a step back from my hectic schedules, to enjoy and indulge in the finer things in life.. all at the comfort of my own home.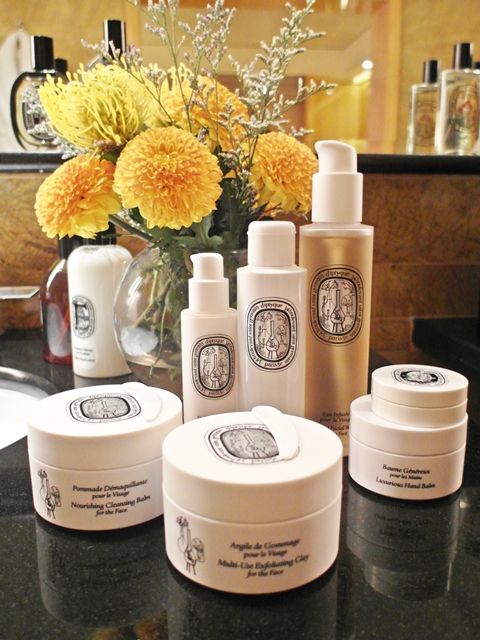 So let's begin with
Infused Facial Water for the Face (150 ml at S$85)
as seen on the back right hand corner. A multipurpose facial water enriched with Damask rose hydrosol and infused with nasturtium – to bring out your complexion's natural radiance – and a blend of nine traditional plants and flowers. It is also bursting with vitamins, minerals, and moisturizers skin needs while preparing your face for the next skincare steps it deserves. It can be used as a toner or combined with the other parts of the Diptyque line, I like how the lightweight watery texture gets easily absorbed into my skin. Very gentle yet mildly scented to give a relaxing aromatic splash on my skin.
Next up is my favourite product in the entire range:
Radiance Boosting Powder for the Face (40g at S$90)
. The fineness of the Radiance Boosting Powder inspired by Japanese rituals (think Fancl powder wash) blends the invigorating freshness of verbena with the smoothness of neroli. Upon contact with water, the powder is transformed into a delicate foam, which gently cleanses and gives a radiant shine. White clay restores minerals to the skin as it cleanses, and is infused with rose petal, jasmine and sweet orange blossom powders, which have softening, soothing properties. A cocktail of vitamins, ECA and trace minerals to revive dull, fatigued complexion. It lathers real easily yet it cleanses so gently on my skin. I find it great at getting rid of all the grime and dirt without leaving my skin feeling at all stressed or stripped; just the kinda occasional break my skin needs from all the harsh acne facial treatments I use daily.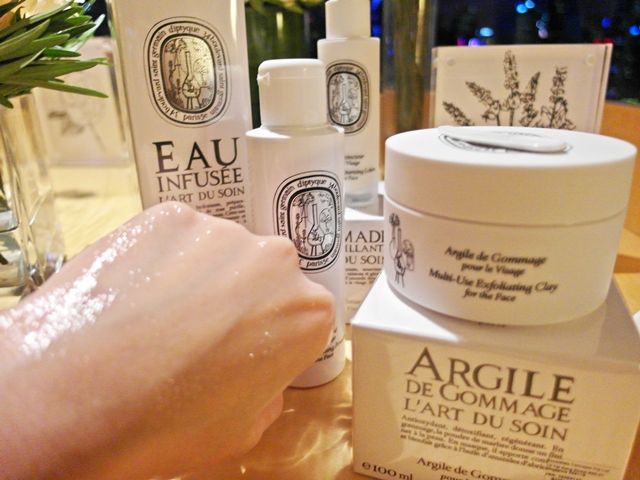 Nourishing Cleansing Balm for the Face (100g at S$103)
was a popular hit among the beauty bloggers present. If I am not wrong, cleansing balm is not quite known in Singapore and I wouldn't have known it either if not for my previous
BNT review on Verikos Deep Cleansing Oil Balm
. A balm with three-step cleansing action: The balm becomes an oil that removes makeup and impurities when gently massaged onto dry skin; then, once mixed with water, it becomes a lotion that can be wiped away with a cotton ball or damp washcloth. Softening oils – including sweet almond oil – blend with nourishing geranium, ylang-ylang, and mimosa waxes, leaving skin velvety soft. Pretty amazing hey? Well wait until you experience its capability in thoroughly removing your heavy makeup.. much better than the cleansing oils/lotions/milk I owned! Other than the price difference from
Verikos Deep Cleansing Oil Balm
, I would prefer
Diptyque Nourishing Cleansing Balm
mainly for its scent and hydrating properties that is fairly consistent throughout its skincare range.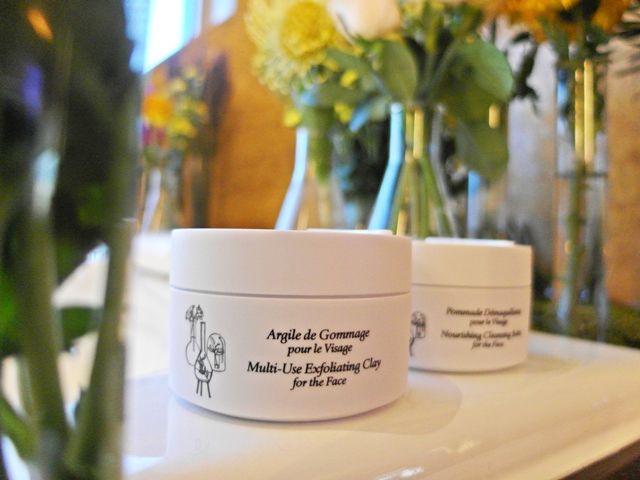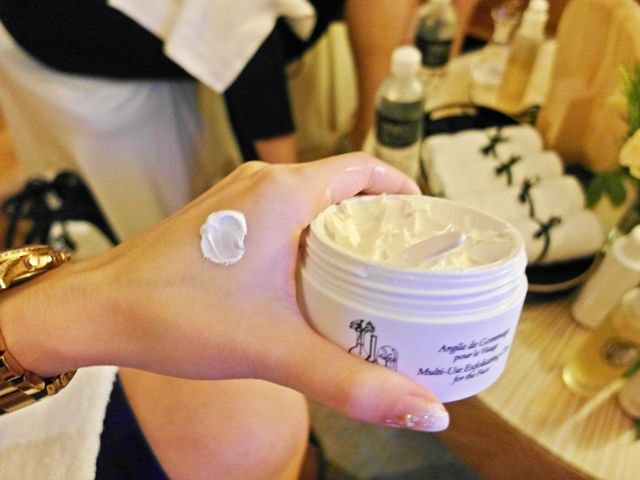 Next up is the 2-in-1 treatment
Multi-Use Exfoliating Clay for the Face (100ml at S$ 100)
. When used as a scrub, the marble powder, with re-mineralizing and exfoliating properties, gently removes dead skin cells; when used as a mask, the apricot kernel oil, vitamins, and trace minerals encourage skin regeneration. The scrub is fine and gentle on my skin and a little goes a long long way. It does an amazing job in drawing out the excess oil in my skin without ripping off my natural skin oil. After using this, my skin is left looking clean and glowy and my makeup glides on much easily too (: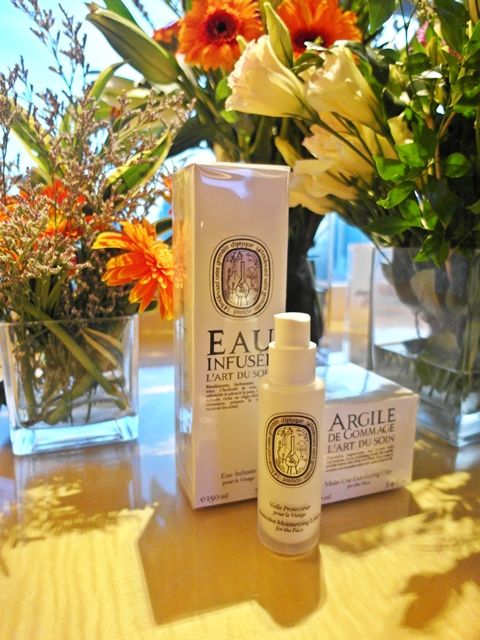 And we'll end off with one of the essential product in every skincare range..
Protective Moisturizing Lotion for the Face (50ml at S$103)
. Formulated with Damask rose hydrosol to refresh skin, and orange blossom extract (a powerful moisturizer),
Protective Moisturizing Lotion
is a fine, delicate emulsion infused with floral and grapevine root extracts. Rich in Omegas 3, 6, and 9, as well as vitamins and trace minerals to offer our skin with comfortable, round-the-clock protection (SPF 15), I find myself liking this day moisturizer far more than I thought I would. For a moisturizer with sunscreen, I was surprised to find out how lightweight the texture is. Although it takes awhile to be absorbed into my skin, it doesn't leaves a sticky residue or causes my makeup to streak. And need I talk about the long lasting scent that lingers on~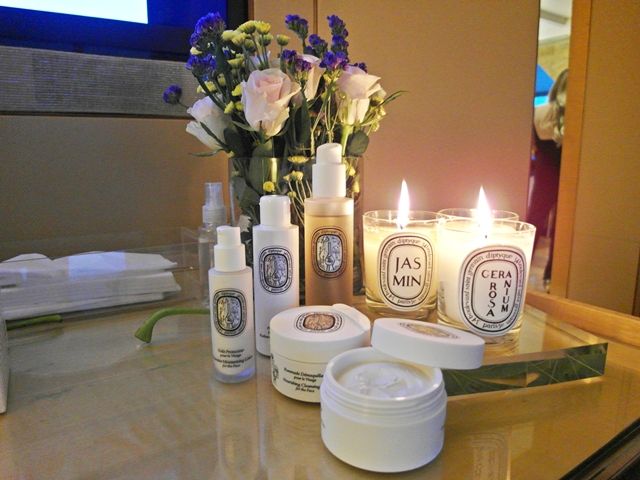 Personally, I love this entire skincare range to bits. It is not only gentle on the skin but also suitable for all skin types and both genders. Infuse with loads of minerals and a special composition of plant and flower infusions, a lot of thought and effort has gone into this seemingly simple skincare range to not only bring out skin's natural radiance, but also an overall experience to enhance one's well-being by appreciating the finer things in life. I can definitely foresee Diptyque L'art du Soin Skincare proudly standing on the vanity stand of my future bathroom, waiting for me to enjoy my weekly treat. Ah yes, one can only dream ♥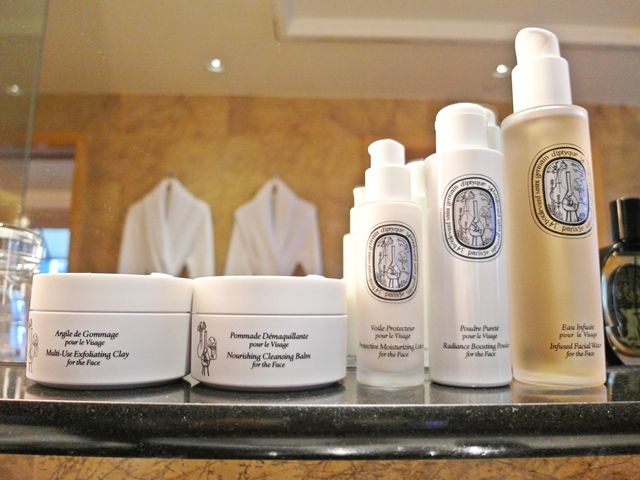 X