One particular area of concern was my dark eye circles, which had been the reason for me to apply concealer since I was 12! I have been battling this insecurity with dark eye circles since then and had invested in all sorts of concealers and eye creams in hope to get rid of them someday. But since it was inherited, nothing ever worked and it always make me feel so depressed that no matter how good my skin is, I can never be completely barefaced without makeup because my eyes look so tired thanks to this. One can only imagine how I hated my panda eyes all these while; the thicker the concealer, the better. Therefore, I felt blessed after being introduced to this treatment called Sculptra by by Dr Dylan Chau from Celevenus Wellness & Aesthetics Clinic, as it really helped me a lot in overcoming this problem!
What is Sculptra?
Sculptra is one of the latest and most revolutionary treatments in the realm of anti-aging treatments. Instead of achieving facial volume via the traditionally fillers, the latest trend is by Sculptra – natural collagen stimulation with l-poly-lactic acid. Sculptra, known as 'the liquid facelift', substantially increase the collagen of your skin to correct the folds, wrinkles and skin laxity as a consequence of aging. Resulting in a more natural look and feel as compared to fillers, and can potentially last twice as long.
The conventional method is to inject sculptra on certain part of your face to gradually restores the fullness of your facial contour and rid the saggy skin and wrinkles. But what you may not know is that Sculptra is also suitable for sunken temples, sunken & droopy cheeks, eye bags & dark eye circles caused by sunken tear troughs etc!
I have never ever done any form of medical aesthetics treatment in my life before and am totally clueless in this aspect. Lucky for me, Dr Chau has done the most number of cases of Sculptra procedure and Celevenus Wellness & Aesthetics Clinic is the no. 1 Sculptra user in Singapore. Being the most experienced practioner and pioneer in Sculptra procedure ever since its launch in Singapore in 2009, Dr Chau is also the trainer and Key Opinion Leader (KOL) for Sculptra. He knew what I needed before I even expressed my concerns to him. After listening to me voicing all my skin concerns during the consultation, he patiently explained to me on how Sculptra can be used to plump up my sunken temples, achieve a sharper V-Line chin and best of all… finally ease my eye bags & dark eye circles caused by sunken tear troughs. Instead of giving me fake high hopes, Dr Dylan Chau carefully explained that there will be some darkness at my undereye areas after the treatment due to my horrible veins and inevitable discolouration. But I was already sold by then.. bring it on please!
(Dr Dylan Chau also suggested another treatment for my #2 skin concern: enlarged pores and acne scars. That I will save it for another entry, so look out for that!)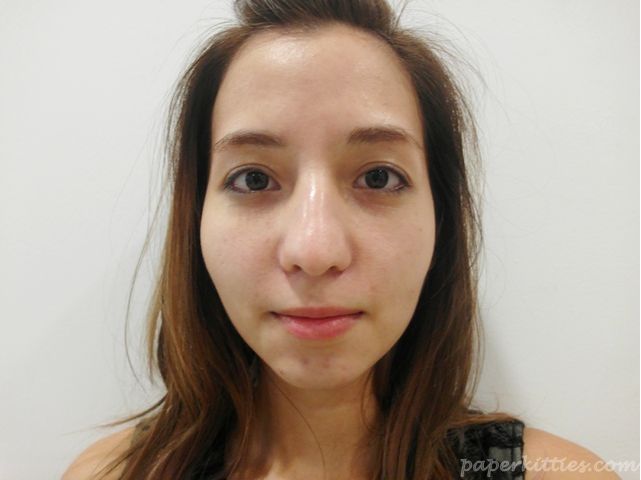 Fast forward to treatment day, I was greeted by dear Eunice for a quick facial wash before applying numbing cream on my face. My naked face and its flaws. Don't laugh at me ok, my face was quite numb by then so it is hard to manage my expression. LOL.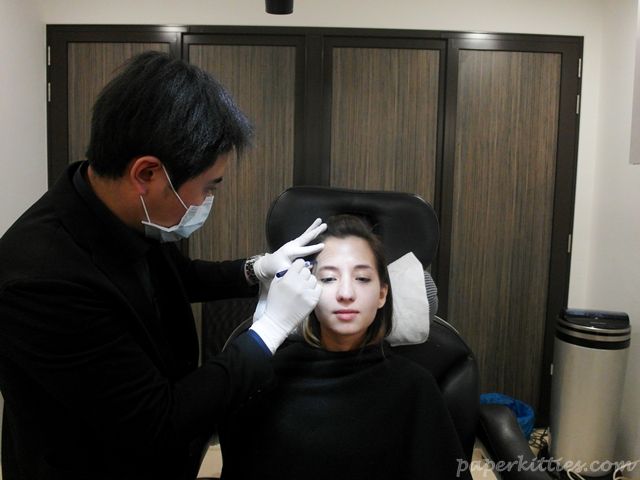 Markings drawn by Dr Dylan Chau were where I was going to be injected.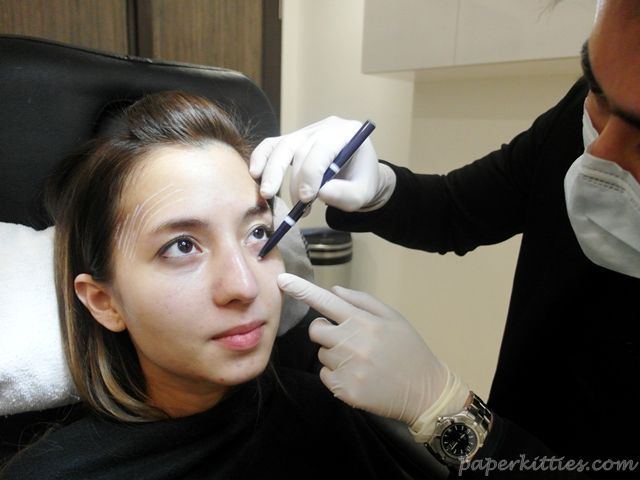 Dreadful panda eyes..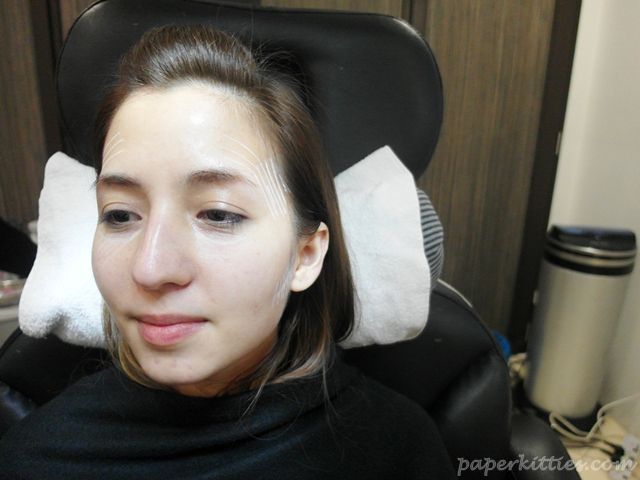 Basically my sunken temples, top eyebrow area, lower sunken cheek, eye bags & dark eye circles would be injected with Sculptra so that my face will look much more plump and fresh; instead of looking really tired and haggard all the time. I find Sculptra a very interesting experience as it has a cooling sensation within my skin when injected. Bimbotic me kept asking the doctor to wipe the water droplets off my skin only to realize it was coming from within. Lol. You'll be surprised to learn that out of the 4 treatment spots, my undereye (the part I dreaded most) hurt the least.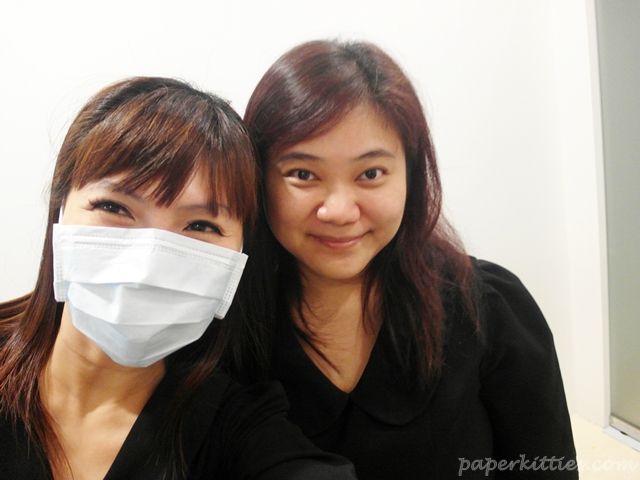 Friendliest nurses ever! Thank you for making the entire experience so much more bearable and joyful than I could ever expect (:
Sidetracking a little, I was very nervous and jittery upon entering the room because I am a needle-phobic! I know, very ironic coming from someone who has two tattoos and even removed one with only ice to numb it. Thankfully, the nurses and Dr Chau were super understanding and patient with regards to my fear by distracting me with lots of hilarious jokes and conversations which worked pretty well! Many a times I disrupted Dr Dylan Chau when I wasn't mentally prepared for the next injection yet not a single time did he get frustrated or annoyed by me, an amazing characteristic that I seriously lack. To top it off, I not only have a destress ball to squeeze, I was tightly squeezing the poor nurses hand whenever I am super nervous and yet they were all still very merry. *super touched* On hindsight, I will describe it as minimal discomfort after excluding the fear factor. I expected worse but it was bearable for someone who is so afraid of needles/injections – almost fainted for my blood test btw. LOL.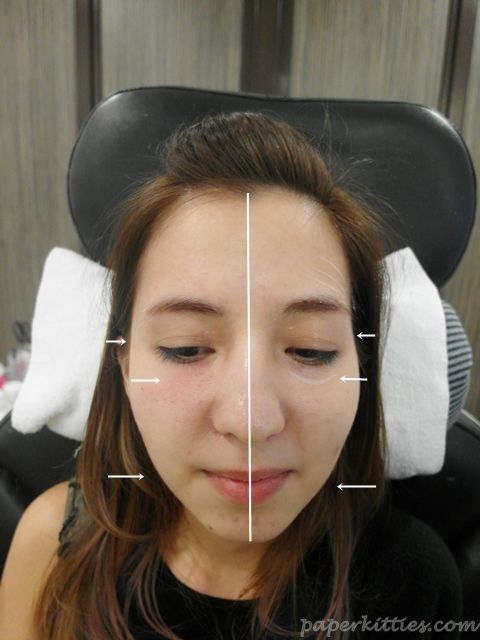 Left: After Sculptra, Right: Before Sculptra
As you can see from the above photo with half of my face done, it is easy to notice the difference from both sides. My left profile was done and looked much more even and the contour is smoother, giving an overall softer and more visible V-Line than before. You can't tell much difference from the undereye yet but oh my god, it was so worth it! No more sunken eyes, no more eye bags… the dark eye circles are still inevitable due to the veins but it is super easy to conceal now! I have reduced my usual 2-3 layers of concealer to just one (or even just a pat of BB Cushion) and I am good to go! 😀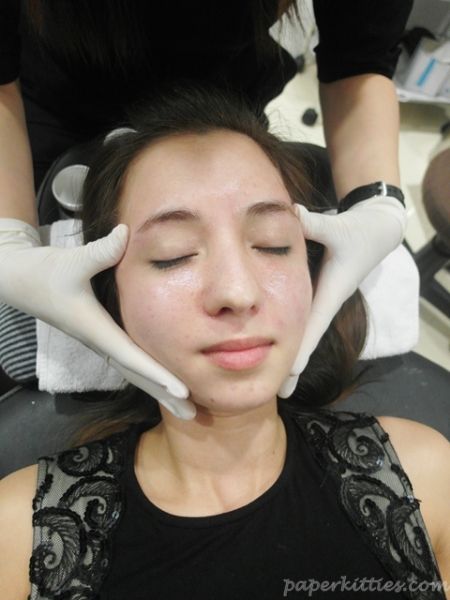 Facial massaging techniques to ease swelling and minimize bruises after the session
I am also very thankful to Dr Dylan for understanding my insecurities without judging me at all. For the longest time I had two brown sunken scars on my face after accidentally burning my face with an incense stick when I was really little. As I grow older, whitening products help tone it down to the point that nowadays it is not very visible, even when I tried to take a closeup picture. Regardless, it has been bugging me at how the scars never did go away. Dr Chau inject Sculptra into the two scars to help lift the depression so at least my face is more even and smoother! Just when I thought there is nothing else Dr Chau can do with Sculptra, he surprises me. You can spy with your little eye, the two redness on the right cheek above are where the dreadful scars are at.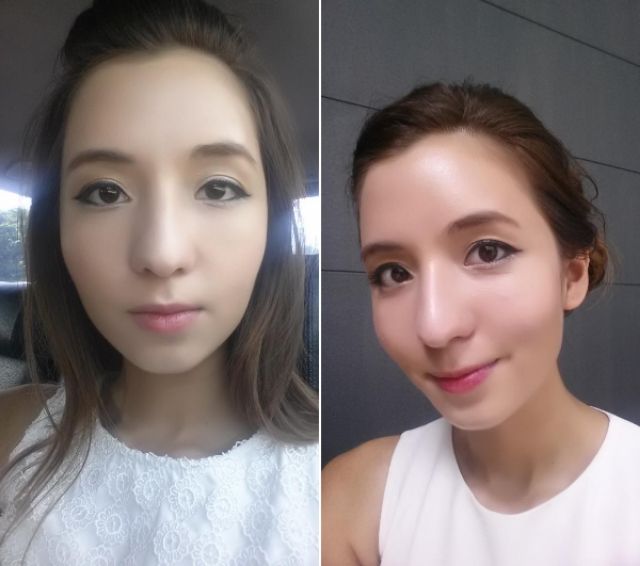 And the perks of it all? NO DOWNTIME! I went to an event right after it with makeup despite my slightly swollen face and my friend couldn't even tell 😀 Above was how I looked like one day after my sculptra treatment at a PHOTOSHOOT! Other than my face looking slightly more bloated than usual, it wasn't that obvious eh? In fact, I looked fresher and younger!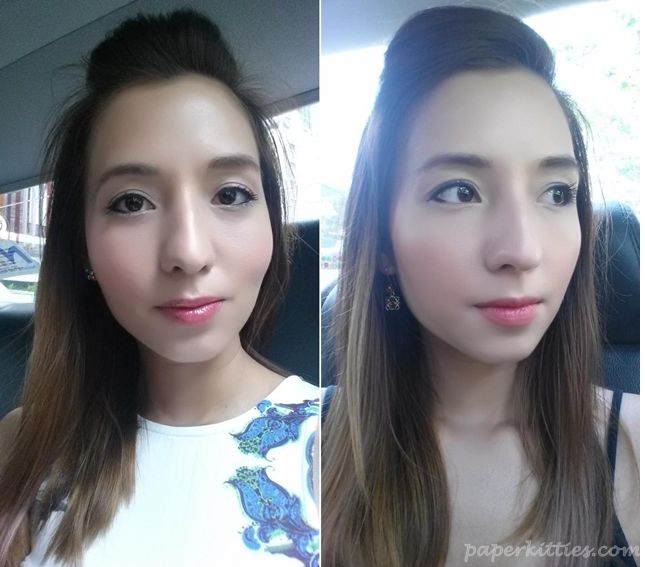 and here I am post-treatment, 1(L) and 2(R) weeks later!
I am very satisfied with how my face looks these days, much fuller and lifted as compared to before! And I kid you not when I say that the concealer used on my undereye above were half of my usual amount applied. Depending on one's severity and desired result of each individual, it is recommendable to complete n average of three treatment sessions over a few months in order to achieve the optimum result that can last potentially more than 2 years or 25 months.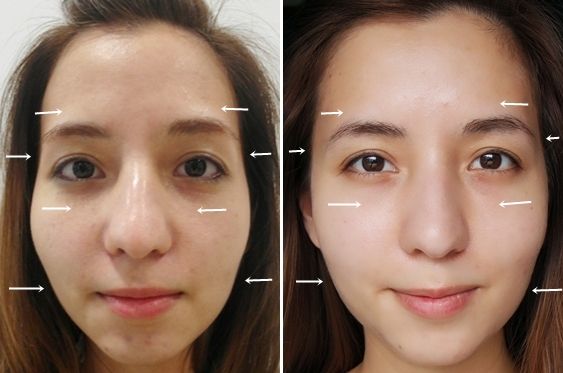 Barefaced. Before (L) and 2 weeks after (R) my Sculptra treatment
Other than the different lightning and acne breakouts, the visible differences are hard to miss and my entire face looks much more symmetrical than before. There were bruising over the period of 5 days (nothing my makeup can't cover), where I had to diligently massage my face 5 times a day for 5 minutes to reduce swelling and bruising.
If you're interested in Sculptra and many more Aesthetic treatments that Celevenus Wellness & Aesthetics Clinic has to offer, just give them a call and the friendly staff will answer all your queries. You can quote my name "ALENE" when making appointments too (:
Celevenus Wellness & Aesthetics
391B Orchard Road, #16-03/04 Ngee Ann City Tower B
Singapore 238874

6410 9621/6410 9622
beauty@celevenus.com.sg

X