It all begins with breakfast at a rather French-esque restaurant on the 7th floor of Ion. Funny how I have always been an avid shopaholic at Ion yet I've failed to notice this gem. Bécasse Bakery is a French inspired luxury brand, from Australia (Sydney to be specific), using only premium ingredients prepared by their internationally experienced chefs.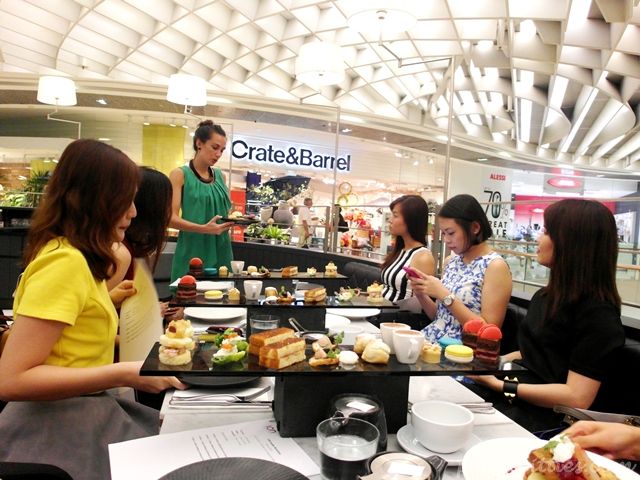 I was slightly late for the much awaited ION Insider workshop but was greeted by the most cheerful bunch of girls. We were treated to a huge variety of sumptuous breakfast spread, accompanied by Bécasse Bakery high tea set for easy nibbles. The tea selection ranges from the usual Chamomile, English breakfast and Peppermint to the slightly more exotic Chai, Forest berries and my favourite, French earl grey. I was still down with flu that particular morning so peppermint tea was choosen to keep the sniffles at bay. Enought rambling, I'll let the pictures do a better job in tempting you… And trust me when I say, they taste as good as they look!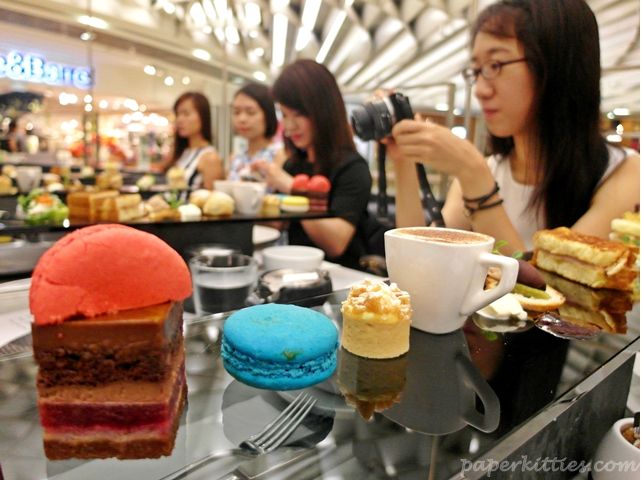 High tea Sweet:
– Raspberry and Chocolate feuilletine
– Banana tart with salted peanuts
– Scones served with jam + crème fraiche
– Salted caramel & coconut-pineapple Macarons
– Hazelnut cappuccino crème pot
High tea Savoury:
– Crab rillettes on baby lettuce
– Foie gras mousse toast
– Croque-monsieur
– King crab brioche sandwich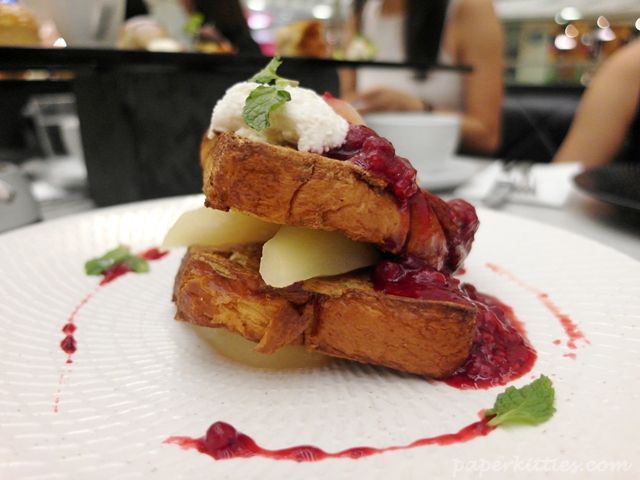 Mixed berry French toast, served with poached pear & fresh ricotta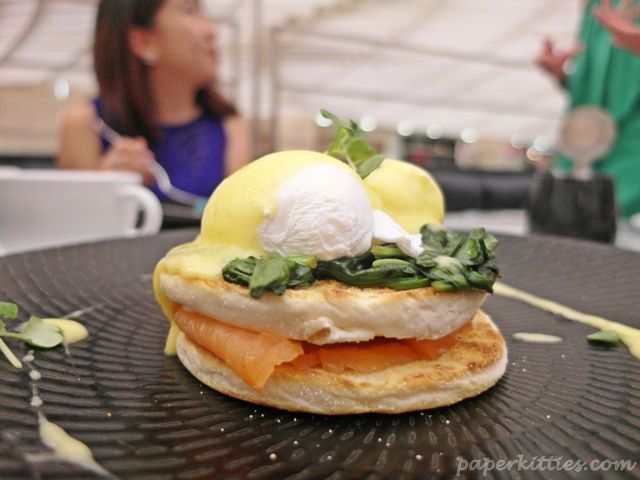 Egg royal, served with smoked salmon, baked spinach & Hollandaise sauce
Pulled chicken crepe, served with fresh spinach & wild mushrooms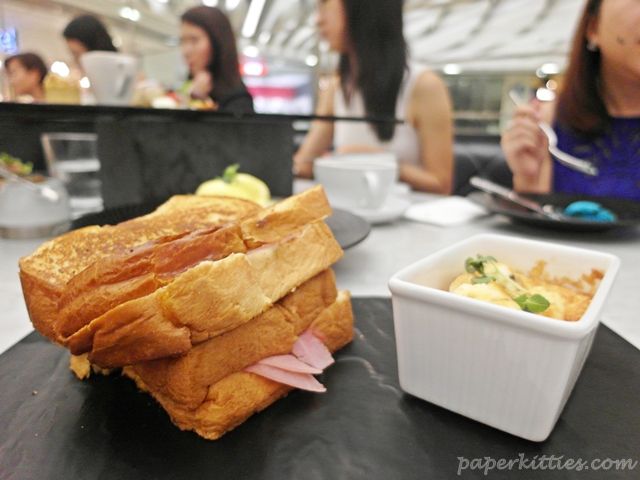 Croque Madame, on brioche bread served with truffle oil baked eggs
Bécasse Bakery
#04-27-32, ION Orchard, 2 Orchard Turn
Singapore 238801
+65 6884 5365
✿✿✿
After filling up our tummies, we ventured onwards to a morning of beauty treats at Basement 2 of Ion. I'm not sure about you but this particular level has always been my favorite part of Ion (other than Sephora) due to the wide selection of highly coveted beauty brands; each tempting me with their exclusive selection and limited edition products that are usually not easily available elsewhere. A one stop shopping haven for all the beauty junkies out there!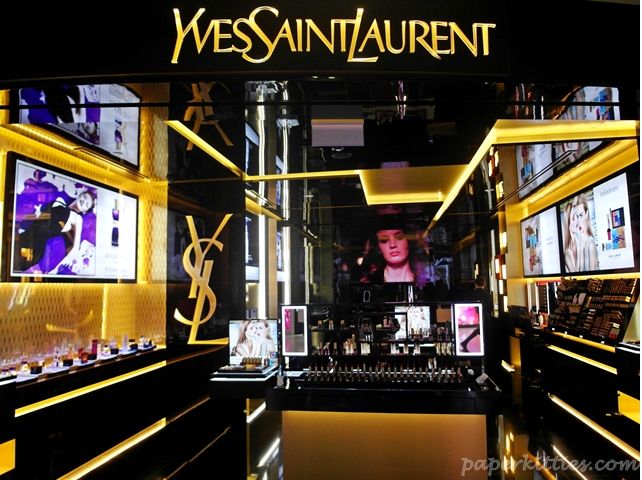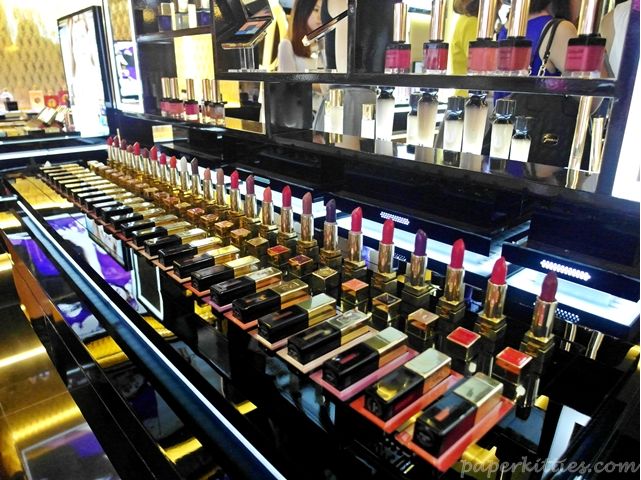 First up was a Makeup Demonstration at Yves Saint Laurent by their National Makeup Artist, Francis. Here are some snippets of beauty techniques we've learnt to achieve YSL's signature soft smokey look. Apologies for the less than ideal photos as my Samsung camera was having a hard time adjusting to the lightning ):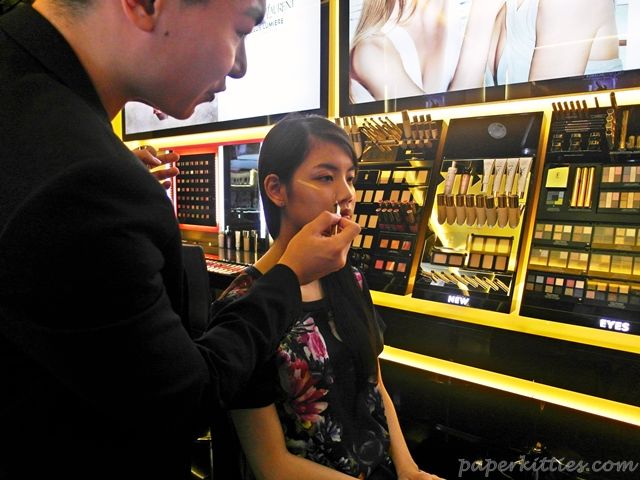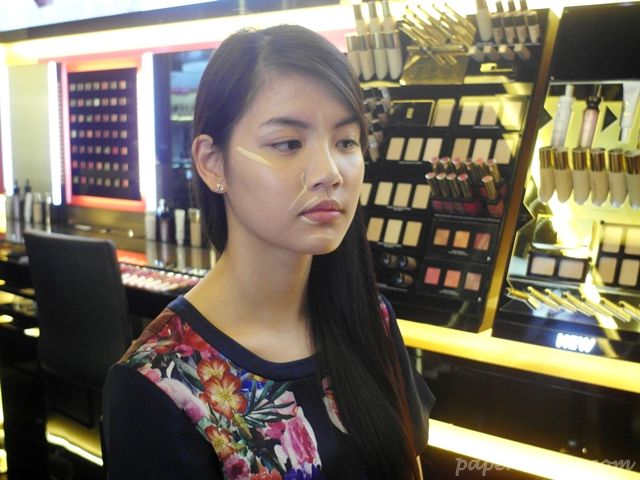 After prepping the model's skin with the basics, we were taught the art of highlighting with the most popular luxury highlighter – YSL Touche Eclat Radiant Touch! Apply highlighter as seen above to not only bring light and radiance to your skin, it also helps creates luminosity and a lifted illusion to give more dimension to your face.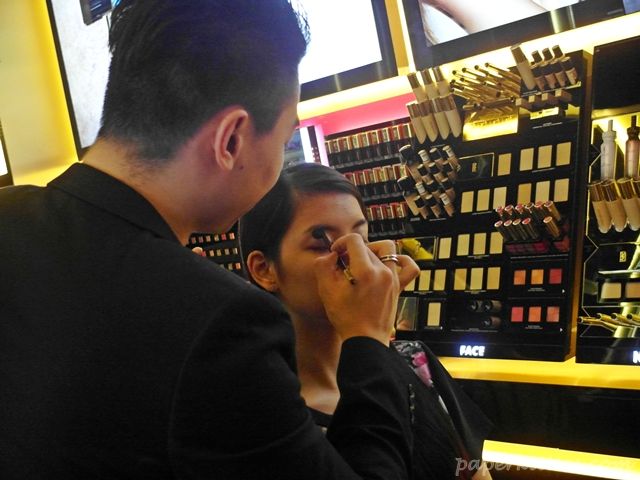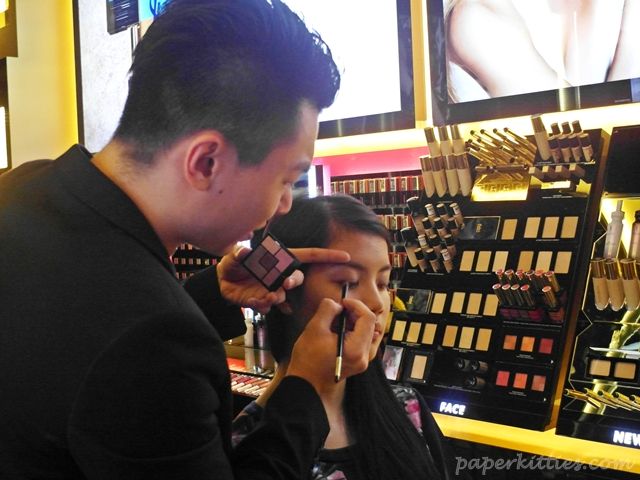 I've managed to find a
youtube video by YSL
to better illustrate on how to easily create 3 signature smokey looks with just one palette – YSL Couture Palette #7 Parisienne (used by Francis for this demo).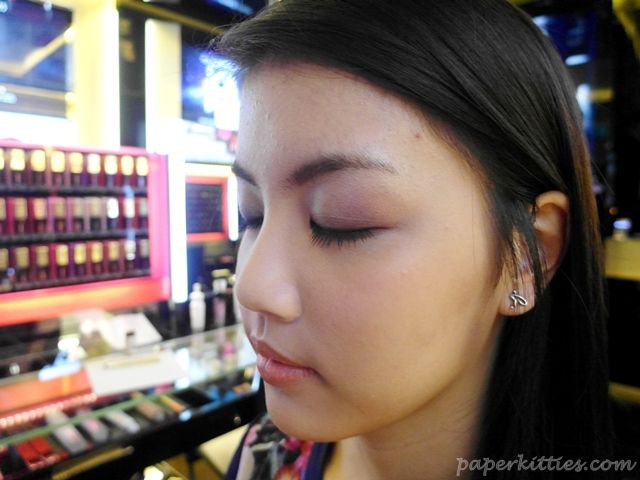 Signature 2 – Sheer Smokey Eye
Adding the finishing touches on her lips…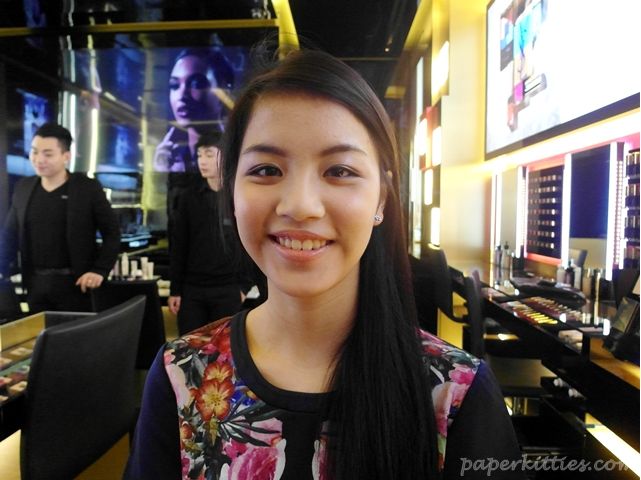 and Voila~
A classic look perfect from day to night!
Next up was Estee Lauder demonstrating their 3 minutes beauty tricks! Snuggled in a corner right beside Chanel, I have to admit that this was my first time noticing Estee Lauder's first ever standalone salon despite opening its doors since December 2013. The boutique looks equally as elegant as the brand is and hidden at the back of the store is a luxurious lounge for private consultations.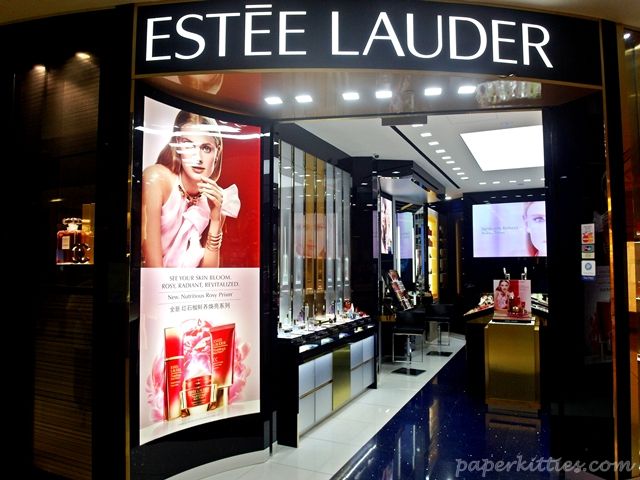 Anyway moving onwards with 5 neat tricks of the day by the charming Alyssa (from Estee Lauder's Global Artistry team) and her lovely model…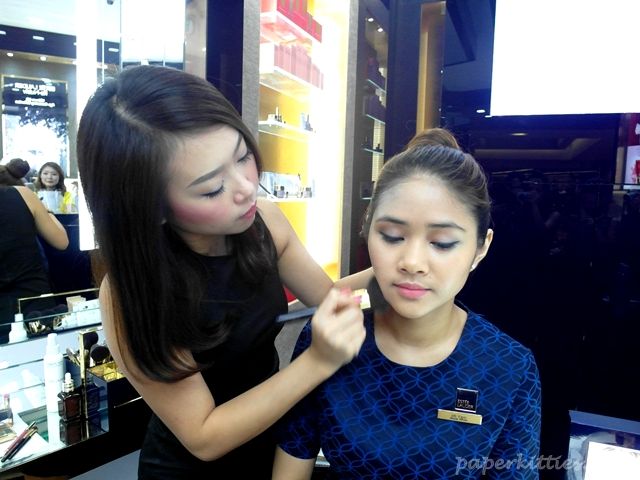 Trick #1:
To achieve an instant glow yet matte look, mix primer with concealer before applying with the powder brush in circulation motion. It is also good for midday touch-up!
Trick #2:
You can also mix an illuminating primer with blusher to achieve an instant glow. Pick up the blusher with sponge before blending it with your primer (it gives a creamy blusher effect) and dab it at the apples of your cheek.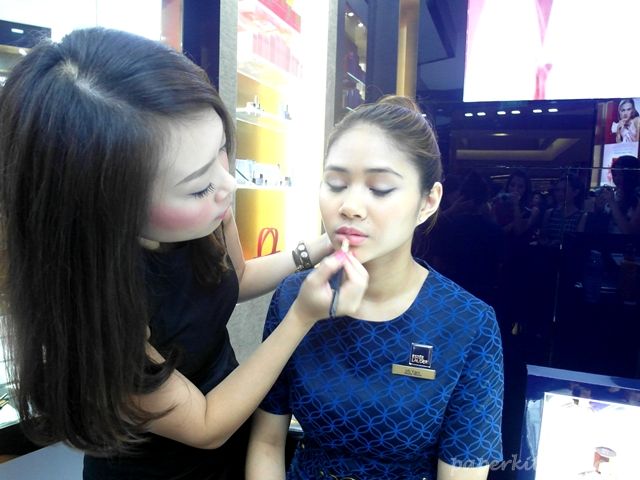 Trick #3:
Lightly apply a dash of glittery eyeshadow to your cupid's bow before applying lipgloss at the center of your lips to bring attention to a fuller pout. (This is also my personal trick too, it helps avoid the overly messy glossy look. Instead it gives off the right amount of shine on one's lips)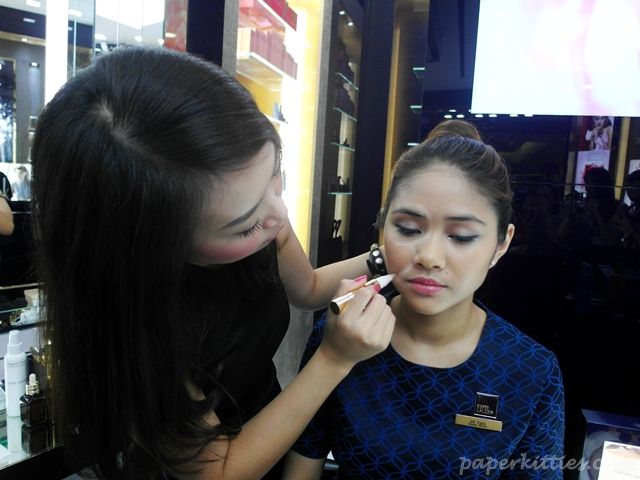 Trick #4:
Highlight and contour your face (with the Estee Lauder Double Wear Brush-On Glow BB) by drawing a figure "3" along the center of the face as seen above, then blend to achieve the luminous finish. It can be used alone or mixed with your moisturize for a light coverage.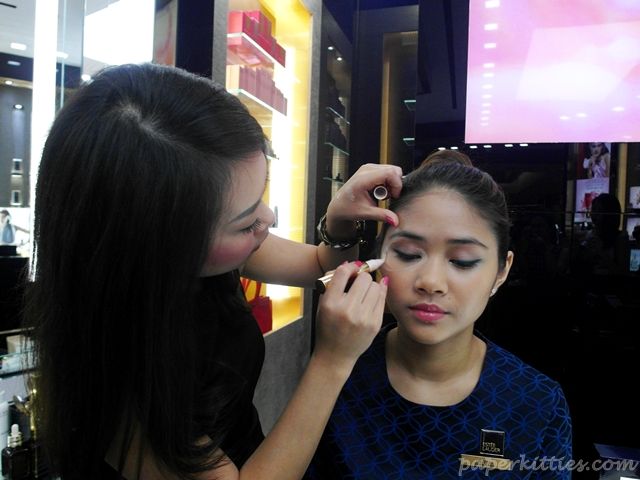 Trick #5:
Brighten your eye area by drawing 2 figure "C" with Estee Lauder Double Wear Brush-On Glow BB and blend. If you're very particular about caking your eye makeup, you can also mix the BB concealer with eye serum before application.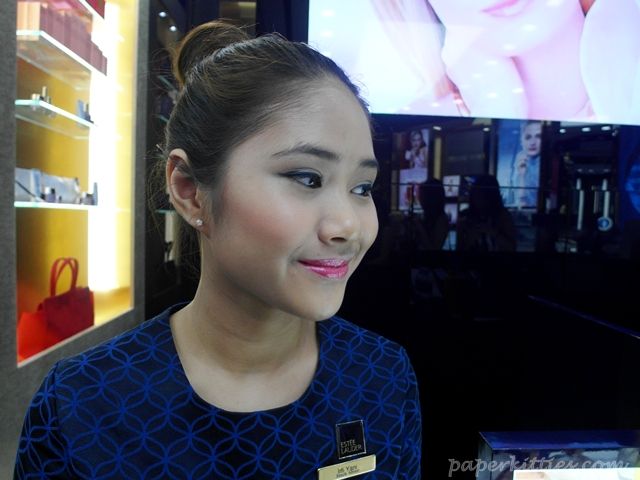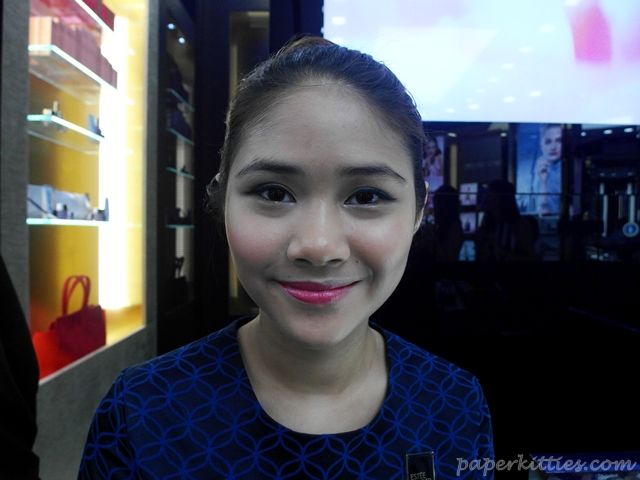 Can you see the difference between her both sides? #nofilter
The left looks more plump and radiant, erasing any signs of fatigue as compared to her right.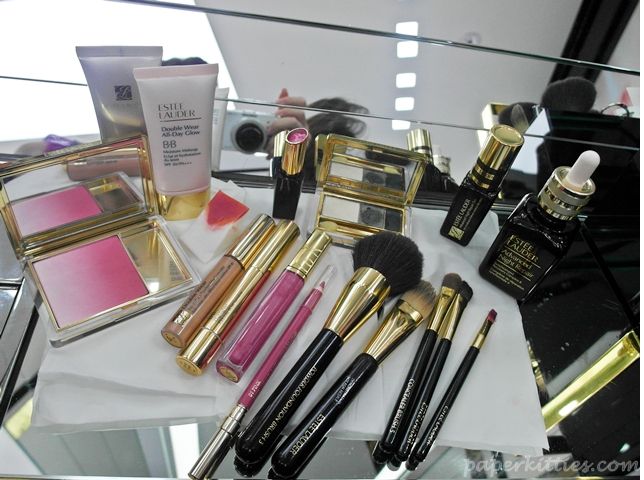 Products used.
(I am lusting after Estee Lauder's Pure Color Blush Plush Petal ♥)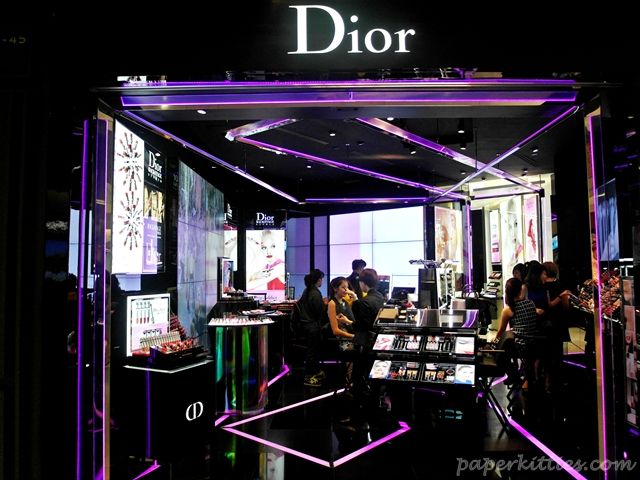 Last but not least, we have Dior Backstage Studio with their most talented team of Backstage Artists to assist you in achieving your dream diva look. This neon cube-inspired space is designed to recreate the electrifying backstage atmosphere at a Dior runway show with ever-changing lights to reflect the current season. I have spent many hours gushing over exclusive products that are only available at Dior Backstage Studio – my next shopaholic haul will include Dior Airflash Spray Foundation (skip the primer, just jump straight to runway-ready airbrushed look) and the very limited edition Dior Backstage Box that contains all the essentials required to recreate the beauty look of Spring-Summer 2014 runway show. #whatbeautyban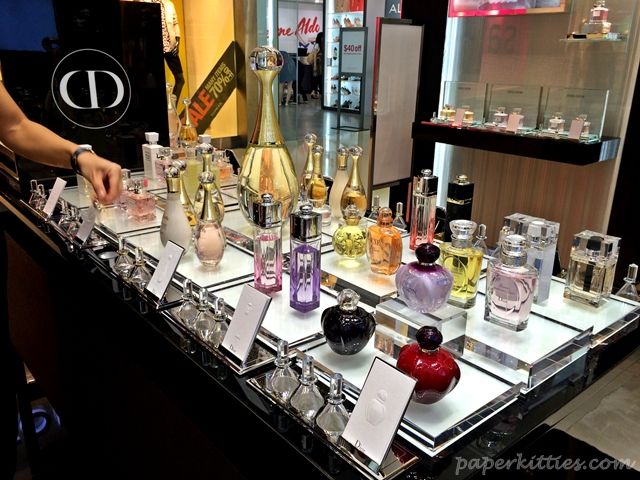 Skincare & Fragrance corner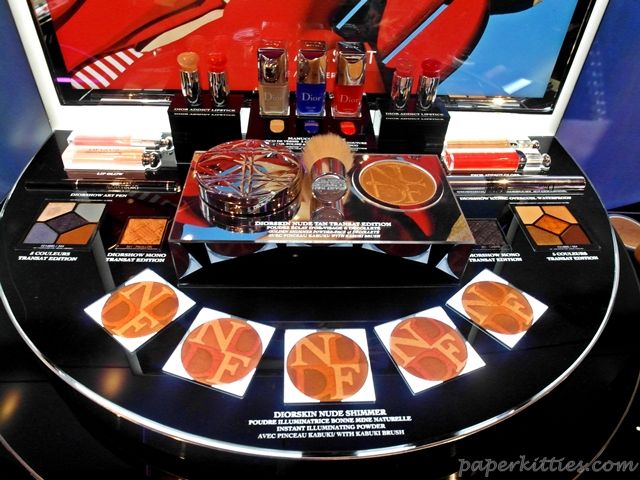 Dior Summer 2014 Collection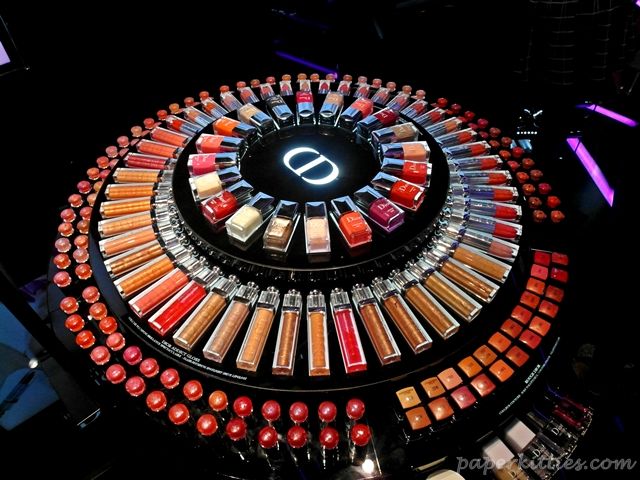 The highly coveted beauty turntable wheel seen in many beauty blogger's instagrams; featuring a limitless display of lip glosses, lipsticks and nail polish in every colour imaginable!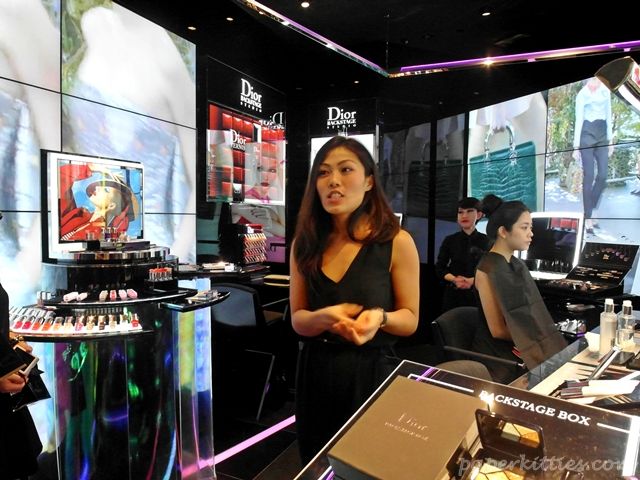 After a short intro by Syek Yi at our last beauty stop of the day, we were taught how to channel the natural glowy look as seen in all Dior runway models with very simple techniques. Very apt for me as I've always prefer fresh, clean makeup (: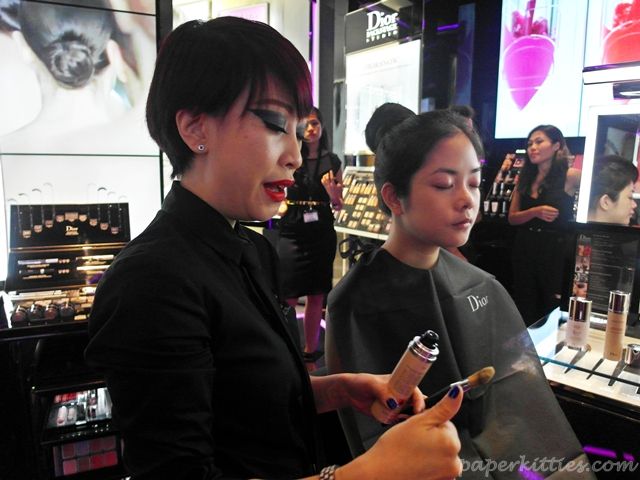 Here's Vivian (one of the 4 national makeup artists of Dior) imparting her skills to us with Dior Airflash Spray Foundation. Spray it straight on your face or on your brush, it gives off an airbrush finish with medium coverage (buildable if you spray on your brush). I've personally tried it before and couldn't stop raving about it to my friends! It easily minimize the appearance of my pores and provide a soft, dewy-matte complexion; much loved by my oily skin.
Next, achieve a healthy glow with Diorskin Rosy Glow Blush. Don't be intimidated when you see this bright pink blush sitting on its pan. A one-shade-for-all, it reacts with the moisture in each skin type to give off a subtle, youthful blush to the cheeks.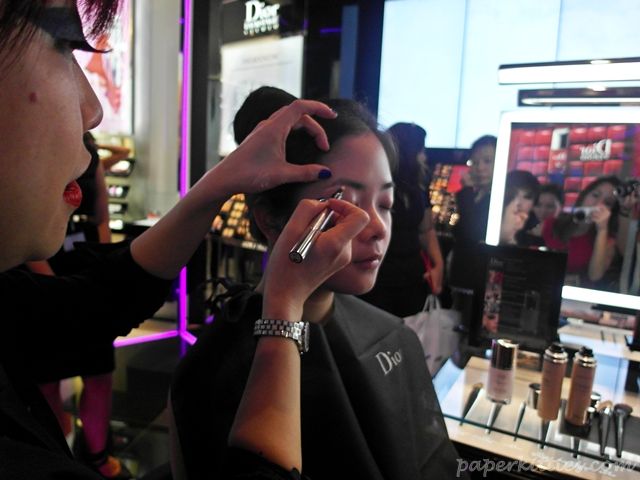 Dior's Skinflash Radiance Booster Pen was then used to highlight and boost your natural glow. Best used to highlight the inner corner/brow bone and sometimes for dark circles, it can also act as a liner for your upper lip.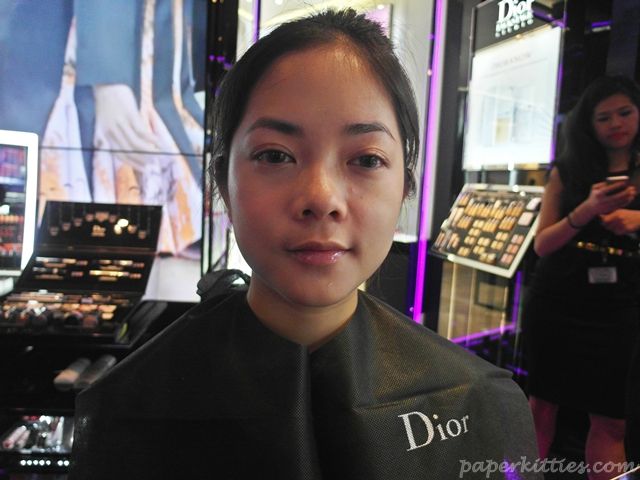 Not forgetting the bestselling Dior Addict Lip Glow – one sold in every 15 minutes! This sheer balm not only moisturize and protect your lips, it oomphs them back to life by enhancing your natural lip color. Here's the lovely model looking ever fresh faced with natural-looking radiance!
Special thanks to Ion Orchard for organizing this enriching beauty workshop, I've learnt so much tips and trick along the way!

X