Sponsored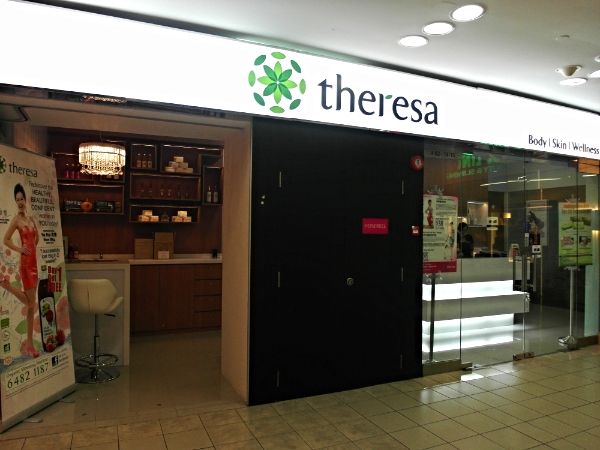 Founded by Ms Theresa Ong in 1987, Theresa Slimming Beauty Spa has evolved its service offerings, and opened numerous branches in very convenient places (like Toa Payoh Central, Hougang Central, Century Square, JEM, Clementi Central etc) across Singapore and expanded into Malaysia over the years. Theresa Beauty believes that beauty is more than having a slim figure but also about taking good care of your health. Their much raved about organic weight management solutions are designed to ensure a beautiful inside-out transformation. But what you may not know is that Theresa Beauty also offer facial treatments like the Power Hyaluronic treatment to quench your skin's thirst!
With the inevitable monthly hormones and stress, followed by the late nights.. I must admit that my skin has not been perfect as of late. I have been focusing on a lot of acne treatments to heal my skin so it is kinda blotchy and red at the moment. And it is really dreadful for a skincare junkie like me 🙁
If you have been keeping up with my blog, you'll know that I have recently went for facials that consists of microdermabrasion and AHA peel.. so honestly I couldn't help but wonder what else could be in store for me. The beautician took one look at my face and told me that the Power Hyaluronic treatment couldn't have come at a perfect timing. It balances the skin's natural hydrodynamics (the measurement of water supply and loss in the skin) and obtain an optimum degree of hydration. When one's skin is properly hydrated, it is smooth and plump and somewhat bouncy to the touch. When it is not, it can be tight, flaky and dull. This explains why having hydrated skin is quintessential for everyone's skin.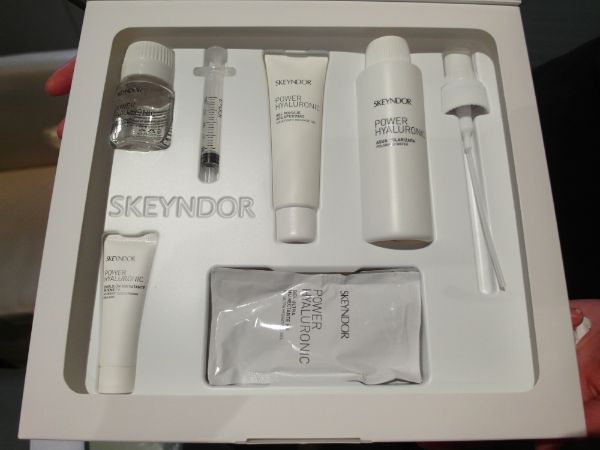 The Power Hyaluronic has been formulated using 2% of hyaluronic acid (a substance that occurs naturally in the skin to maintain hydration) to hydrate the skin in depth and at the same time protect it premature water loss caused by aggressive external agents. It contains 3 different molecules, small medium large, to penetrate into the different layers of our skin right down to the deepest layer for cell renewal. One of the special ingredient used is "Aquaporin" – the proteins in charge of transporting the water to the heart of the cell and aids better absorption of skincare products.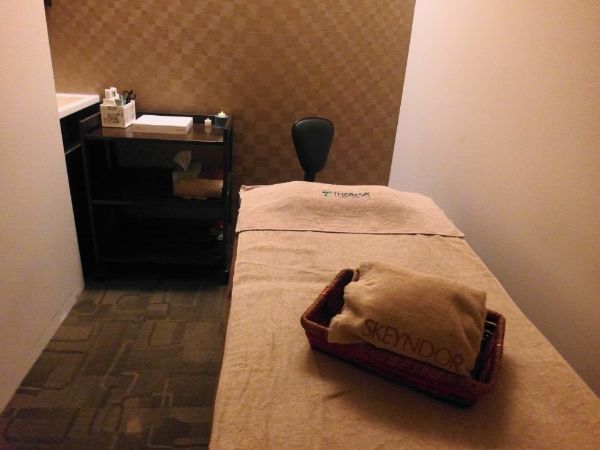 So let's begin!
The blue thingy wrapped around my arm was meant for detoxifying purposes with the use of Hydroelectrophoresis current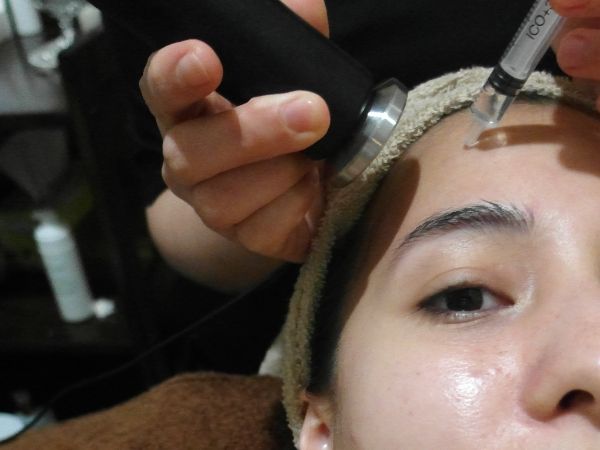 Along with the hyaluronic acid intensive concerntrate, my treatment started with a cold and tingling sensation with the Hydroelectrophoresis current for 4 to 5 minutes that can be felt with minimal to no discomfort.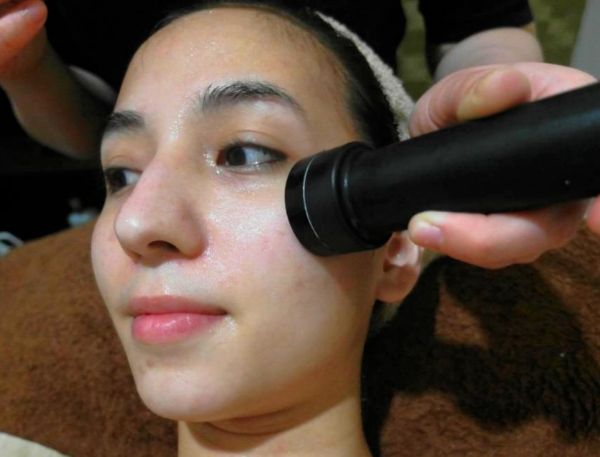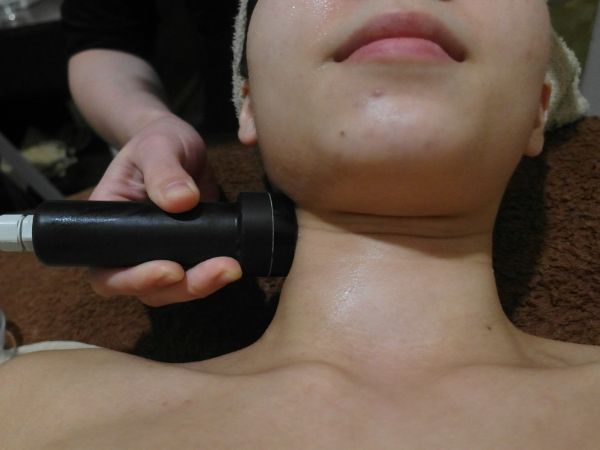 Next up, the Mesoscience machine used for the Electroporation current was meant to stabilize my skin and ensure that the products get absorbed within the layer. As always, my skin is so thirsty, it absorbs the Aquaporin massage gel like a sponge, much to the beautician's surprise. It just shows how dehydrated my skin is these days. I like how even my very neglected neck was paid special attention to during the entire treatment as well!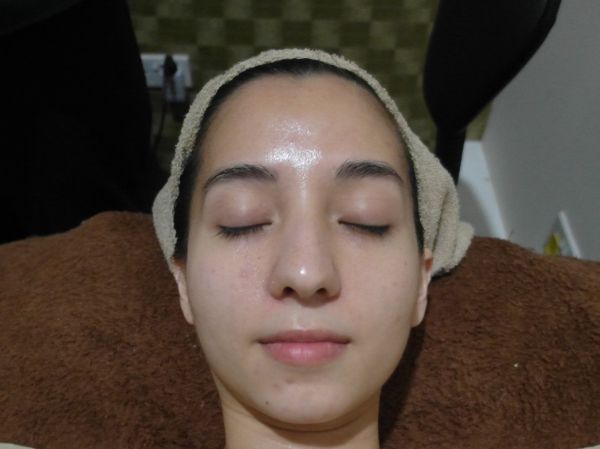 Here's the amazing before/after difference before we proceeded to finishing up the right! Noticed the 3d v-shape on the left?!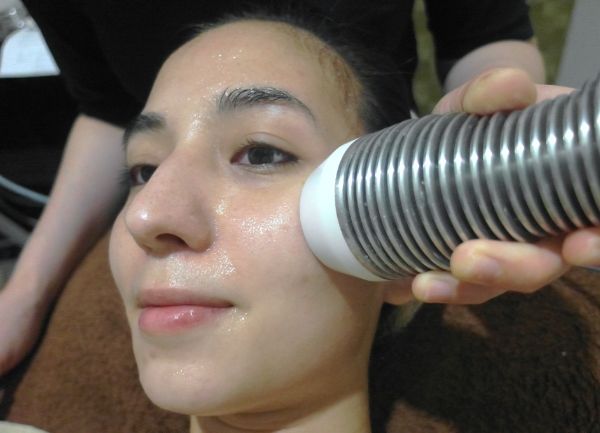 Then, the hyaluronic acid ultra hydrating gel was used with the Mesoscience machine, which by now was ice cold, to freeze up the Vitamin C and retaining water in the skin. This is so that it can slowly release its goodness over the week. As a result, I need to avoid the sauna and steam rooms during this one week so as not to result in them actually oxidizing instead of working its magic. It is ideal especially for acne and scars. Due to the molecules in the Power Hyaluronic, it will help shrink enlarged pores by keeping one's face deeply hydrated. After the application of the hydration massage gel was the "waiting time". In which I was pampered with a rose essential oil massage on my head, neck, shoulder and upper chest.. talk about taking great care of all my neglected body parts!
I love how my skin was obviously much more plump and radiant after the ultra hydrating gel mask. We ended it off with the cool sculptor before applying intensive moisturising cream and booster to provide 24 hours of continuous hydration. These two products can also be used at home to help maintain firmness and boost the absorption effect. Overall, the Power Hyaluronic treatment is aimed at wrinkle treatment, acne care (ideally for the "fresh" ones) and firming skin. It is very gentle and suitable even for sensitive, sunburned or even skin with chemical burns.

5 days later, tinted moisturizer is all I need!
The highlight of this treatment has got to be its non-invasive procedure by combining it with the Mesoscience Skin Therapy – needle-less, high concentrations of purified active ingredients that are instantly introduced to the intermediate layers of the skin to obtain immediate and lasting results. It is indeed not just a pampering facial treat but a whole body treatment – concentrating on flushing toxins out of my body. Instant results will definitely be my 3d v-shape face (I reckon the picture says it best) and how my skin was practically glowing. It was to the point that even my colleague commented on how my skin was exceptionally radiant the morning after the treatment! It has almost been a week and I noticed that my skin is still as glowy as the day after the treatment. I also noticed that the redness on my sensitive areas were almost all gone and my skin looked much more firm and supple.
Obviously this one off treatment will not last as long since a total of 6 sessions is recommended. The Power Hyaluronic treatment is recommended once a month for 3 months, along with maintenance treatments 2 weeks after every Hyaluronic treatment. I am proud to announce that as Theresa's Beauty Digital Ambassador for the next 3 months, I will be updating monthly on my journey towards a better skin with the help of Theresa Beauty treatments!
Just for my readers,
Enjoy a Hyaluronic Facial treatment for just $98 on your first Trial* (usual price $498).
*For first time customers only. Not valid with other promotions or discounts.

Reservations are required so feel free to dial their hotline at 64821187!
Website | Facebook

X