Sponsored
Korea's leading premium cosmetic brand, Laneige, will be unveiling an upgraded version of its award-winning White Plus Renew Line and 6-in-1 BB Cushion this March! Aiming to help Asian women achieve brighter, clearer and flawless-looking skin through its innovative and propritary Melacrusher whitening technology; the breakthrough technology not only brightens but also provides 3-colour undertones care to balance the red, yellow and dark undertones. This improves rough and dull skin tone – a common problem among many Asian women, allowing skin to look radiant, flawless and 2 tones brighter!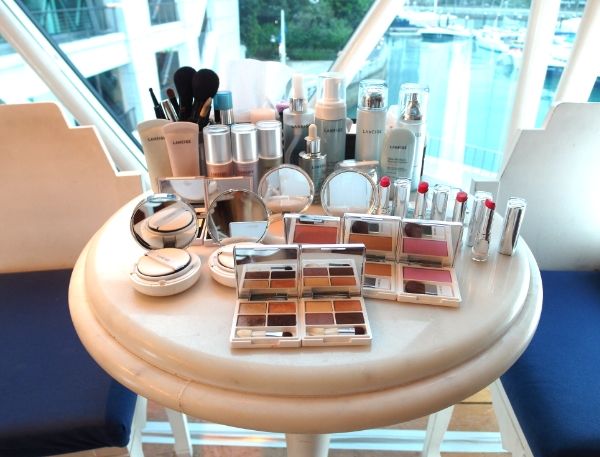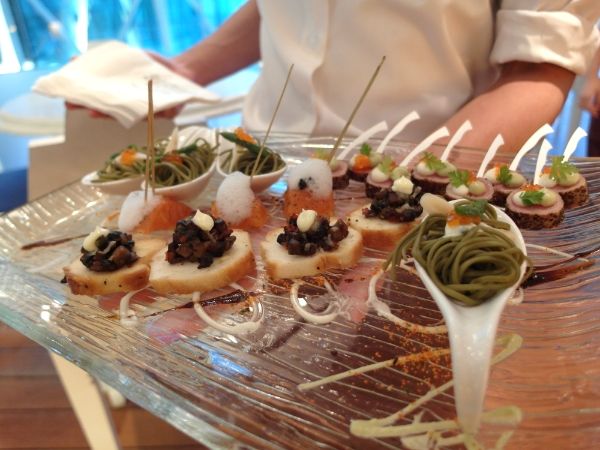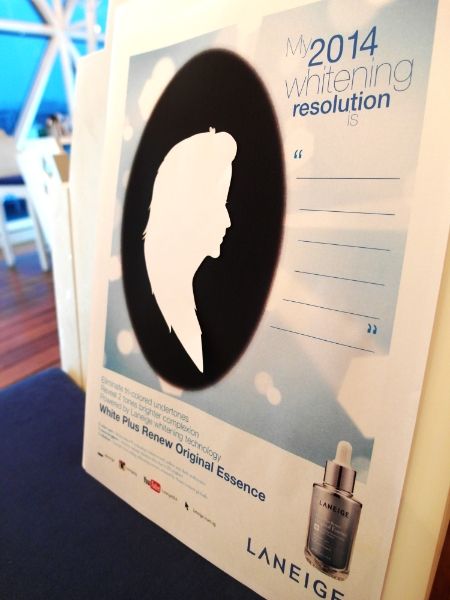 My side profile cut out.. so pretty!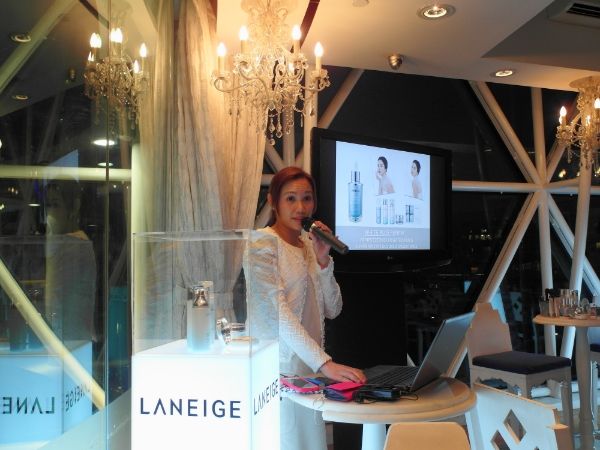 The Melacrusher Technology is an innovative skincare technology that lifts off the melanin veils that cause discoloration of skin by stimulating lysosome's self-decomposition. It effectively breaks down and removes melanin, helping one's skin to achieve a radiant, even-toned complexion. With this new technology, Laneige
White Plus Renew Line
improves six core elements of brightening –
glow, moisture, brightness, clarity, even skin tone and reduced melanin level
.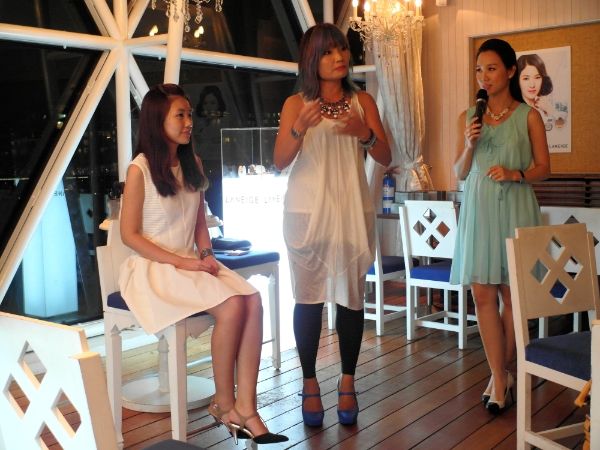 Tina giving us beauty tips for Laneige Spring 2014!
A new addition to the White Plus Renew Line, the
White Plus Renew Capsule Sleeping Pack
was the product that really perk my interest that night!
The hydro gel is a transparent gel-type hydro ample which hydrates the skin and makes the brightening capsule more effective. The brightening capsule is a white, soft and non-sticky cream type ample, which contains the whitening agents of Melacrusher technology. Details review on this awesome product later!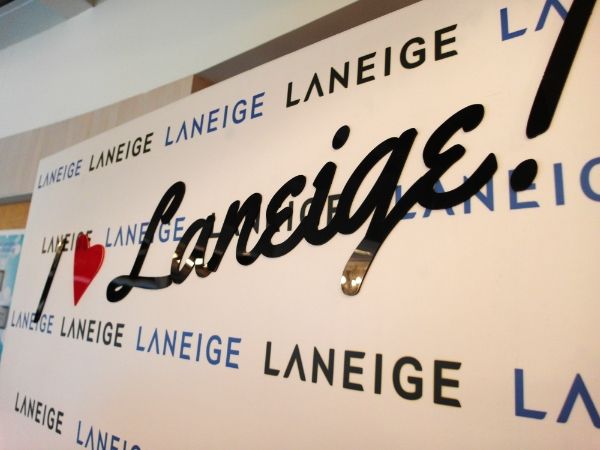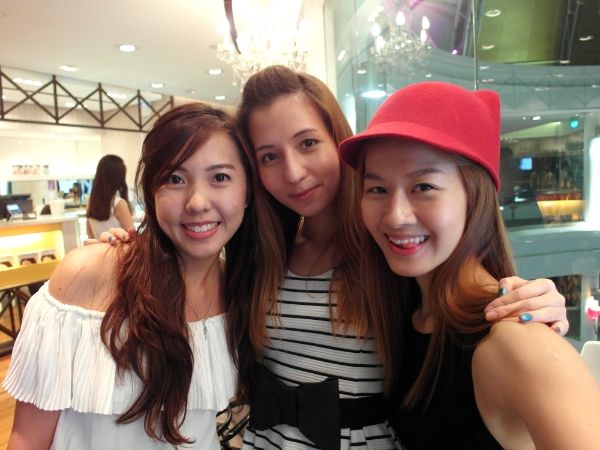 No event is complete without my girlies~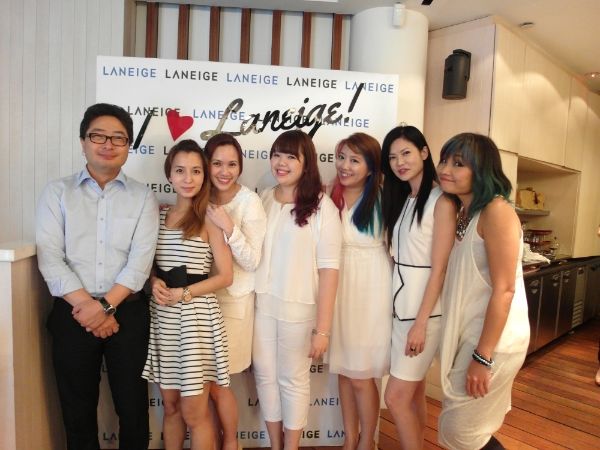 With my dearest Laneige family!!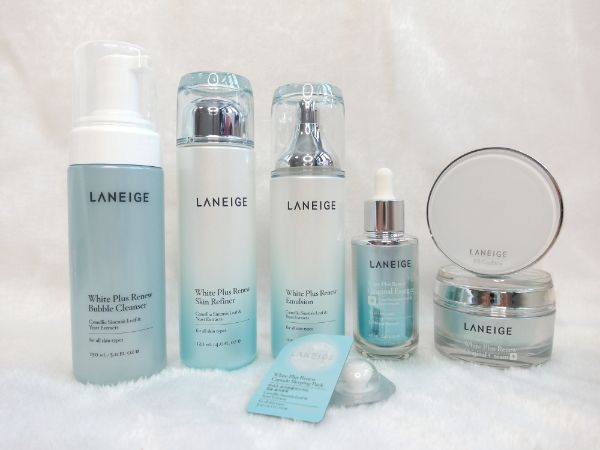 I alternate my skincare routines weekly.. so when I am stress and the time of the month is near,
Laneige Trouble Relief Range
will be my pick. Afterwhich, the White Plus Renew routine will be incorporated to help improve my uneven and dull skin tone and also to lighten my scars. So, let me gush about my current skin routine with the new and improved Laneige White Plus Renew Ritual! Although it varies from skin to skin, I noticed that my skin looks much brighter and radiant after 2 weeks of usage.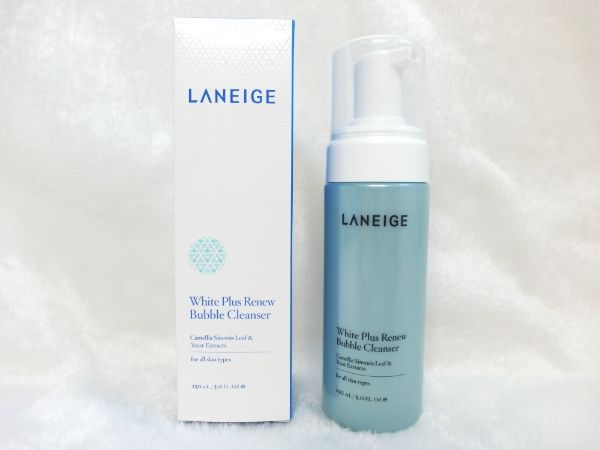 Step 1: White Plus Renew Bubble Cleanser
After cleansing my face with
Laneige Cleansing Oil
, the
White Plus Renew Bubble Cleanser
is always my favorite choice. I vividly remember using Laneige Foam Cleanser as my first ever Laneige product years ago, if only I actually blogged about it back then! I've always find the foamy texture for the bubble cleanser super interesting and love how it is so hydrating, it doesn't strip my skin off its natural oil. The soft and rich lather penetrates deeply into my pores and remove all the residual dirt.. very gentle on the skin!
Step 2: White Plus Renew Refiner
I know that the refiner step is still unfamiliar with most, but just treat it like a toner.. to be used before cleansing and after moisturising; its main purpose is to smooth, clarify and prep the skin's surface to receive further treatments/products. The
White Plus Renew Refiner
has a milky jelly like consistency that instantly softens the skin texture and brighten the skin tone. Just like all of Laneige products, it is very lightweight and absorbs quickly into my skin.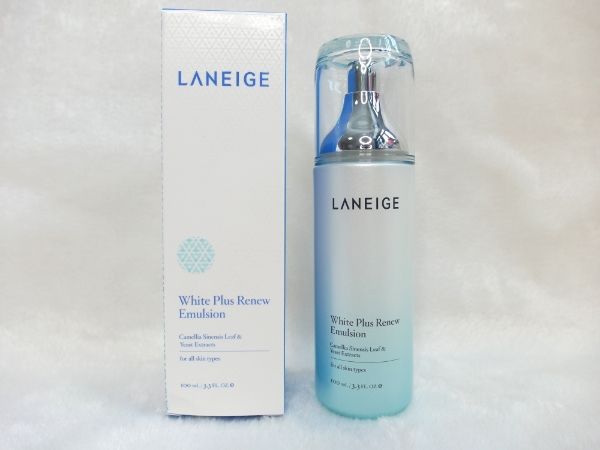 Step 3: White Plus Renew Emulsion
The
White Plus Renew Emulsion
brightens up dull and tired skin by preparing the skin for maximum whitening effects in the next step of skin care. The texture is watery and it gives a much more matte texture as compared to the old White Plus Renew Emulsion; nonetheless, it illuminates my skin right away, giving a beautiful glow all day long without me looking like a disco ball by the end of the day. I also found out that it is actually hydrating enough for me to be lazy and skip the day moisturizer step sometimes :X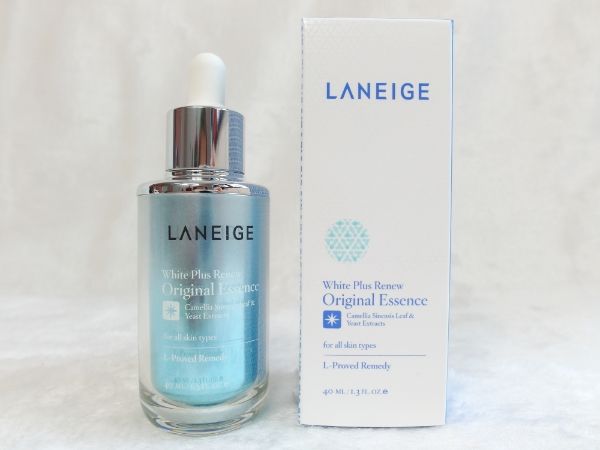 Step 4: White Plus Renew Essence
The
White Plus Renew Original Essence
is an innovative whitening product that has a safe and mild formula with globally proven trust and recognition. It has been found to make one's skin 2 tones brighter after 8 weeks of usage. Very lightweight and absorbs easily into my skin, I like how it not only brightens, but also helps in significantly reducing redness, my acne scars and dark spots after using it for 2 weeks! There is a reason why this magic bottle had won so many awards ever since it was launched… a staple in every girl's routine!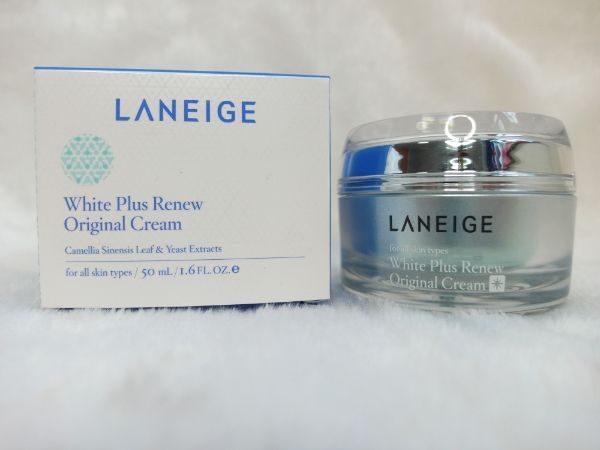 Step 5: White Plus Renew Original Cream
To sum up the brightening routine, this day and night whitening cream (talk about making your moolahs worth) coats the skin with a protective brightening film and maximizes moisturizing and glowing effects from the deeper layer of the skin. Comparing it to its predecessor – White Plus Renew Night Cream, the
White Plus Renew Original Cream
is more watery in texture and absorbs much quicker into the skin. What I really like about it, and also the reason why I actually dared to use it during the day, is because of the matte afterfeel after the moisturizer is completely absorbed into my skin. I normally do not use brightening/whitening moisturizer during the day as it tends to be quite heavy but definitely not the
White Plus Renew Original Cream
. I am amazed that it is actually suitable for my oily skin and holds my makeup very well with minimal to zero foundation streaks by the end of the day! *two thumbs up*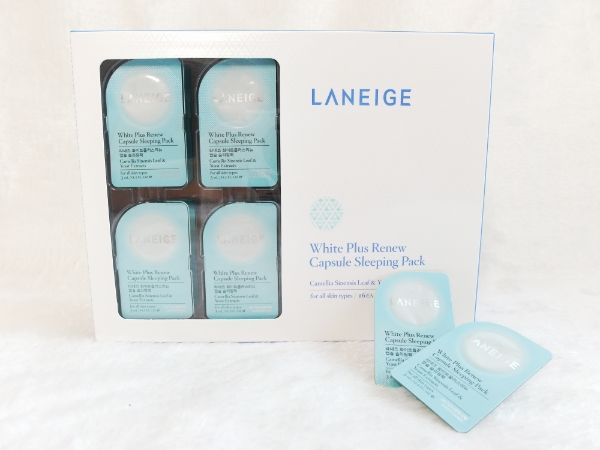 Bonus Step: White Plus Renew Capsule Sleeping Pack
I just can't stop gushing about this – my must-use product whenever I have an event the next day! The
White Plus Renew Capsule Sleeping Pack
is an innovative combination between a whitening capsule and hydro gel cream. The innovative formula provides and optimal 3:1 ratio between hydro gel brightening capsule. My skin becomes 2 tones brighter during this overnight treatment! It is very travel-friendly and the entire capsule should be generously used at one go; a bit too much for my face and neck but works wonders~ I love how I not only wake up to brighter skin, my skin looks as though it is glowing from within ♥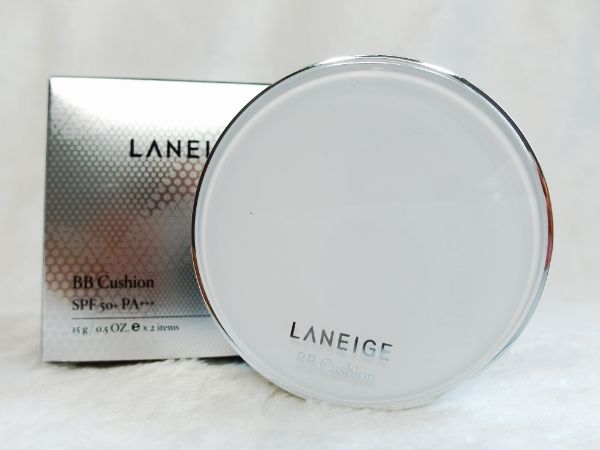 The new and improved award-winning
6-in-1 Laneige BB Cushion
incorporates the innovative Melacrusher Technology to target melanin formation, as well as bead tree extract and natural mineral water for added skincare and hydration benefits. So now, our skin not only gets hydrated and high UV protection, we can now achieve extremely radiant skin with the new BB Cushion!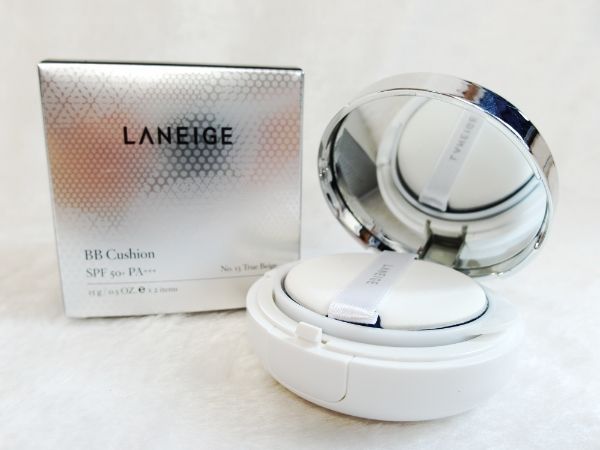 My daily makeup must-have: 6-in-1 Laneige BB Cushion
I love how the
6-in-1 Laneige BB Cushion
delivers light, fresh and natural make-up that keeps skin looking and feeling great throughout the day! The 6 benefits are namely:
– Brightening (Melacrusher Technology)
– Moisturizing (Optimal Mineral Water)
– Water Resistant (resistant against perspiration and sebum)
– Makeup tint (5 shades to choose from with medium coverage)
– Soothing Effect (skin temperature goes down my 4° upon application)
– UV Protection (SPF50+, PA+++)
Don't you just love this ideal combination of multiple products? It reduces the hassle of many makeup stages by combining them all into one quick step.. apply and go, no more excuse to be lazy~
X