Editorial Review
It all started when a few friends gathered together at Glenn & Shannon's home in the Hollywood Hills, when an actor friend commented that he could not find a convenient easy-to-use skincare product that made his skin instantly camera ready, instantly reducing pores, instantly dealing with sun damage, instantly dealing with fine lines, instantly producing a noticeable glow that would last for days… And so, Glenn & Shannon Dellimore set out to create a product just for their actor friends, with no intention for sale nor retail, and not limited by any production costs. It became such a hit among executives of major studios and other A list actors, it quickly reached the ears of a major luxury retailer…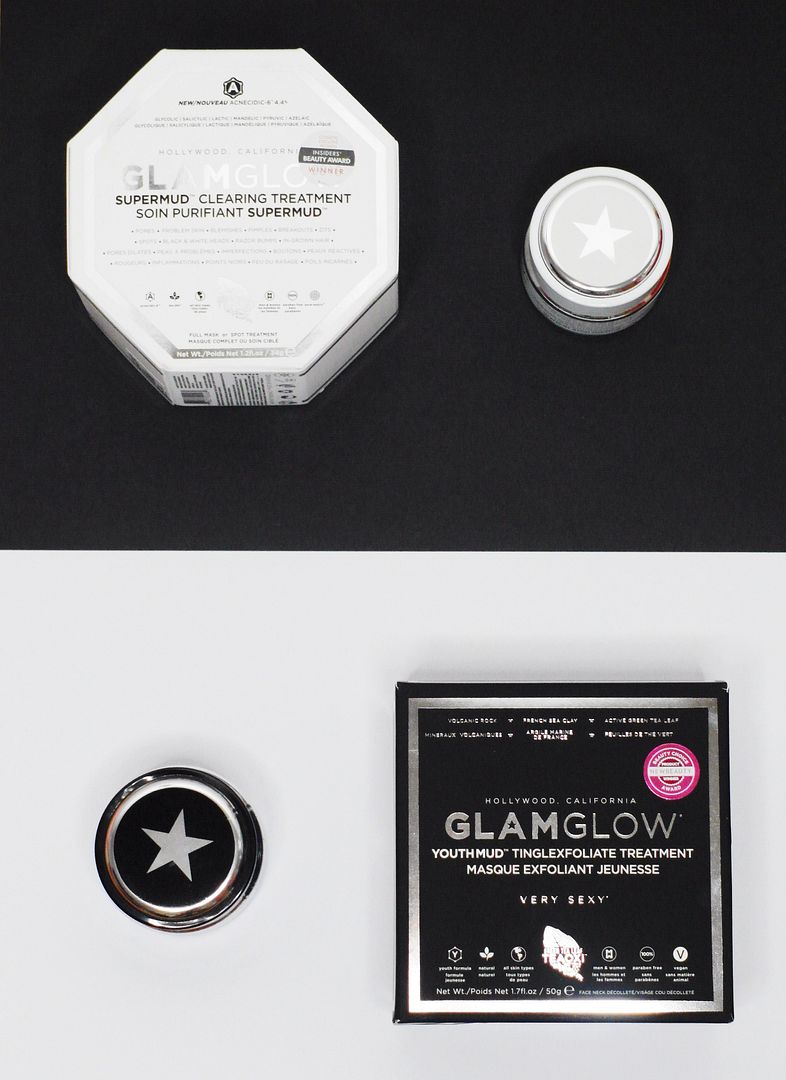 In 2011, GLAMGLOW became available to consumers worldwide and is now one of the hottest brands in skincare. Known for fast-acting and innovative mud treatments, their patent-pending formulas combine real pieces of leaf with high-end technology to deliver instant, visible results! It has since won numerous awards all over the world for being the best mask and is raved by many celebrities like Natalie Portman, Usher, Tommy Lee, Ryan Seacrest etc.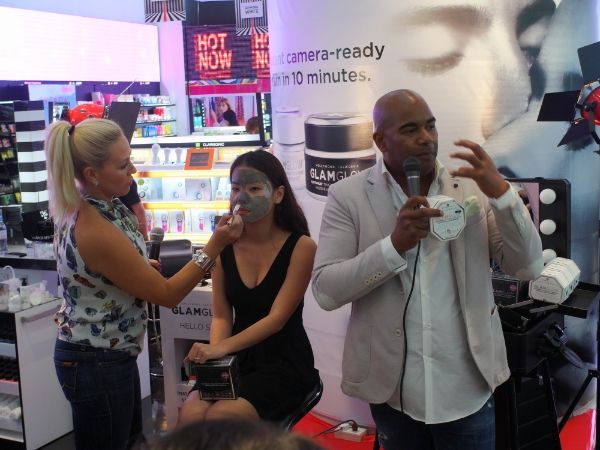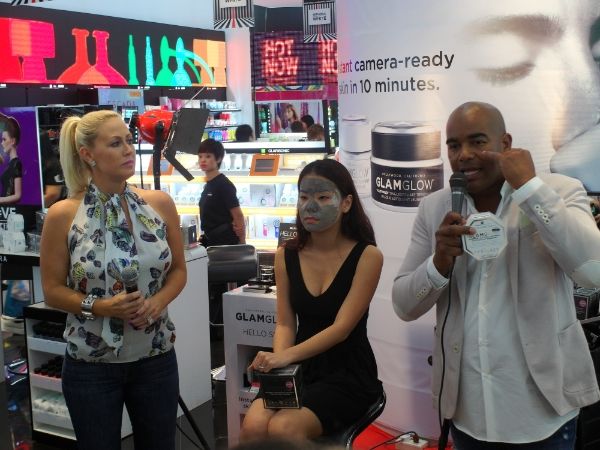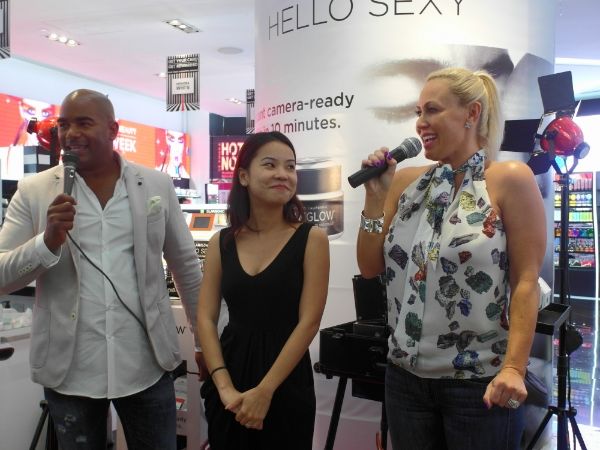 A very satisfied model~
Fast forward it today, GLAMGLOW has finally reached Singapore shores! Gwen and I attended the official GLAMGLOW launch showcase at Sephora ION – a special occasion to unveil Hollywood's best-kept secret to flawless skin 😀
Not taking "no" for an answerGlenn insisted that all of us ladies have to give it a try, so here's us look really silly with the Supermud working its magic on our nose
YOUTHMUD™ – Tinglexfoliate Treatment
Designed as a 10-minute anti-aging 'facial in a jar' for behind-the-scenes use in Hollywood for instant camera-ready glowing skin. GLAMGLOW's YOUTHMUD™ base is from the South of France Mediterranean Sea, ancient volcanic pumice rock and TEAOXI® (GLAMGLOW's groundbreaking patent pending time-release technology). It also gives a noticeable 3-day glow by stimulating with moisturizing collagen synthesis suitable for both men & women. Contains no sulfates, synthetic dyes, petrochemicals, phthalates, GMOs or triclosan. Use a couple of times a week or simply when needed before makeup for glam-tastic skin.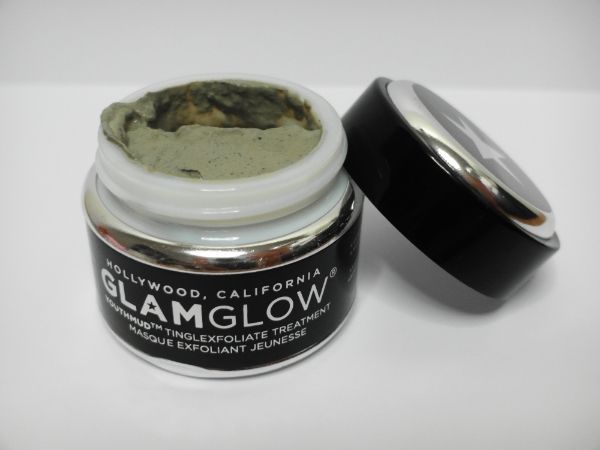 I really love the scent of this as it reminds me of soothing green tea. The YOUTHMUD™ absorbs impurities without removing natural oils, providing tighter skin texture and tighter pores. It also provides gentle exfoliation with real pieces of tea leaf contained in their YOUTHMUD™ to leave skin smoother, brighter and softer.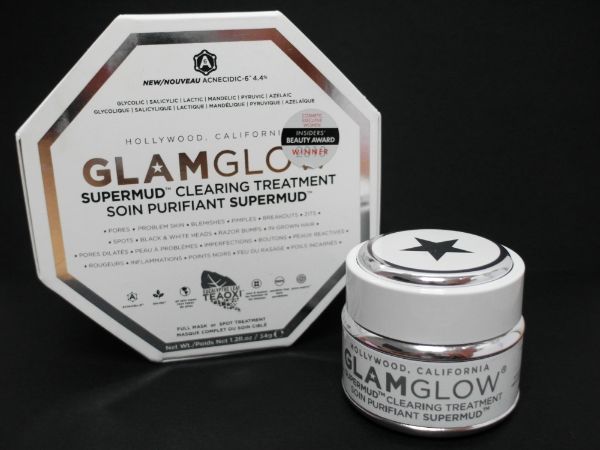 SUPERMUD™ – Clearing Treatment
The creators of GLAMGLOW know adults suffer from blemishes just as much as teenagers, so they've created the world's most scientifically advanced SUPERMUD™ Clearing Treatment to target, prevent and heal from the inside out. Use as a full mask or as a spot treatment as often as needed. SUPERMUD™ was clinically developed by GLAMGLOW® dermatological chemist to help fight all common skin concerns for men and women like pores, problem skin, blemishes, pimples, breakouts, zits, spots, black & white heads, razor bumps & in -grown hair. It contains GLAMGLOW's new ACNECIDIC-6™ proprietary 6 acid AHA & BHA blend for mind-blowing fast results.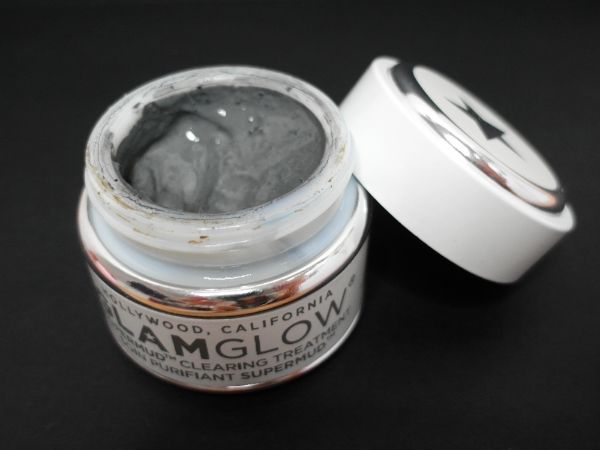 SUPERMUD™ also boasts PORE-MATRIX science that extracts 500-times it's own mass in bacteria, sebum oils and toxins, revealing dots of Pore-Matrix™ before your eyes whilst soothing skin using the complex natural occurring green life benefits. It smells of eucalyptol and I was delighted to find out that real pieces of Eucalyptus Leaf contained in the magical healing SUPERMUD™. I actually used this all over my face when I was having a very bad acne breakout. Although it doesn't help to diminish the pimples immediately (they subside a few days later tho), my black and white heads were visibly 90% gone with slightly smaller pores and overall, my skin doesn't look as blotchy as it did initially.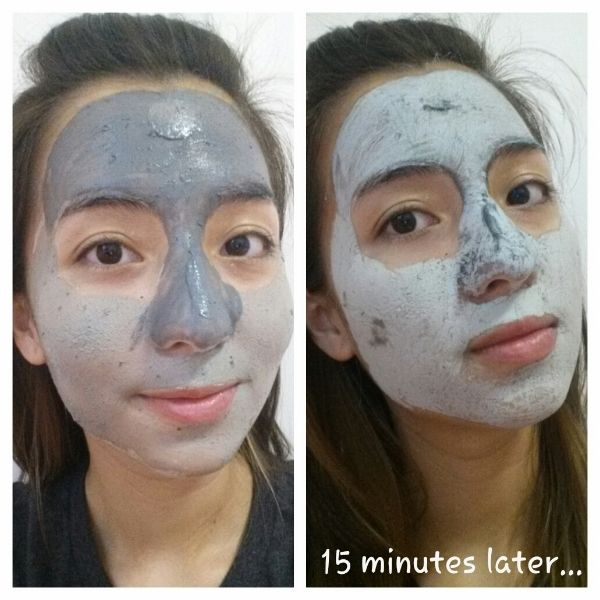 On my face: YOUTHMUD™ on my U-zone and SUPERMUD™ on my T-zone
When applying the fast acting mud treatment on my face, I noticed there was a cool tingling sensation with areas drying up within minutes.. there was definitely no discomfort at all, just the assuring knowledge that the products are working its magic! I noticed huge holes around my troubled areas which signals that my sebum, blackheads and toxins are getting extracted by the PORE-MATRIX science in the Supermud. By the time the mud treatment has dried up, I could barely move a muscle – which explains the awkward face on the right. Lol. Then, I rinsed it off with water in a circular motion so that the pieces of tea leaves can gently exfoliate my skin to reveal a brighter and clearer complexion.
I really love how my face feels so squeaky clean after using this without over-drying my skin. As mentioned earlier, black/white heads and pores were the least of my worries after using them. My complexion was much brighter and makeup glides easily on my skin (it's meant to be used before you apply makeup)! I know that the price tag is a bit hefty as compared to most mud masks out there but well, it is well worth the moolahs. If you're more prone to troubled skin like breakouts, I would reckon you give the SUPERMUD™ a go but if you're looking for a good pampering, once-a-week deep cleansing treat.. then the YOUTHMUD™ will be good in maintaining your skin and giving it the instant camera-ready glow! As for me, I reckon I will be giving the BRIGHTMUD™ eye treatment a go as my preppers is in need of serious maintenance.. look at the puffiness man~
X