Editorial Review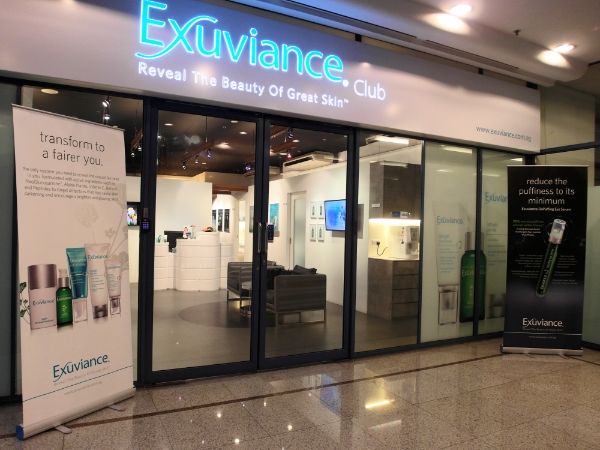 Hidden inside Tagore Building (Upper Thomson Road) lies the
Exuviance Club
that are mostly only to know among their loyal members. Honestly, I find it really inaccessible be it from my workplace or my home but that about sums up the only complain I have of this gem.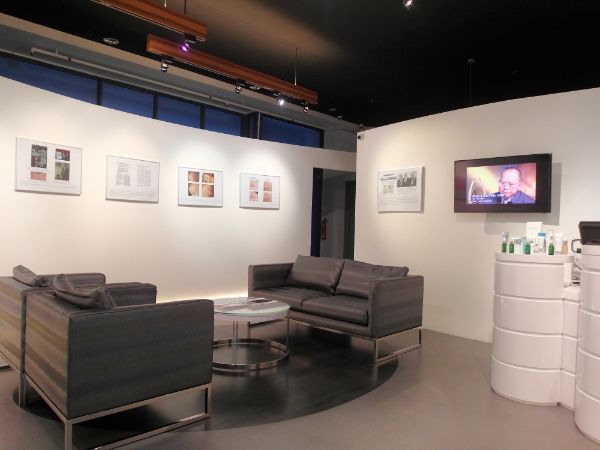 Every now and then, they organize beauty and skincare workshops too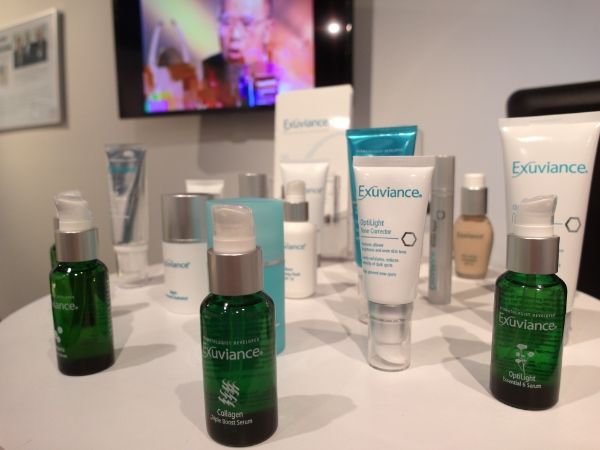 Exuviance products for daily usage
Just like their minimalist clinical layout, the Aesthetic Therapists were very professional and knew in depth about their brand. I was given a little walk down the memory lane of how AHAs (Alpha Hydroxy Acids) or commonly known as fruit acid were founded and patented by Drs. Eugene Van Scott and Ruey Yu. They are also the founders of NeoStrata Company, Inc – the mother brand of
Exuviance
that caters their products to most skincare doctors and dermatologists.
Daphne (my lovely Aesthetic Therapist of the day) recommended that I try the Exuviance Clarifying Facial Treatment since I have oily and acne-prone skin… so here we go!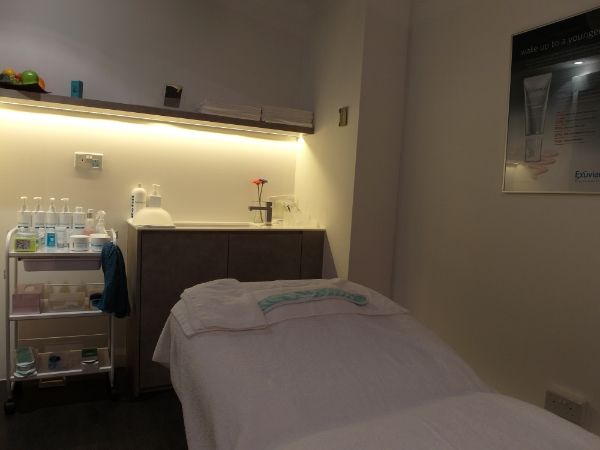 The super clean and neat treatment room with soft ambient light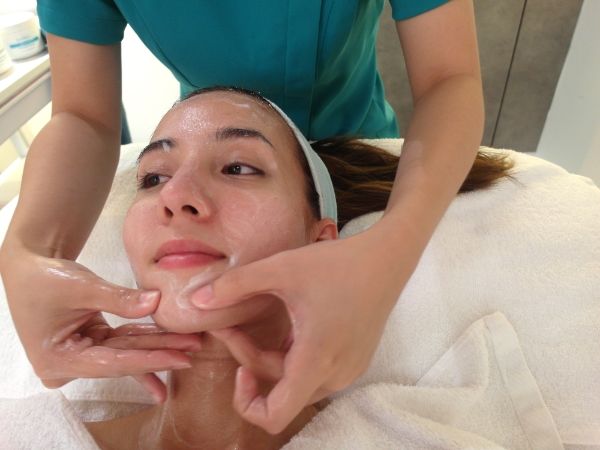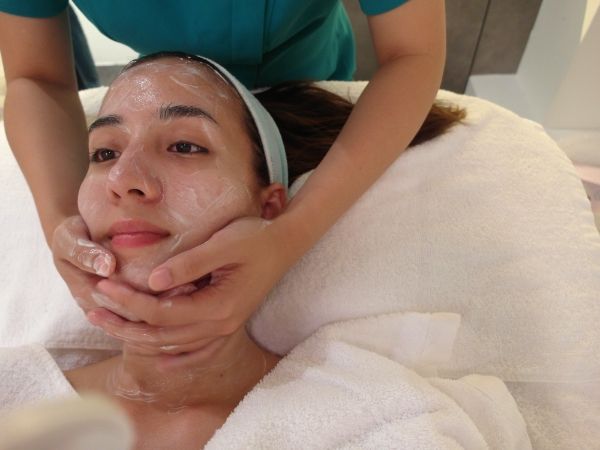 Oh yes I was forcing myself awake by then..
The first step was to double cleanse my face accompanied with a facial massage and toning lotion. I couldn't help but asked if massaging my face will result in acne breakouts. Daphne agreed and explained that it is why the relaxing massage technique was used instead of the normal stimulating massage. The massage was meant to relax my face and allow better absorption of the AHA. Since I have oily skin and am prone to acne breakouts, she will avoid stimulating them unnecessarily. That being said, the massage was so shiok and therapeutic, Daphne sure knows how to press on all the right spots 😉
Do note that normally they will dim the lights to create a much more relaxing ambiance; but I requested for them to keep the lights on so that I can take better pictures 🙂
Next, a clarifying booster pad was used as another layer of cleansing as well as treating the problematic areas. Very gentle and cooling, almost like Radical's Exfoliating Pads (can't wait to purchase them!).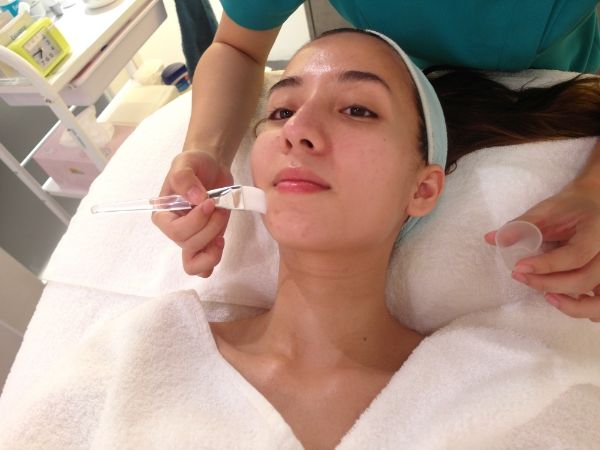 Applying the AHA chemical peel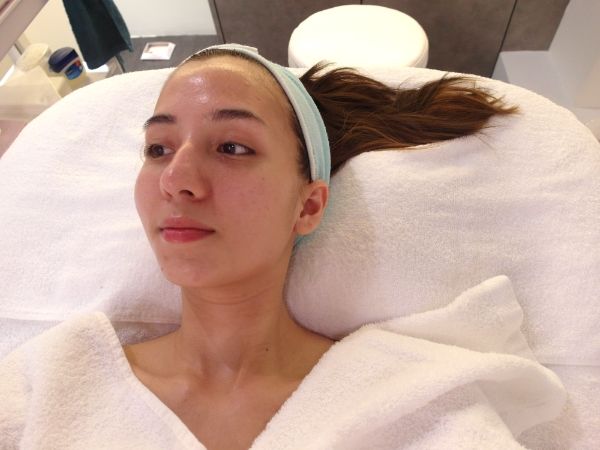 Camwhoring whilst waiting for the 5-10 minutes to fly by..
Then comes AHA chemical peel! Remember my old grandmother story about the facial I went at FEP? Well, they offered AHA chemical peel too so I already knew exactly what to expect 😉 AHA chemical peel is popular for removing dead cells on the surface of the skin; thus revealing the smoother, healthier-looking layer below. Regular treatments can help with fine lines, brown marks and dry spots. They also help minimize acne scarring–and even help with the treatment of acne by stripping away the plugs where acne bumps can form.
Before the AHA chemical peel application, Daphne outlines the sensitive areas around my nose, lips and eyes areas with some Vaseline to act as a protective barrier from the peel. Other than some tingling sensation and itchiness here and there.. it really isn't as scary as it sounds!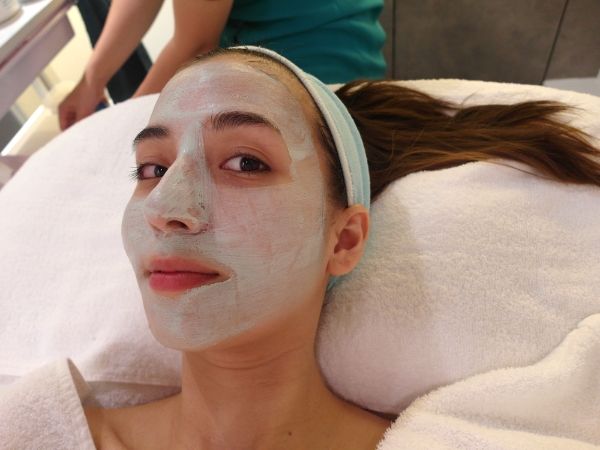 Lastly, I was treated with the
Exuviance Purifying Clay Masque
to pamper, purify and detoxify oily, acne-prone skin by drawing out oil and impurities and refines pores. Like all their products, it smells so good! And we end it all off with their night moisturizer!
There is no downtime needed as no extractions were done at all and there was not even a slightest hint of redness (which explains their "lunchtime peel" nickname). You can simply go about with your daily chores and routine immediately. However, if you are not the kind who likes to apply sunblock on a daily basis.. you would have to do so as your skin will be more sensitive to the sun, and thus more susceptible than usual to sunburn.
Check out my Before (L) – After (R):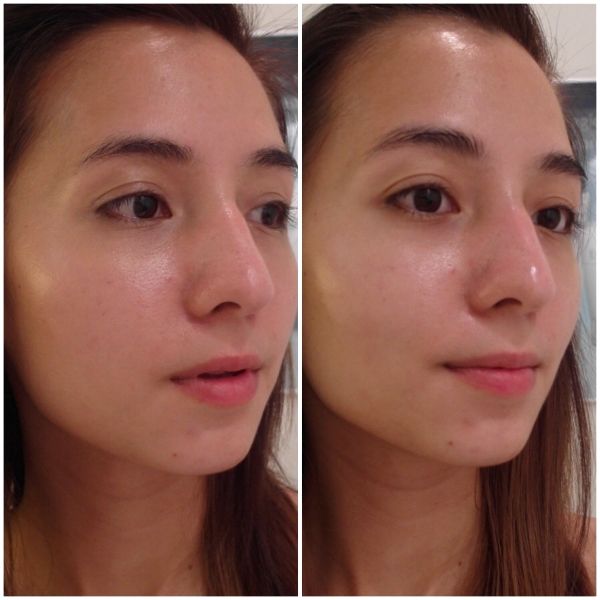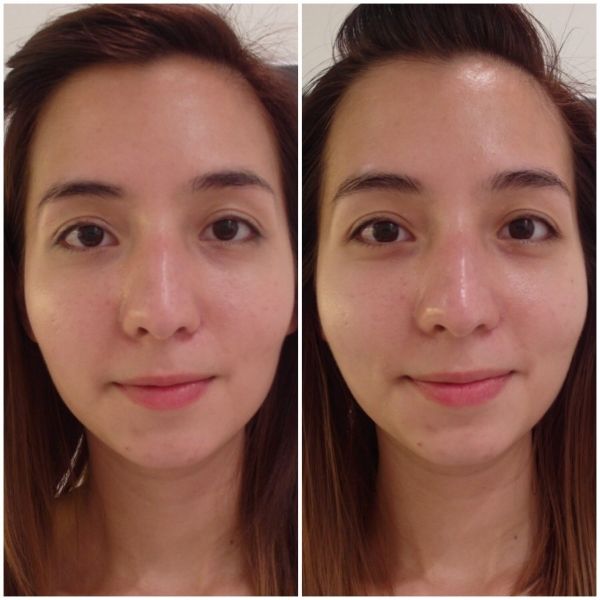 As you can see, my skin was immediately brighter, smoother and more radiant! I didn't even bother brightening my photos to show how real the results are! It definitely looks less dull and seemed to be softly glowing from within. The redness from my acne were also less visible and looks way clearer and even-tone as compared to before. Those shiny area ain't oiliness btw, that is just how my skin usually looks when it is squeaky clean.. reflects a lot of light -.-
Unfortunately, my face broke out a few days later. Whilst I was blaming the haze and my hormones for playing a large part in this, I was also reminded of the possibility that it is also because of how the AHA helps in exfoliating our dead skin cells whilst the underlying comedones and acne are being purged. So I reckon some may be very dissuaded initially with the outcome, but I suppose that's what will happen when you try to get to the root of the problem (pun intended) and solve your skin problem's once and for all. Continuous use of AHA will help achieve smooth and radiant skin, without recurring acne. I did ask Daphne the estimated sessions required before skin will start showing significant results, and although it may vary from person to person, the minimum will be 6. Not too bad since the prices are so affordable hey?
Here are the list of treatments they offer:
6 Tagore Drive, #01-06 Tagore Building
Singapore 787623
65 6552 7787
X