Sponsored
Jacqueline Burchell is Singapore bred. In other words, this brand of nail polishes is researched & developed in Singapore; talk about supporting local brands! Just like the diverse country we live in, Jacqueline Burchell takes the best ideas and people from all across the world to create a creative fondue of ideas. Wanting to empower women to accentuate their inner beauty & freedom of self expression through high quality beauty products; Jacqueline Burchell believes that a manicured set of nails makes our day just a bit brighter and completes an outfit. Now, who in the right mind would disagree? I love expressing my personality through my manicures – with over 350 nail lacquer color and 1000 soak off gel polish colors to choose from, I am definitely spoilt for choice!
This month's pick will be for fans of gradient nails! Two ways to play around with it:
1. One color per nail (like how I did it below),
2. or blending each nail color from light to dark.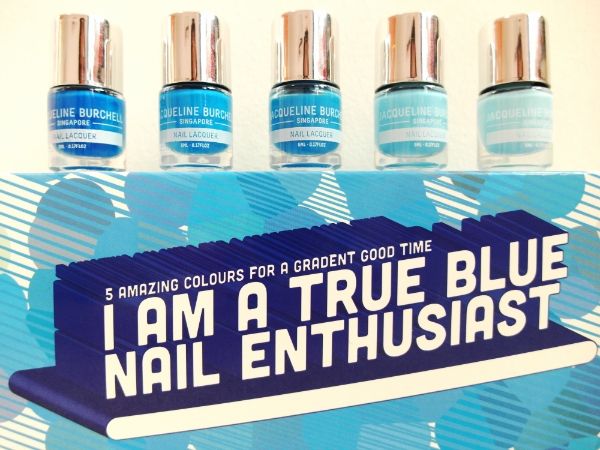 A True Blue Nail Enthusiast comes in 5 x 5ml bottles. Personally, I've always prefer collecting nail lacquers in baby bottles because it is more economical if you are someone who likes to play around with a wide range of nail polishes. I used to own only full sized nail lacquers but never ever had the chance of using them till the end as they have always dried up by then. Baby bottles are not only super duper cute and easy to carry around, I won't feel as much heartache when it dried up cuz normally I will be at least 80% into it :B
Swatches!
3 coats with no base coat needed, I like how
Jacqueline Burchell
nail lacquers always glide on so smoothly on my nails. It also dries amazingly quick. After topping off with a topcoat and letting it dry on its own for waay less than 10 minutes, I was already up and about with my chores.. No smudges at all, my nails still look glossy and shiny!
♥ ♥ ♥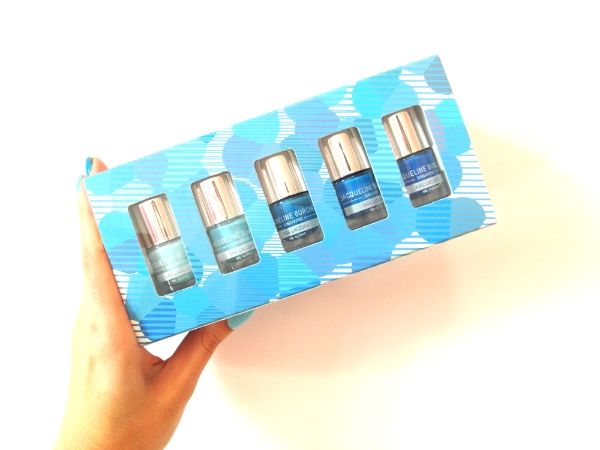 Since good things are meant for sharing, here's my first giveaway for 2014!
How to enter:
1. Follow Paperkitties on Instagram
2. Follow Jacqueline Burchell on Instagram
When you are done with the above, simply leave a comment with your email and instagram username in this format:
Name:
Instagram:
Email:
Giveaway will close on open to until 14th March (23:59) and I will announce the lucky winner on 15th March on my instagram. Good Luck!
X