Editorial Review
The last time I went for a facial was approximately 5-6 years ago. Back then I had persistent acne prone skin and decided to try out a reasonably priced facial at FEP that used special blue light acne treatment to treat my acne. After it closed down a year later, I tried another beauty salon (those below hdbs) as recommended by my friend, this time round with extractions but the results were so-so. My skin didn't get better or worse, so I stopped going after 3 sessions. It was also around that time that I found out how Ettusais work for my skin so I never did see a need to visit a beautician anymore.
But fast forward it to 2014 and here I am finally giving facials a go again! Lucky me was invited by GLOMAX Aesthetics, located at SOHO2, to try out one of their highly raved skin treatments. Nestled six floors above Singapore's famous riverside Clarke Quay, GLOMAX Aesthetics is everything a minimalist soho spa stands for: expertise, customization, modernity and privacy.​ With the constant stream of new technologies and skin care, Evon Low, Director and Founder of GLOMAX Aesthetics – The Face Artistry is well known as a legend among her clients for giving them quality and results, in the shortest amount of time. With 19 years of experience, Evon believes in the ideal pairing of treatment concoction to skin and application of the right pressure. So get prepared to have your every dollar and time well spent with a hallmark of satellite of treatments encompassed to leave you glowing sooner than you think.
Mandatory "Before" pic
No makeup at all so don't judge ah! Duno why my eyes were red tho -.-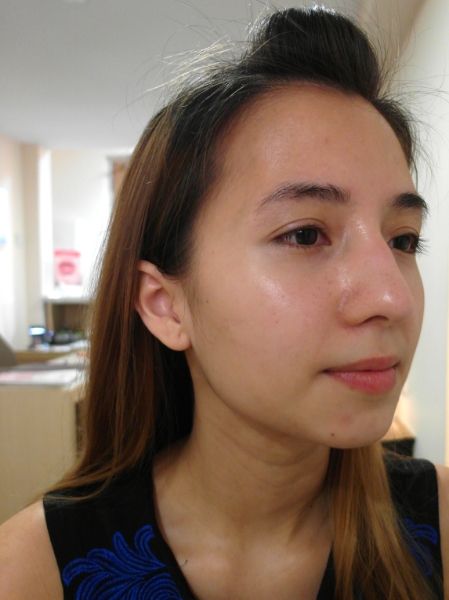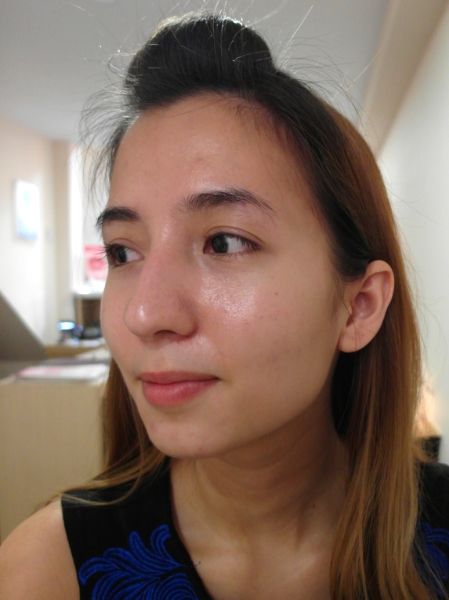 I was given a very detailed analysis of my skin by Evon. Generally my skin is in good condition from my years of religious skincare routine… in fact, Evon said that I pretty much got all of it covered (except for a missing step for pore minimizing)! However, I do have some acne buried deep inside which resulted in recurring nodules and stubborn whiteheads.
She decided that the Luminous Detox Energie Care Facial is best suited for me – the ultimate skin purification, this diamond microdermabrasion treatment invigorates cellular renewal to treat clogged, pigmented and sallow skin. Designed with a cocktail of vitamins to refresh the appearance of the skin by aligning skin cells in the top layer of the skin to achieve clean and radiant glow.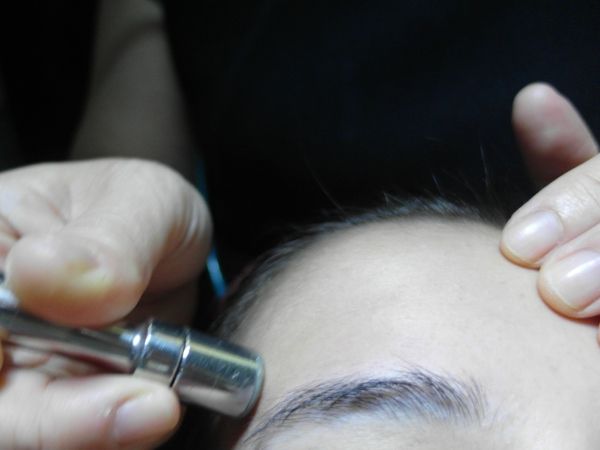 My face was double cleansed before the microdermabrasion machine was used to gently buff away the outermost layer of dead skin cells from the epidermis so that new and healthy cells can replace them. It is a non-invasive procedure and is basically an exfoliation and skin rejuvenation procedure that leaves skin looking softer and brighter.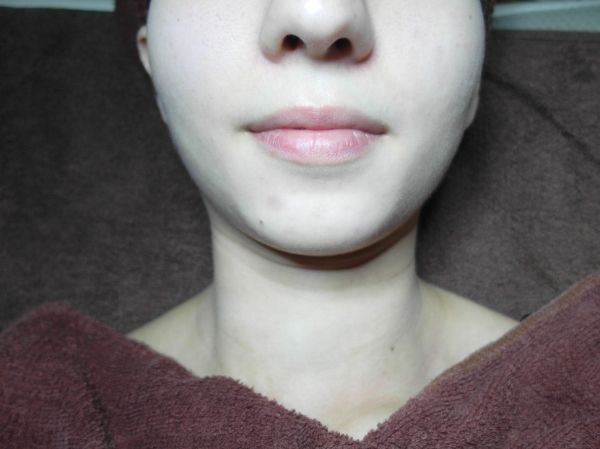 Spot the difference between my left and right?
After the microdermabrasion, my left side was visibly brighter and not as sallow as before.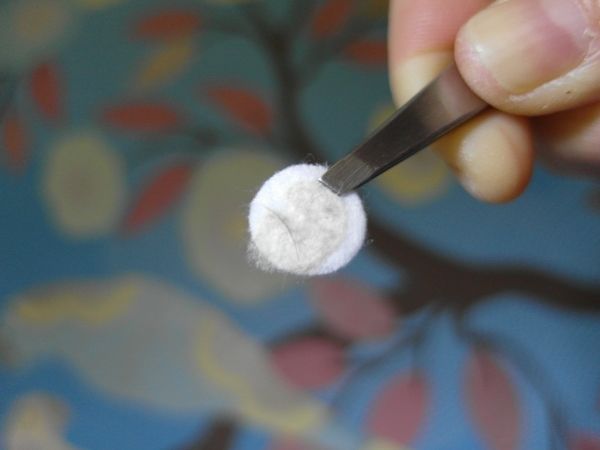 My dead skin cells after the entire procedure.
So much satisfaction seeing these skin "plaque" removed.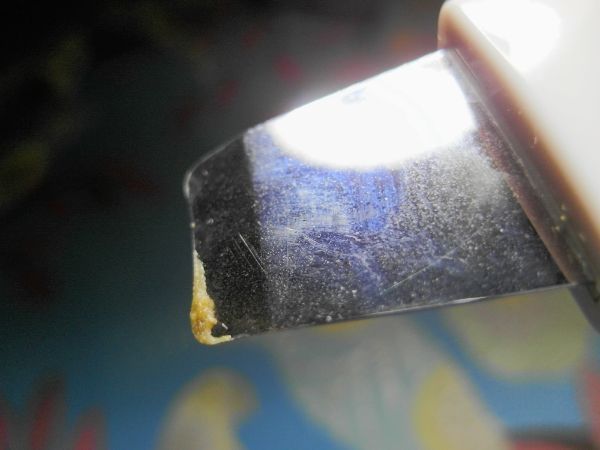 Blackheads galore!
I'm so sorry, you can go ahead to puke your heart out now 😡 Next up is the sonic cleansing machine to vibrate off blackheads and impurities to prep my skin for extraction. If you have itchy hands like me, you should know how extracting blackheads are almost as painful as popping pimples. With the sonic cleansing machine, my blackheads were extracted swiftly and thoroughly with minimal discomfort. And being a noob in facial, I actually didnt know she was doing (since it was quite shiok in fact) until she showed me how much blackheads I have mainly accumulated on and around my nose!
Even the much dreaded manual extraction was very gentle with minimal discomfort. Remember how I've always talked about not extracting nodules cuz of the hideous scars they leave? And well, also due to how freaking painful it can be as compared to the normal pimple popping. But Evon is so skillful, I didn't even realize she was extracting a particular stubborn nodule until she was telling me! And well since it has been stuck there for ages, it also explains why my chin area tend to breakout on a frequent basis.. Cuz the inflammation is spreading! She even managed to find a very old nodule (that I'd long forgotten about) and extracted it without a hassle. I am impressed by how good she is, other than the very sensitive areas, I find the pain level of the entire extraction process very bearable.
As I had voiced out my concerns earlier on about how I was worried I will be attending an event later that night with my post-extraction face. She reassured me again and again by focusing on making the downtime redness as short as possible. Other than the significant big bumps on my forehead and chin, my skin was mostly free of redness! Very different from my post extraction back then 🙂
To prevent unnecessary inflammation, high frequency machine to heal and has a germicidal effect to open wounds so they heal more effectively. It was so cold I couldn't help giggling in delight cuz I like how soothing it feels on my face. As I may have many hidden acne waiting to erupt, she played safe by only focusing on massaging my shoulder and skipping the facial massage instead. No complains though, since the long hours of staring in front of my computer always resulted in a stiff neck/shoulder.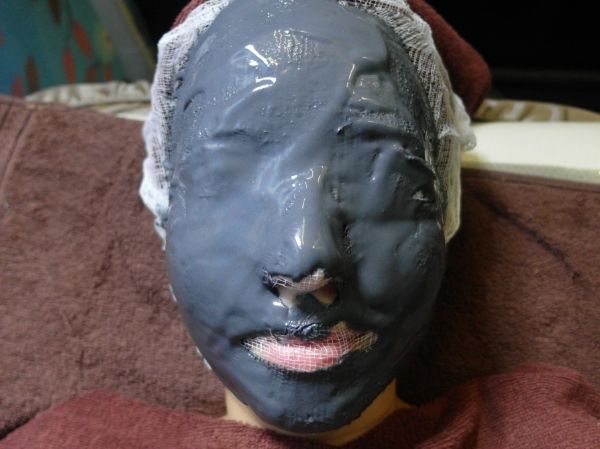 Cold charcoal mask to calm the skin before applying sunblock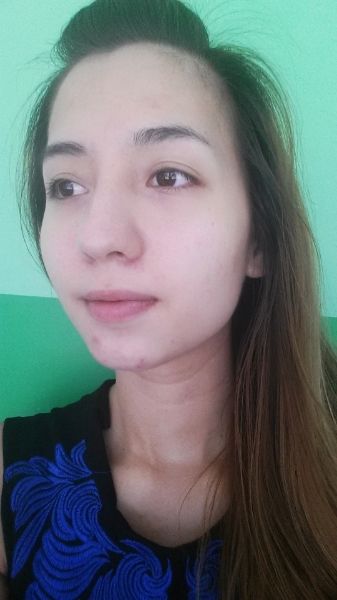 Post-Facial
(The redness at my chin is where my nodule has been stubbornly stuck at all these while)
Inevitable red bumps but there was nothing makeup couldn't hide. Since it is always encouraged to only apply makeup or non-irritating creams within a few hours after microdermabrasion, I went about like my daily affairs looking like this and only applied makeup an hour before my event. Was very surprised by how easily my makeup glide on compared to usual.
At a beauty event later that night with light make up on.. redness is definitely the last thing you see on my face eh? The only editing I did for this pic was to brighten it 🙂
My
instagram
posts are good evidence of how the redness subside quickly and my skin looks much more radiant than before 🙂 Overall I like the idea of a deep cleansing treat and keeping my skin free from hidden bumps. And if getting a facial once a month would meant that my whiteheads, blackheads and nodules can finally be controlled, I really wouldn't mind giving it a try on a longer term basis and see how it goes!
A little treat for my readers:
Quote "Blogger Alene" to enjoy Luminous Detox Energie Care Treatment 90mins* at only $88 (UP$168)!

*For first timers at GLOMAX Aesthetics and by appointment only

♥

GLOMAX Aesthetics
(65) 6225 5193

12 Eu Tong Sen Street, Singapore 059819
#06-168 Soho 2 (Next to Swissotel Merchant Court)

X