Sponsored
I used to be really insecure during my tertiary school days.. not only was I trying to move on from a bad break up, my skin was experiencing its first acne outbreak ever. Instead of the usual pimples and blemishes that most teenagers will get, my horrid body decides to up a level by producing nodules instead. Nodules are hard painful bumps under the skin that take at least 3 weeks to go away, it has no pus but can create scarring (even w/o squeezing). Can you imagine how devastating that was? It felt so sore even without touching and when I tried stubbornly squeezing it (MEGA NO NO), it gets so inflamed it takes up to 2 months before the healing process begins. It was so bad at one point I can get 2-3 at a go on various parts of my face every week and sadly they are extremely hard to conceal as well. I spent so much of my limited allowance on dermatologists, facial salons, acne products etc… it was definitely the most depressing part of growing up.
Over the years, after trying and testing out so many different type of remedies.. I more or less settled in a routine helps control them the best I could (previously blogged about how to avoid nodules here), without needing to take oral medications or visiting facial salons to keep them at bay. I still get it every now and then, but definitely on a lesser frequency and mostly due to the inevitable hormones.
That being said, I have always wondered why my favorite my skincare brand only carries the Pore Care range instead of acne; and my prayers were finally answered! This January, Laneige will be introducing the Trouble Relief Range targeting on adult acne. It is suitable for all skin type and formulated for acne-prone skin. Hurray!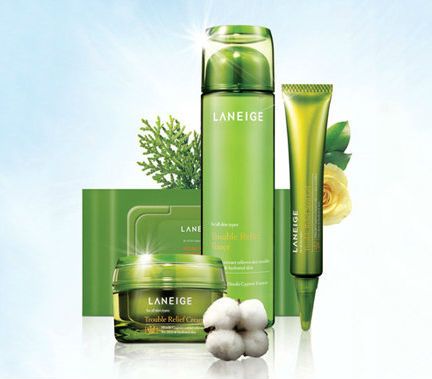 Laneige Trouble Relief Range
1. Prevents acne by suppressing the growth of acne bacteria to prevent the inflammation of clogged pores and formation of papules.
(A papule occur right before it has pus and turns into pimple/zit)
2. Treats acne by alleviating inflammatory lesions and soothes skin irritations.
3. Maintains the skin's moisture level to keep the skin feeling smooth and supple.
It couldn't come at a more timely manner when my beloved Laneige team gave me this entire range. I have been getting continuous acne breakouts ranging from papules to nodules (almost like the old days) due to stress, lack of sleep and not enough fluids. Although I was happy with my usual routine, the breakouts this round seemed more resistant than usual – a perfect time to introduce a brand new routine to combat these nasties!
Trouble Relief's Common Ingredient: Hinoki Cypress Polysaccharide extract
– Reduces the growth of acne-causing bacteria by suppressing the formation of biofilm on the skin, where the bacteria thrives.
– Less occurrence of bacteria-induced inflammation for clearer skin.
– Soothes irritated skin.
I won't stop raving this range to my friends whenever they talk about their acne problems, I think they are already so sick of me by now :B One thing for sure, it is not at all drying for my skin. Most acne-care products tends to be really strong and results in skin peeling, making one look even worse than before. But not this. I use it day and night, and although it is not as hydrating as the water bank series, this mild complete skincare regime does what it is suppose to do for my breakouts whilst keeping my skin calm and moisturized.
Step 1: Trouble Relief Cleansing Tissue
The cleansing tissue mildly cleanses without stripping my skin off its natural moisture and protective oils. It is very gentle on my skin and one sheet is more than enough for my face. Personally, I find it slightly too gentle on my skin and will use the Laneige Fresh Brightening Cleansing Oil (will blog about it soon) prior to it, so as to ensure that on top of the excess sebum and dirt, my makeup is also thoroughly removed.
I like how the product only forms a rich foam when in contact with water, this ensures that the cleansing tissue doesn't dry out when reaching towards the end. It is also good to bring around with, especially when travelling! I can pop it into my carry on luggage and give my face a quick cleanse during long-haul flights 🙂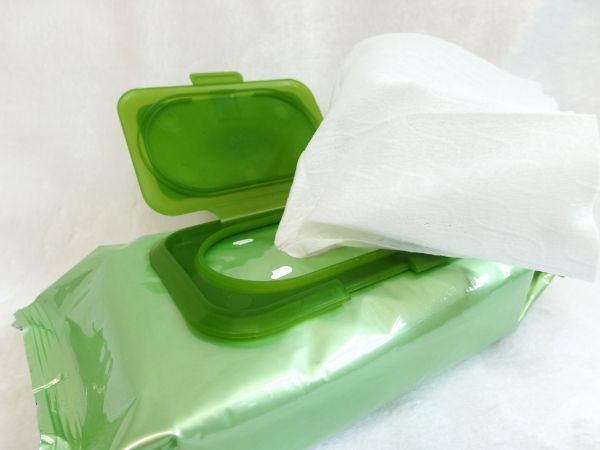 How to use:
1. Take a sheet out of the package with dry hands.
2. Rub the sheet under running water until it foams.
3. Cleanse your face with the foaming sheet after which rinse with lukewarm water.
Step 2: Trouble Relief Toner
This anti-bacterial toner keeps the skin clean and smooth after cleansing. The non-drying formulation does not cause irritation to sensitive skin. Instead it helps controls excess sebum and reduce inflammation. I find it very gentle and soothing whenever I apply it on my face, especially when my skin is feeling a little "tight".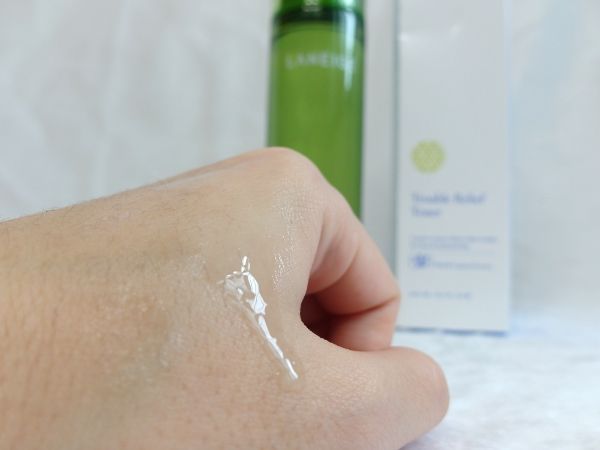 How to use:
1. Use after cleansing in the morning and evening.
2. Soak a cotton pad with toner (1ml).
3. Gently apply from the center of your face outwards towards the contours.
Step 3: Trouble Relief Cream
It is super important to have moisturized skin especially during an acne breakout as a dry/peeling skin will cause us girls one major problem – the inability to conceal! As though having angry red bumps on my face isn't bad enough, imagine having to face the world and not being able to hide my blotchy skin 🙁 I was using a whole range of acne spot treatments prior to this range and my face was starting to peel.. The Trouble Relief Cream does its job to moisturize and protect my skin damaged by acne and dryness.. Love how my Laneige BB Cushion is able to glide on easily and does its necessary coverage after using this!
It also suppresses bacterial growth to reduce inflammation of clogged pores and has a comforting velvety texture. I was quite hesitant with the cream initially since the texture is quite thick and I wondered if it would be suitable as a day cream as well. My worries were easily solved when I found out that the absorb quickly into my skin with a velvety matte afterfeel.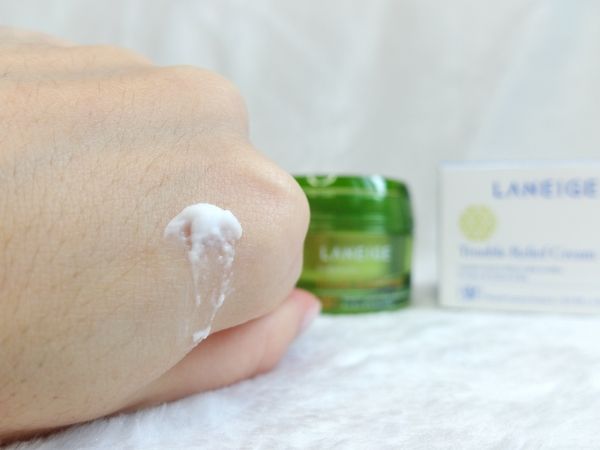 How to use:
1. Use after toner in the morning and evening.
2.Apply about 0.4ml each time.
3.Gently smoothen the cream from the center of your face outwards towards the contours.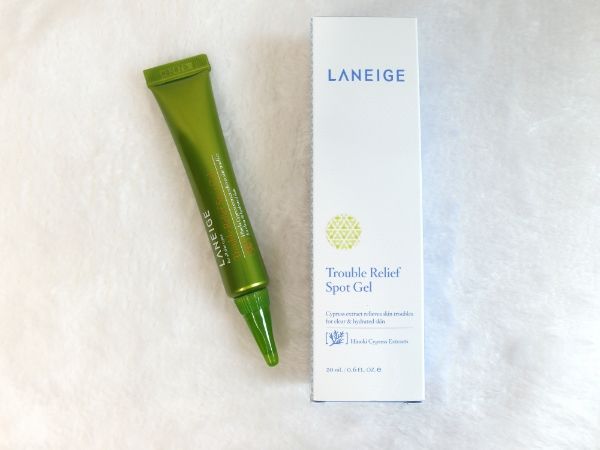 Step 4: Trouble Relief Spot Gel
I have been using the entire range for 2 weeks now and I have noticed how effective they are when it comes to combating papules especially. Whenever I see an angry red spot, I will generously apply a layer of Trouble Relief Spot Gel on it after the above 3 steps and voila~ The redness will significantly reduce the next day! This spot gel helps to reduce acne inflammation and absorbs into my skin quickly. It will take a longer time for the large painful ones like pimples and nodules to go away, but I notice that the soreness reduces within 2 days and nodule bumps became smaller after a week! Unlike other spot treatments, the Trouble Relief Spot Gel does not dry out my acne and its surrounding at all so I am able to conceal and confidently head out 🙂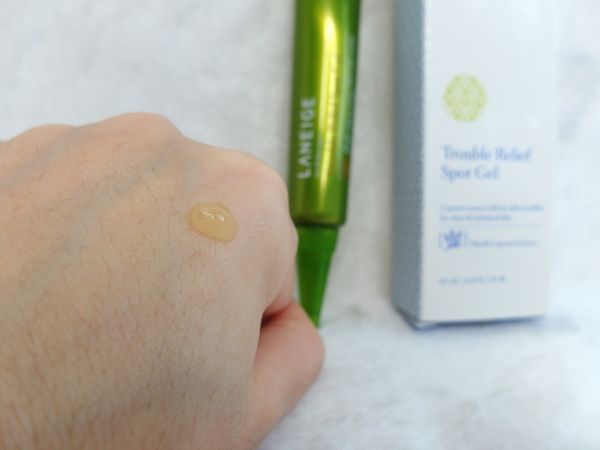 How to use:
1.Use after cream in the morning and evening.
2.Squeeze an appropriate amount of gel onto a clean finger or cotton swab and apply on inflamed spots by tapping lightly.