Editorial Review
Product description:
Aloe Calming Oil raises skin that is under stress by outside hazardous article moistly and comfortably. It contains 99% organic ingredients such as Aloe Barbadenis Leaf extract, Argania Spinosa, Kernel Oil and Tocopheryl Acetate. Harmful ingredients such as paraben, alcohol, mineral oil, artificial oil, S.L.S, synthetic perfume and phenoxy ethanol was specifically listed in the box as "non added ingredient".
November's BNTNews beauty box was generously filled with heaps of skincare products so I decided to use this on my body instead after reading Kine's review on how it works well on her friend's eczema. I was still suffering from eczema and rashes on my legs after my Aussie trip so I might as well give it a go right?!
Best decision ever! I used it twice a day and generously applied on the affected areas. It absorbs quickly and has no greasy after-feel. I can't really find a proper word to describe the scent tho, some say it reminds them of a plant, but nonetheless it doesn't really matter as it is very faint and unnoticeable.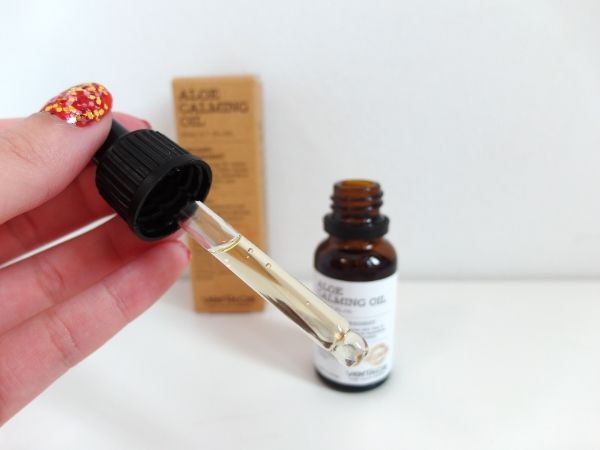 It comes with a dropper – perfect for controlling the amount of product one would like to used. Despite instructions of using only 1 to 2 drops, I took the liberty of generously using the calming oil to apply on some dry patches on my skin. It doesn't gives me supple bouncy skin, but it works in relieving dryness and itchiness. Reviewing this product after a one week trial ain't exactly a long period, but given the continuous daily usage, the Aloe Calming Oil was pretty good at doing what it claims for my skin.
Pardon the skin color difference due to the lighting taken on different days. I reckon the answer is clear on how efficient this Aloe Calming Oil is. The top right was how my knee and calf look like a week later after religiously applying it twice a day – scars are less visible and the eczema patches are no longer dry and irritates. Below right is a close up of how the eczema on my ankle looks like a week later, less reddish and no longer itchy.
I highly recommend using this product if you're prone to eczema and dry skin like I am even though it is meant to be a face oil (which Joanne did mention that it works for her pimples). It does what it promises – calming my agitated skin, and is definitely way more gentle than most of the eczema-relief creams out there.