Sponsored
This Christmas, something magical is coming your way in My Little Winterland by Laneige 🙂
Laneige Holiday Collection takes its inspiration from the snow globe, an encapsulated space with a magical world inside, to give you the crystallized, brilliant skin you were naturally born with, sparkling eyes and glittering lips to celebrate the year-end festivities in their most fabulous and confident self… turning every woman's winter fantasy into a reality!
This year's Holiday Collection adds vitality to the winter festivities by making skin brighter than snow and with sparkling makeup… you can take your pick between the Best sellers vs the Limited Edition X'mas sets 😀 First up would be the Laneige Bestsellers: Water Bank, Perfect Renew and BB Cushion are available as Holiday sets to keep the skin hydrated and protected like a snow globe that envelopes its own world, and they make perfect gift ideas for your loved ones and yourself…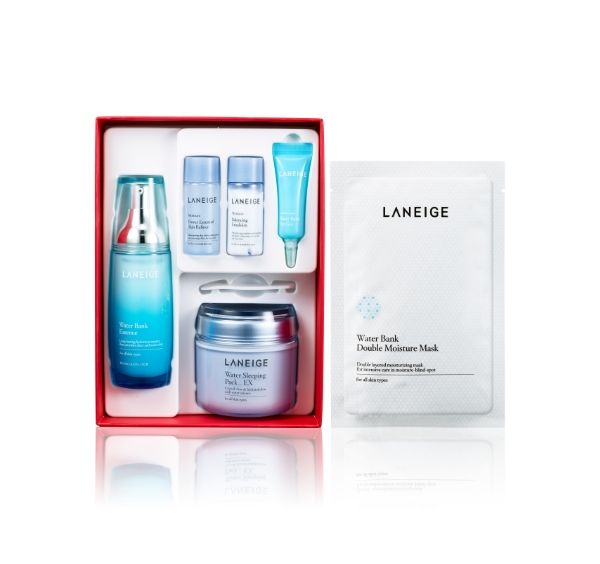 Best sellers #1: Holiday Water Bank Set
❅ Intensive moisture care to keep skin hydrated and protected, available in the special holiday edition.
❅ Consists of Laneige's best-selling Water Bank Essence and Water Bank Sleeping Pack, added with smaller samples of Power Essential Skin Refiner Moisture (15 ml), Balancing Emulsion Moisture (15 ml), Water Bank Eye Gel (5 ml), and Water Bank Moisture Mask (1 sheet).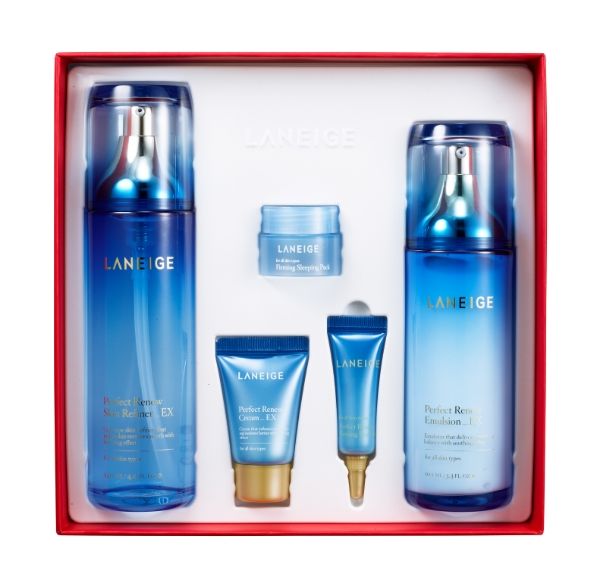 Best sellers #2: Holiday Perfect Renew_EX Basic Set
❅ Refreshing early anti-aging formula for increasingly rough, dehydrated, wrinkly skin, to create more vibrant, younger-looking skin.
❅ Consists of Perfect Renew Skin Refiner and Perfect Renew Emulsion, added with samples of Perfect Renew Cream (10 ml), Perfect Renew Firming Eye Cream (3 ml), Firming Sleeping Pack (5 ml).
Best sellers #3: Holiday BB Cushion Set
❅ One of the best-selling makeup products by Laneige, 5-in-1 multifunctional (Soothing Effect, Brightening, SPF 50+ PA+++, Sweatproof and Skin Tone Correction) BB Cushion creates a perfect, spotless complexion.
❅ Available in holiday packaging consisting of BB Cushion and two mini Pure Lip Gloss.
Limited Edition #1: Winterland Magic Makeup Collection
This holiday season is filled with glittering parties and festivities, so supplement the glow with Laneige's Winterland Magic Makeup Collection that creates a crystal-like radiance to brighten up the eyes and lips.
❅ This new multi-makeup palette to add variety to your dazzling holiday season look, comprising of the top three colors of mini Silk Intense Lipsticks (Beige Chiffon, Blonde Coral and Pink Garden) and four crystallized shades of eye shadow.
❅ Specially designed case depicting a festive and magical holiday fantasy that includes a special holiday makeup look book.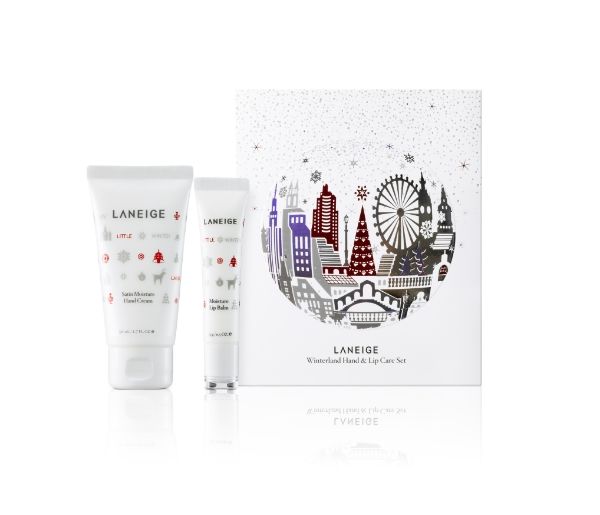 Limited Edition #2: Winterland Hand & Lip Care Set
­
Another limited edition gift item is the Winterland Hand & Lip Care Set released specifically for the Holiday Collection to lovingly keep the hands and lips hydrated at all times. Do note that hand cream is only available in this Winterland collection so better lay your hands on this exclusive darling fast!
❅ Laneige Moisture Hand Cream: Fresh treatment to moisturize hands. Contains mineral water and mixed seed oil for powerful hydration. Softening ComplexTM gives a light and refreshing texture that is absorbed easily into skin without being greasy.
­❅ Laneige Moisture Lip Balm: Hydrating lip treatment that also reduces lip wrinkles and removes dead skin cells.
❅ ❅ ❅
Here's what Laneige has pampered me with this X'mas~..
Holiday BB Cushion Set
Woohoo~ I have been using my BB Cushion every single day and am currently on my 3rd with 2 refill packs left so it definitely came in handy for me to have more to stock up 😀 If you have read my previous two posts (
Laneige BB Cushion
&
Laneige Bling Bling Look
), you should know by now how much I swear by them!! And if you have yet to jump on the Laneige BB Cushion bandwagon, this will be the perfect time to start.. You get to save more moolahs and it comes with two lovely travel-sized lip gloss in Veil Rose & Cherry Pink~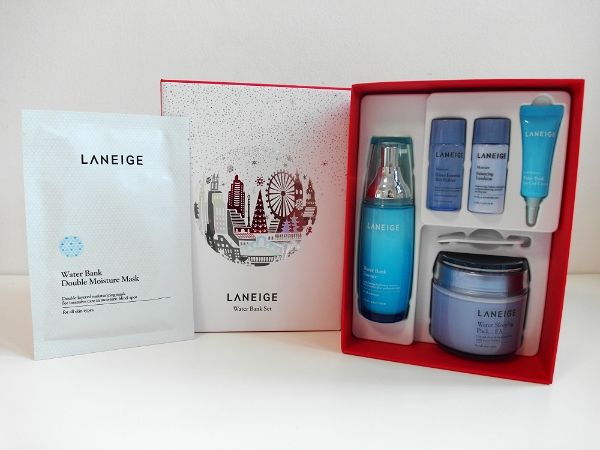 Holiday Water Bank Set
I have also been religiously using the Laneige Water Bank Range (previously blogged about
here
) and love how I wake up to plump and non-oily skin in the morning these days. This is especially important since I work and sleep in an air-conditioned place so my skin needs to be really really hydrated, otherwise my face will turn really oily cuz it is too dry. It also comes with the #1 best-selling Water Sleeping Pack (this is officially my 5th bottle..) 🙂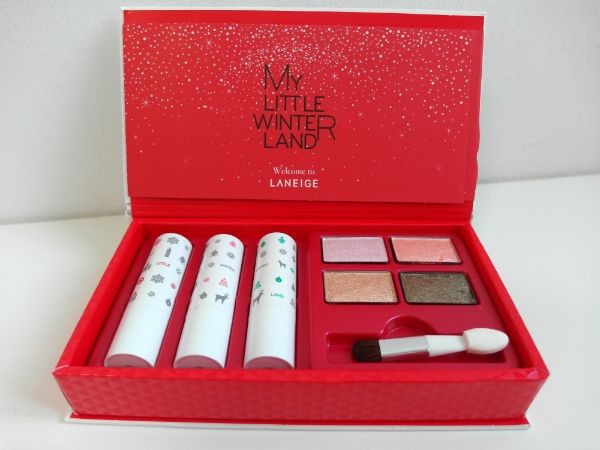 Winterland Magic Makeup Collection
And how can we forget the limited edition makeup collection?! I know for a fact that heaps of girls are crazy over this.. and you should too! They even have a mini tutorial attached to create two looks: Pure Fantasy and Glow Fantasy.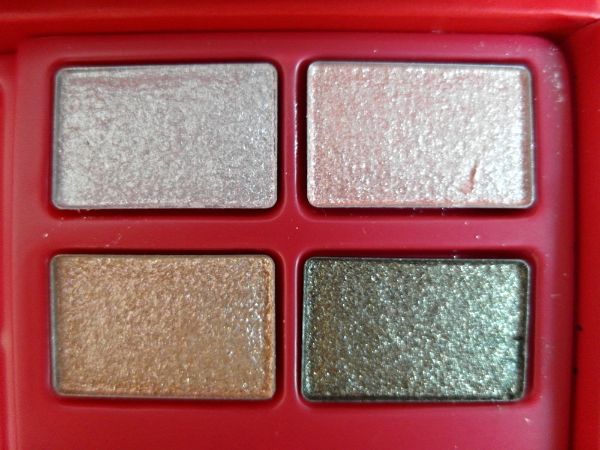 Clockwise from upper left: Pearl Light Pink, Pearl Pink, Pearl Khaki & Pearl Coral eyeshadows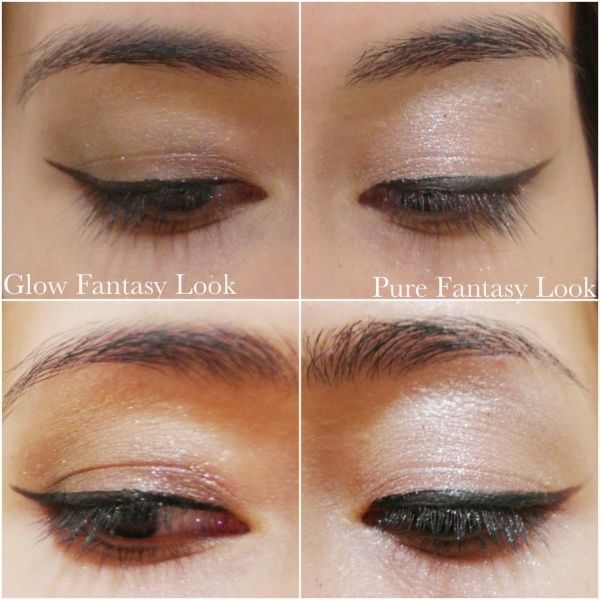 Creating the two looks..
Just like how the eyeshadow pigmentation is very glittery and perfect for all the upcoming year end parties. However, as seen on the swatches above, Pearl Khaki is the most pigmented and intense eyeshadow out of the four. This is understandable since Laneige is all about natural beauty and bringing out your features, these shades will give off a very natural and glowy look (if like me, you just do not suit heavy makeup), and you can just layer it to build up the intensity of the pearly shades. You can also use Pearl Light Pink as a highlighter too 😉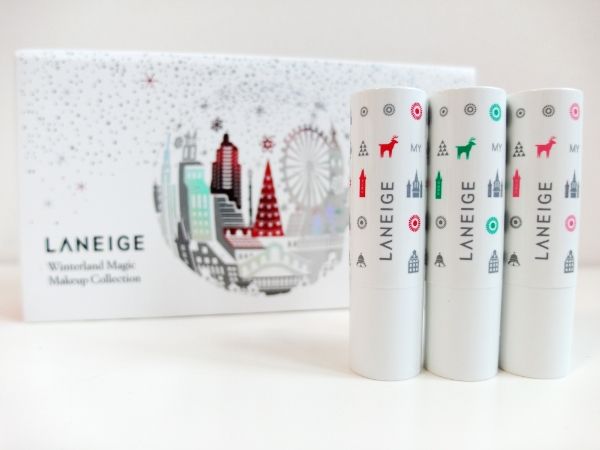 Cute little mortifs on 3 very exclusive lippies… (exclusive as they are always OOS all over the world.. read all about it here)
Right to Left: Beige Chiffon, Blonde Coral and Pink Garden
The lovely Christmas sets are now available in all Laneige stores so do pop over and shop your hearts away~