Editorial Review
3CE One Color Shadow is a new release, part of the Shimmer range of 3CE eyeshadows by Stylenanda. There are three other finishes: matte (natural), lustre (dimension & glow), and sparkling (dewy & youthful). The shimmer collection has a total of 9 beautiful colors, each of them in irresistible shades!
According to Stylenanda, the fine-textured eyeshadows will look great on Asians for "structured, glamorous makeup". All of the shadows are a one-touch eyeshadow color with pretty amazing texture and feel. The product itself is packaged in a sturdy plastic black container similar to MAC's single eyeshadows but 2 times the size! In fact, it is so massive for a one color shadow, it can be comparable in size to most blushes in the market.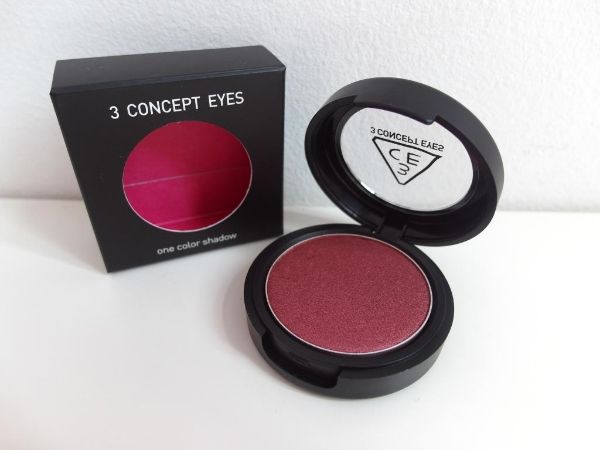 Saturn is the perfect fall colour – deep burgundy with pearlescent pink and gold undertones with a shimmer finish. The eyeshadow itself is highly pigmented, so smooth and very easy to blend out. As it is a tightly packed product, its staying power is amazing with minimal fall out.
Due to my skin tone, I tend to avoid red or pink shadows as it makes my eyes looks swollen and tired. And this was no different when I wear it on its own. If you're keen to try out this shade, I would recommend you to pair it with more more neutral, earth-toned shades like browns and/or gold.
I initially found the eyeshadow to be quite 'hard' which led me thinking that the pigmentation would be sub-par. However I was pleasantly surprised at how pigmented and intense it turned out to be with two swipes (as seen above).
Although this color is not really what I would normally go for (and I honestly will still avoid using this shade as much as possible), I really love the great pigmentation and prefer 3CE eyeshadows wayyyy more than their lip lacquers! I most likely will start hunting for their One Color Shadow in more earthly tones; despite the price, they are good investment as I reckon it will take ages to hit pan so it is pretty worth the moolahs.