Editorial Review
I am part of the BNTNews editorial group so every month I will received a beautybox with 5 lovely Korean items to review as seen in my previous BNT News post. Super cool ey? 😀
In the October's BNTnews beauty box, Jasmine Whipping Essence from BRTC (Bio Remedies Therapeutic Cosmetics) was the very first item that caught my eye as my mom had been asking me to help search for Jasmine oil/essence for the face due to its anti-aging properties. The whipping essence is part of the Jasmine moist system that completes the 3D Watery Shining Skin through a double protection of water and oil for long-lasting comfort and softer skin.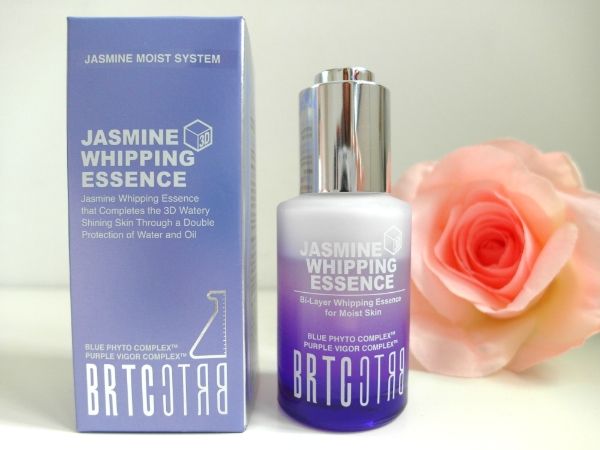 3 Functions of the Jasmine Whipping Essence:
– Intensive moisturizing
– Wrinkle Improvement
– Balance care
The dual-layered whipped serum, oil and water, combines into a super moist essence which helps in moisturizing and nourishing dry and dull skin. Loaded with ingredients like Vitamin E, Argan Oil, Collagen, Peptides,, Blue Phyto Complex and Purple Vigor Complex to alleviate skin stress, prevent dryness, itchiness, repair and soften damaged skin.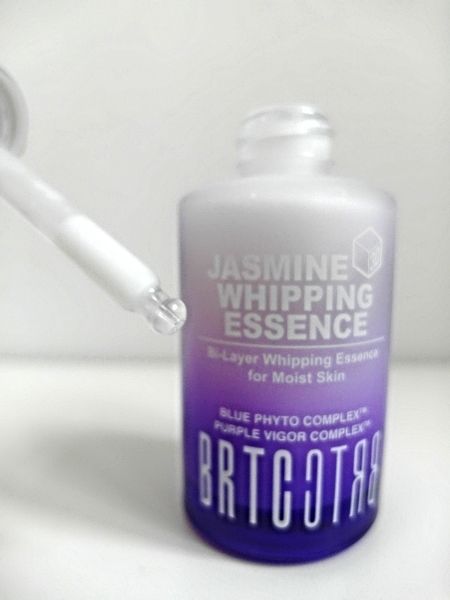 This ombre glass bottle looks gorgeous and the dropper design is always a bonus point since I can control the amount I need without wasting the unneccessary (I use about 1/3 of the dropper length each time). The whipping essence is to be used after cleansing and toning and completes the 3D watery shining skin through a double protection of water and oil. Remember to shake the bottle to mix the oil and water evenly together before applying to your face! There was once I didn't shake it well enough and my face looked much oilier than usual..
I tend to shun any facial products that contains oil as I fear that it will be too much for my already oily skin, so imagine my surprise when this product is far from anything oily. It felt really watery (to the point of being a pain to take snapshots of the texture since it keeps sliding down my hand) and absorbs almost instantly into my skin, leaving a nice dewy glow to my skin for a healthy look. I only used this during the day, as I am already using the Laneige waterbank and timefreeze series for my night routine, and I am pleased to notice that it takes a much longer time for my skin to turn oily!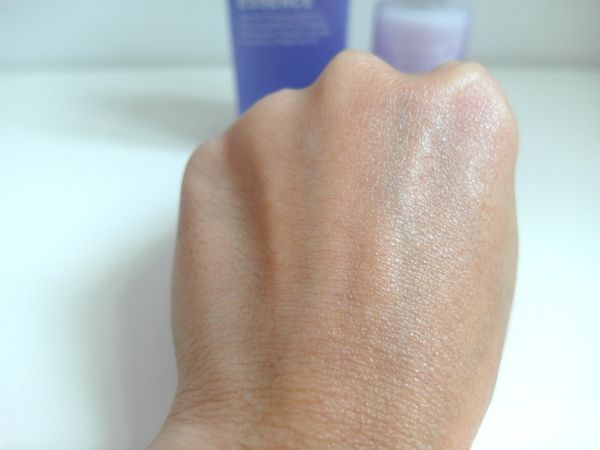 The right part of my hand is how it looks like immediately after I rub the essence into my hand. The consistency is akin to water as mentioned earlier and spreads across the skin extremely well due to the oil component. I really love the subtle fragrant jasmine scent that immediately disappears upon application. Personally, I still feel that it is much suited for people with normal to oily skin instead as it isn't as hydrating and moisturizing as it should be; so I reckon it won't be ideal for dry skin types.
More on BNTnews at their..
Website | Facebook | Twitter | Youtube