Sponsored
Don't know about you guys but I've always love to stalk Song Hye Kyo in all her Laneige advertisements.. she is so stunning and her skin is so perfect and glowy.. *sigh in awe* Anyway, as per the advert above, I reckon it is pretty evident that today's post will be all about the amazing
Laneige BB Cushion
! It is available in five shades, 13 True Beige, 21 Natural Beige, 23 Sand Beige, 31 Brown Beige and 33 Coffee at $59. The #3 best selling product in the entire Laneige range but forever #1 in my heart ♥ Teehee.
The unique formula of Laneige BB Cushion provides five benefits:
1. brightening effect;
2. daily protection against harmful UV rays and sun damage with SPF 50+ PA+++:
3. cooling effect that instantly cools down and refreshes the skin fatigued under heat, by 3°C;
4. tone correction to medium coverage, creating a clean and natural look;
5. sweat-proof, long-lasting coverage
This star product is all the rage in Korea right now with other brands like Etude House following suit. A unique compact that contains a cushion filled with cooling air and BB cream; it is a new type of BB product with surprising benefits! I have been religiously using the Laneige BB Cushion ever since I brought it home from the
Beautiful Blogger Challenge Workshop
so I am quite ashamed to be show you guys how dirty and overused it is.. Lol! It has definitely served me well, after 3 months plus.. I am finally changing it to its refill pack.
This is how worn out and dirty my bb cushion is and ready to be refilled! I am heavily reliant on it as I dislike piling thick makeup on my face (unless I am off for photoshoots) so the Laneige BB Cushion is perfect for my everyday makeup routine.. and the fact that it already has SPF 50+ PA+++ means that I can skip horrid sunscreens which always caused my face to be terribly oily. I also absolutely adore the naturally flawless and glowy look it provides whilst providing the necessary natural coverage!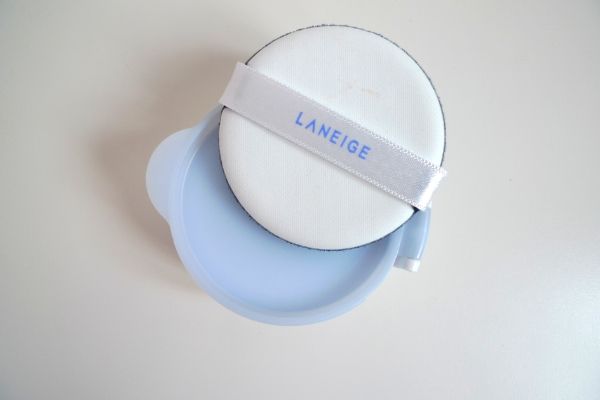 All ready for the refill pack!
Just push the old one from the bottom and slot the new one in from the top and VOILA! Super easy hey?
Glowy finishing is the hottest trend among Korean women. Please don't mistaken with oily skin with glowy skin, there is a major difference! The former is just gross and your foundation will smudge from all the oiliness; whereas glowy skin gives a watery healthy finishing on your skin. I've noticed Song Ji Hyo pulling off the dewy look often in Running Man and I'd always admire how naturally gorgeous it makes her look without all the thick makeup! So if you're into K-beauty natural and light makeup, this is the ideal product for you!!!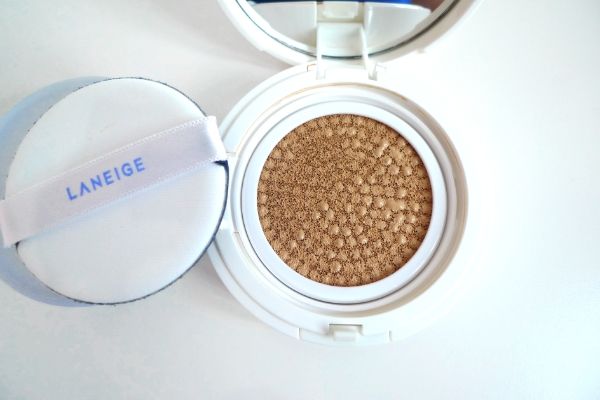 Tip: Flip the bb cushion over every time the product seems to be finishing to prolonge usage!
Another amazing thing about the Laneige BB Cushion is how my skin always feels instantly cooled (by 3°C) upon contact of usage; I tend to keep applying layers on my face just to enjoy the cooling sensation on my face :3 Not to forget, the puff is the MOST awesome creation ever! You can easily fold it to apply on awkward corners of the face – like corners of the eyes and the sides of the nose. By gently dabbing it, it can be easily blended and is just perfect for someone fuss-free like me. It is the one makeup product I must bring about when going to fats place for stayovers and when I travel abroad.. so compact and convenient, I don't even have to bring any brush or sunblock!
♥ ♥ ♥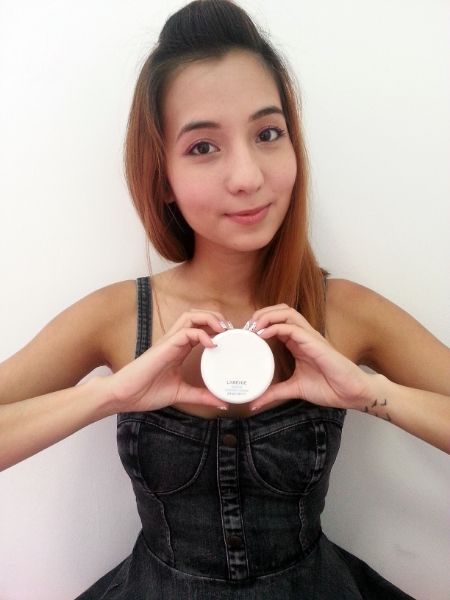 P.S. Am also wearing Laneige Silk Intense Lipstick in True Brown 😉
And now, for the moment that a lot of readers are waiting for..
one
lucky reader will get to win this awesome Laneige BB Cushion in 21 Natural Beige and 5 mini Laneige goodie bags for five other lucky readers! Woots!
How to enter:
Like

SgLaneige

on Facebook

Extra entries (whichever you fancy):
1. Post a picture of your favorite Laneige product and hashtag #laneigesg #paperkitties (x1 chance)
2. Follow Paperkitties on Instagram (x1 chance)
3. Follow Paperkitties on Twitter (x1 chance)
4. Like Paperkitties on Facebook (x1 chance)

When you are done with the above, simply leave a comment with your email and your twitter and/or instagram username(s) in this format:

Name:
Twitter: (if any)
Instagram: (if any)
Email:

Entries are open to until 30th August (23:59) and I will draw the winners on 31st August.
Good Luck!

*comments will be moderated*