When it comes to everyone's favorite
Laniege
skincare product, it has got to be the famous
Water Sleeping Pack_EX
no doubt! And being a typical skincare junkie, I am definitely one big fan of it! Afterall, I am stuck in the office from 9-6 all weekday, I suppose the least I can do for my skin is to hydrate it. Light gel-type texture provides intensive hydration, vitality, and brightening effect while restoring skin with deep relaxation. I use it along with the
Laneige Light Power Essential Skin Refiner
and
Balancing Emulsion
for optimal effect 😉
Night time skin transmission shows higher rate than the one in the day time. Applying it right before sleep time, the best state for the skin transmission according to the skin circadian rhythm, maximizes the efficiency of overnight water supply. Enriched with Beta-glucan, Water Sleeping Pack_EX deeply hydrates fatigue and dry skin while Ceramide SLN formula strengthens the skin barrier. I particularly like the light gel-type texture which is not at all sticky as compared to the usual moisturizers !
I personally have oily skin but do you know that part of the reason to oily skin is because our skin is very dehydrated? I've always dissed it off as a myth until I started using Laniege Water Sleeping Pack_EX religiously and realize that I am finally waking up to plump dewy skin! Personally, I use this 3 times a week as I am afraid that it may be too rich.. out of these 3, 1 session is dedicated to a special skincare trick that I've recently learn and am going to share it with my readers today! Read on 🙂

Here are your "ingredients"!
1.

Laniege Water Sleeping Pack_EX


2. Compressed DIY facial sheet mask (otherwise known as sheet mask tablets)
3. Spray bottle filled with distilled water
4. A bowl of distilled water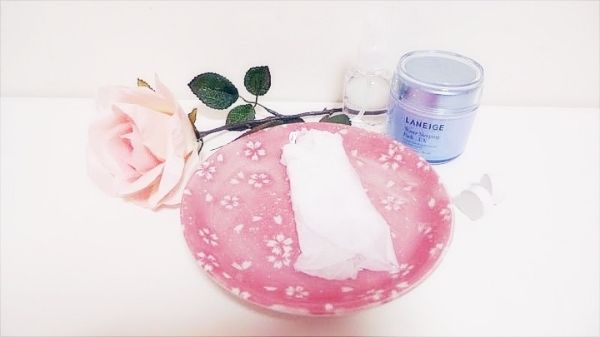 Step 1: Soak a sheet mask tablet with distilled water until full absorption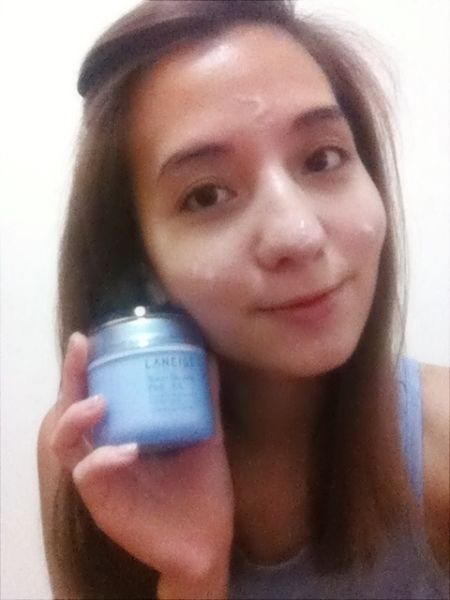 Step 2: Apply a generous dallop of Laniege Water Sleeping Pack_EX evenly spread out on your face
(Well yes, lucky you this is one of the rare times you see me w/o even my concealer but please pardon my failing iphone's poor quality pic.)

Step 3: Put the sheet mask on your face for the next 30 minutes and constantly spritz your face with distilled water whenever the mask is starting to feel dry
Remove sheet mask after 30 minutes, massage your face for absorption and you can now head to bed! You can thank me later ;P
♥ ♥ ♥
Next up! A make-up product so awesome sometimes I wonder why it is not highly raved about!

Laniege Water Supreme Finishing Pact SPF25 PA++!!
It practically just ticks all my boxes! Light coverage, SPF, hydrating and controls oil! I know how important sunblock is to all of us; beauty magazines harp on it, salesgirls won't stop selling it and oh need I talk about the freckles and the spots? But I have always hated applying sunblock cuz it just makes my already oily face even oilier! I've tried BB creams w SPF, varieties of sunblock on its own, liquid foundations with SPF, sunblock then loose powder…. they all gave me the same effect: maximum shine~ So what a relief it was for me to chance upon this product from Laniege.. a clear finishing pact, after my makeup up base, that applies smoothly and evenly for moisture-enriched skin with SPF!!!. It is so light, my pores don't feel clogged and I no longer have weird bumps that don't normally show until I apply makeup. My skin looks less blotchy from unsuitable foundations and most importantly, I finally have natural and clear coverage that doesn't streak. The 3D Hydra Technology covers my skin with moisture barrier that help retains moisture in my skin all day long; so important for someone like me who is stuck in an air-conditioned room almost 24/7!
What also impressed me about this product is that so much effort had been put in to maintain cleanliness and hygiene. That little transparent cover to shield the puff from the foundation pact when not in used, not to forget the spare puff with every purchase.. good for switching so I can be more hardworking with washing my puff regularly 🙂
My everyday look easily achieved without much hassle thanks to Laniege Water Supreme Finishing Pact SPF25 PA++!