Event
I was very privileged to be invited to the Summer Brazilian Party with Lumenis by the lovely girls of Brand-Cellar. (It was my first time being invited to such an event and I was obviously feeling shy and awkward but these lovely girls made me feel heaps more comfortable! So thankful!) I had a really enjoyable and enriching time learning more about hair removal treatments and even get to experience one of the latest machines recently released – The Lightsheer Duet. It was truly an eye-opener!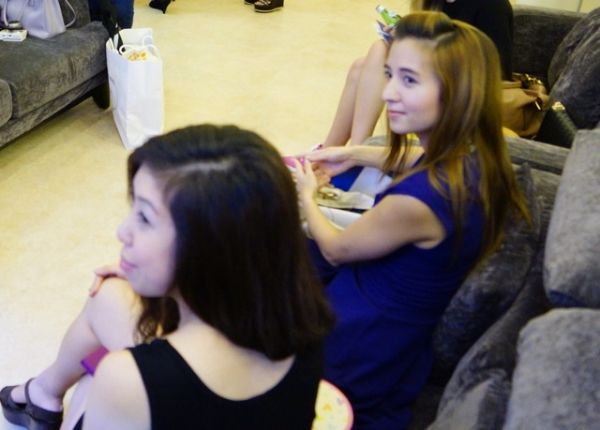 Sitting beside the very lovely and friendly Amanda 🙂
Back when I was in Aussie, I did try IPL from two various places since they were really cheaper down under as compared to Singapore. At
Essential Beauty
, it only costs AUD30-60 per underarm treatment when you sign up a package. And when I bought a Groupon deal for 6 treatments at
Hairfree
, I only paid for $119 for underarm + upper lip + XXX Bikini per session. Whilst the underarm treatment is finally proven effective after at least 12 treatments, I didn't see much effect on the bikini area especially. Honestly, I will rate waxing the most painful of them all [esp xXx bikini waxing.. omg the agony & horror!], shaving as least painful/painless and IPL somewhere near shaving, but definitely a slight more pain factor included.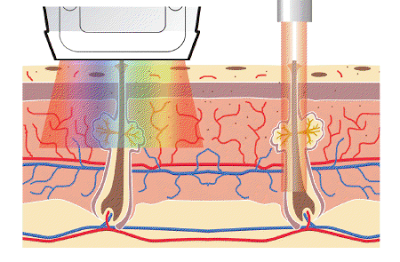 As illustrated in the diagram above, IPL on the left and laser on the right, a laser treatment is more specific and therefore, safer and more effective. In fact, laser hair removal is actually less painful than IPL! Out of the 4 available types of laser treatments, only 2 (namely Diode & Nd-YAG)are more suitable for Asians due to the pigmentation of our hair. So do remember to check with your doctor when you're doing laser treatments to know that you're only spending heaps of moolahs on the best and nothing less 🙂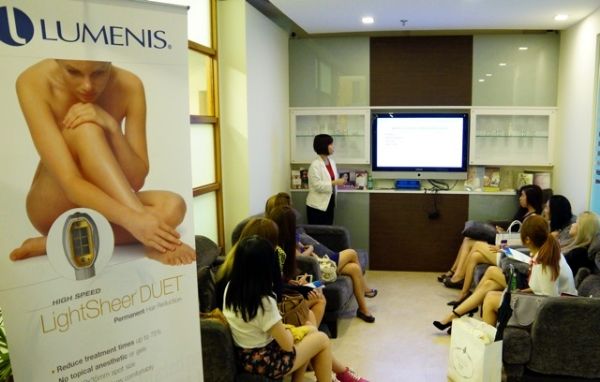 I'd always thought that all IPL/hair removal laser treatments are the same, except for the difference in machines used until I attended a talk by Dr Lim. Dr Lim is a renowned dermatologist with more than 20 years of experience. Not only is she the owner of the very famous
Joyce Lim Skin and Laser Clinic
, she also lectures in universities internationally for aspiring dermatologists. Listening to her opening presentation gave me an in-depth knowledge not only about the difference between IPL and Laser but also, the disadvantages of bikini waxing.. Do you know that there is a risk of contracting STDs and skin infections after waxing due to the open pores?!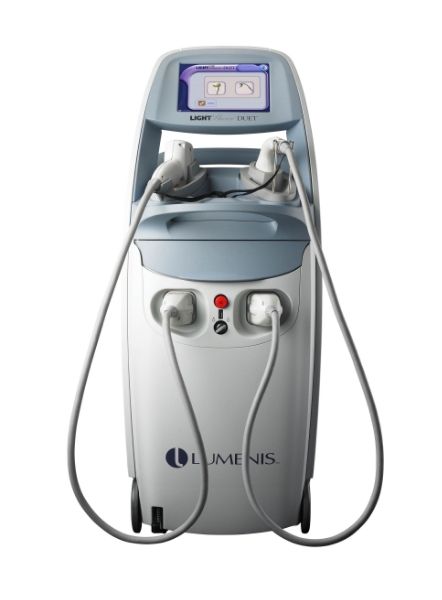 When it comes to hair removal treatments, Dr Lim is using a new machine from
Lumenis
..
LightSheer Duet
! Lumenis is the world's largest medical laser company. They are a global developer, manufacturer and distributor of laser and light-based devices for surgical, aesthetic and ophthalmic applications. Lumenis endeavours to bring the finest state of the art technology products to the market, fulfilling the highest standards of excellence, quality and reliability as well as delivering premium value and services to its customers. To know more about
Lumenis
, read more about them
HERE!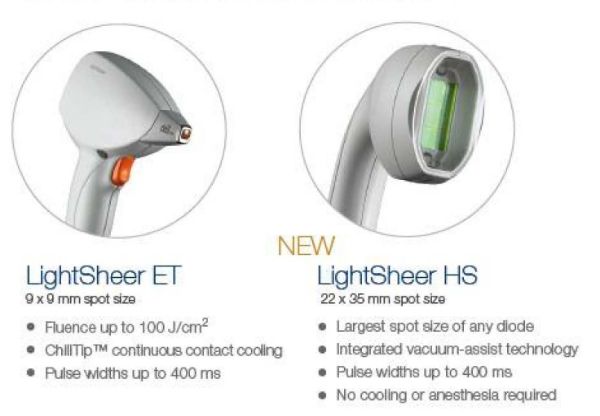 LightSheer Duet comes in two hand-pieces ET and HS. The larger HS hand-piece offers the one of the industry's largest hair removal diode lasers, with its spot size measuring 22 mm x 35 mm. A larger spot size means a greater depth of penetration, which allows improved absorption of energy at the hair follicle. The smaller hand-piece, ET incorporated the Sapphire Cool technology: a square sapphire tip that cools before, during and after pulses to minimize discomfort. Unlike most other IPL treatments, there is no need for any application of a numbing gel when LightSheer Duet is used. No more cold, messy, gooey numbing gel applied all over us only to be awkwardly wiped away after each treatment.
LightSheer Duet uses the vacuum assist technology to gently pull and stretch the skin before applying the laser energy. In so doing, the hair follicle is pulled to the surface, allowing for even better and smoother extraction. This technique significantly reduces the amount of hair removal time needed! Personally experiencing this made me realize the major difference from the IPL treatments I had experienced in Aussie. It was definitely a shock when I first felt my skin being "sucked" by the vacuum as compared to the normal zapping from IPL, but with a good clean shave before the session, I felt little to no pain at all! Eyebrow plucking actually hurts more ok… Not to mention, the whole ordeal was completed within 1-2 minutes; fuss-free and painless!
It took me a month to blog about it as I wanted to see how effective it actually is before reviewing it. Afterall, the previous bikini IPL I did in Aussie didn't have much effect.. maximum of 10% hair-free after 6 treatments? I am however please to announce that with just one session, at least 30% of my "lawn" has not grown back as of yet! Can't wait to go back for more sessions 😀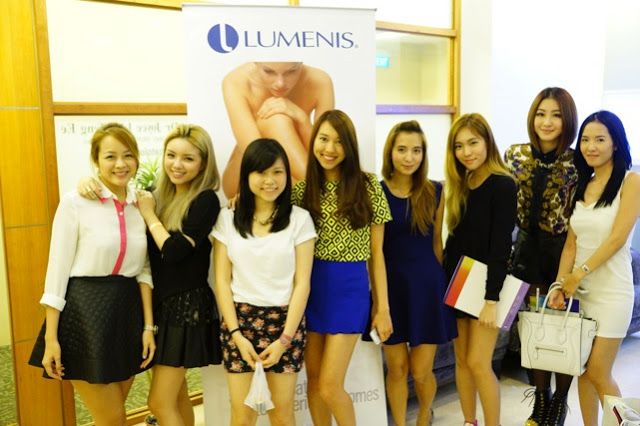 All the gorgeous bloggers who attended the event. Gosh, I felt so under-dressed standing next to them!

♥ ♥ ♥

P.S Specially for my dearest readers, you can now experience your first trial session at only $150! (Usual price at $680 per session!)
If like me, you are pleased with your first session, the remaining 5 treatments will only cost
$2350
in total; as it usually takes about a total of 6 sessions to be completely hair free. Nonetheless, I would sincerely recommend you to go for the trial session just so you can get to experience the difference first hand and be as impressed as I am 😉 Simply quote my blog and jump on the bandwagon today!