I love how LHI gives me a different colored cosmetic pouch in my beauty box every month.. it makes the unwrapping process extra special! Totally love this month's pouch in tangerine, it kinda temporarily replaced the tangerine Tory Burch cosmetic I was eyeing at.. lol!
Apologies for the poor quality snapshot of the this month's product as my room is quite a mess after my previous ransacking of my apartment for all things necessary for the application of graduate visa 🙂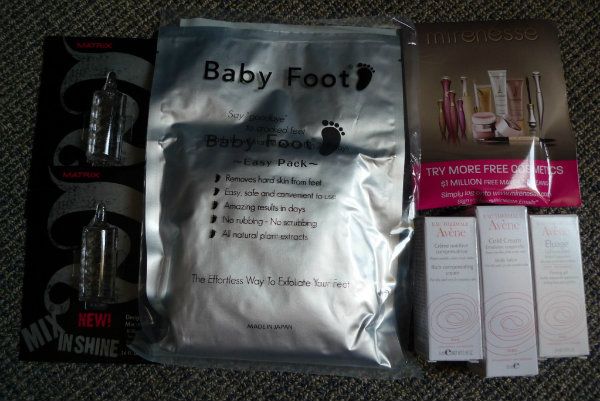 Compared to Bellabox's back to basics theme, I obviously much prefer LHI's luxe and luscious products in my beauty box this month! Had been reading a few reviews of this month's LHI [there's 2 different theme I reckon?] and I am so lucky to be receiving the very one I really wanted. Here are the product details…
Baby Foot
I am one of those peeps who are guilty of mistreating and neglecting my feet so I must admit that I am very grateful to still be having a smooth feet that doesn't cracks in this dry climate especially. Nonetheless, I was still heaps excited to received this product designed to remove dead skin cells by peeling within 2 days to 3 weeks. Hoping to hopefully remove the unsightly blisters from my poor quality shoes? *fingers crossed*
Matric Mix in Shine x2
Ever since I bleached my hair, it had became all tangled up should I fail to apply serum on a daily basis. Had been diligently using up all the hair product samples from various beauty boxes to decide which does the trick.. so I am definitely pleased to be receiving this!
Mireness Velvet Lip Lift Moisture Shine
Hurray to more pinkish nude lip gloss.. I reckon I have 5 nude, 2 clear and 1 red lip gloss to date. This has micro collagen for instant lip plumping so I am thrilled to give it a go~
Avene Eluage Firming Gel
The only thing I dislike about LHI is the constant Avene samples I receive almost every month. Not really a fan of them cuz the samples are mainly for mature ladies and this upcoming trio Avene samples is one of them. Firming gel to reduce deep furrows and wrinkles.. I reckon my mom will appreciate this sample treat when she flies over in Sept.
Avene Rich Compensating Cream
Meant for dry and very dry sensitive skin containing vitamins E & C.
Avene Cold Cream
Body lotion for dry and very dry sensitive skin.. I reckon I shall try this for my eczema affected areas and see whether it works as well as my Jurlique's calendula cream? 🙂