Essential beauty buys is this month's theme and as much as I try not to be picky, I can't help but feel heaps disappointed in this bumper box. They are mainly low end beauty products that can be easily obtainable in places like Priceline or even supermarkets like Woolies and Coles. Basically products that I wouldn't even think of purchasing if I can help it. I got further disappointed when I compared my beautybox to my Singaporean counterparts who received goodies such as SK II, Jimmy Choo etc I want decent luxurious samples like those instead!! 🙁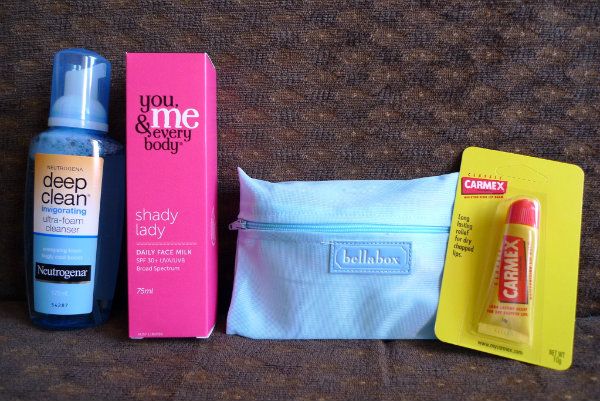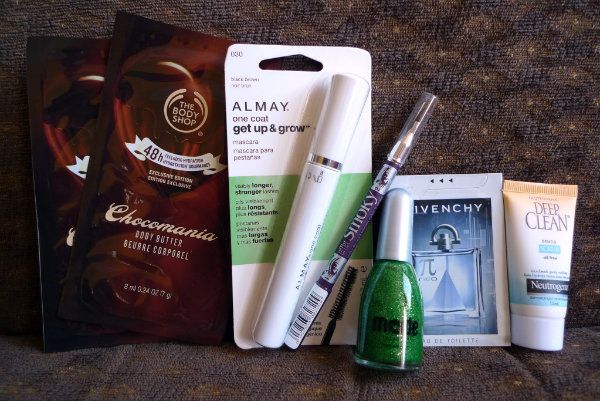 Nonetheless, here are the product details..
You, Me & Everybody Shady Lady Daily Face Milk
I reckon this is the only product I adore the most in this beauty box just cuz I am a sucker for its packaging. Hees. Skin-quenching 30 SPF sunblock that is not at all greasy.. I like!
Carmex Moisturising Lip Balm
Lost count on the amount of lipbalms and lipgloss I'd received from beauty boxes so this is no surprise. I am not a fan of Carmex but my bf, however, loves them to death! It was to the extent of him constantly applying and moisturising his lips faithfully whenever they feel dry without the need of me to constantly remind him to! So lucky for him to have another spare one for keeps 🙂
Neutrogena Deep Clean Foaming Cleanser
I remember using Neutrogena's foaming cleanser when I had acne few years back but it was of not help, so the last thing I would like to be receiving is something from them. This is said to deeply cleans pores with a tingy cool boost. Still wondering whether to keep them for a rainy day or to give it away? I also recieved a sample size of Neutrogena gentle scrub, shall keep it for my next getaway tho!
Bourjois Smoking Pencil in 72 Dark Purple
This seemed really interested and I was heaps excited to try it out only to realize it doesn't makes much difference. Supposedly soft and easy-to-blend tip with an ultra-soft brush to perfectly smudges the formula.. I'd own better eye pencils that are softer and heaps easier to blend than this; this just feel like a pencil being lightly soften by the brush thats all.
Mode Glitter Nail Enamel in Vicious Venom
Yet another "cheap" product in a row. I avoid cheap nail polishes due to their likelihood to stain my nails from past experience. I got it in green glitter and although I am no fan of green shades on my nails, I love how it glides smoothly with a good solid glitter coverage. Two coats is more than enough to do the trick 🙂
Almay Get Up and Grow Mascara
This anti-breakage pro-vitamin formula defends against lash damage and help them to grow to their longest. Although it is easily available at Priceline, I am indeed intrigued to try them out; even though I'd already owned an awesome one from Urban Decay thanks to my boy.. [too precious to constantly use it, lol]
The Body Shop Chocomania Body Butter
I'd received this sample from Bellabox in Feb before and although I dislike receiving samples in sachets, I absolutely adore this hazelnut scent! I'd always been an avid fan of TBS's body butter as they are the only ones that does the job in keeping my skin well moisturized and smelly absolutely yumilicious!
Givenchy Pi Neo
A masculine for the man in my life to promote their Mr. Bellabox for Men. 🙂