I can't even count the number of times I left home, tottering in my high heels only to return home and change to flats 5 mins later.. or to end up taking a cab everywhere I went.. yes, I basically suck in heels but how can I resist them when I am so petite?! This is where Flipsters come in. I first know about Flipsters when I was flipping through magazines few years ago and they had since gone viral. The genius idea of being able to fold up flip-flops or flats into uber small size was irresistible. Thus, I decided on buying a pair of Flipsters flats in beige for AUD46.95 inclusive of shipping and waited patiently for its grant arrival.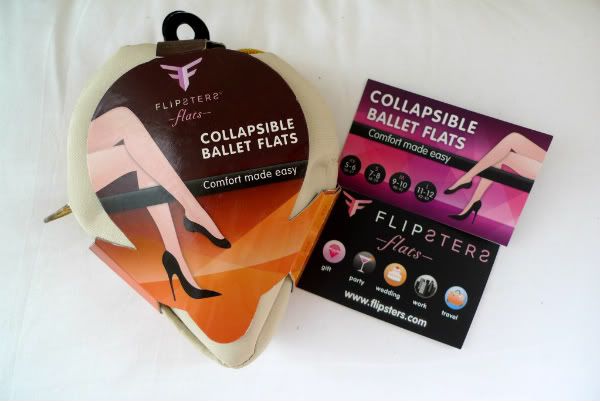 Finally arrived!
I was pretty disappointed at how dusty it was and half of the zip tag was rusty. "Must have been kept in storage for a really long time eh?" was my first thought..

After some cleaning up..

How foldable the flats really are.

Kinda hesistant on how it looks on me :/
To be really honest, I am kind of disappointed at this purchase. For the price paid, I could get a pair of shoes that I really love and flatters me. Despite it fitting true to my feet [kinda tight on my big toe in fact], it looks really wrinkly and over-sized as though it is ill-fitted instead. I reckon I wouldn't have been disappointed if I had gotten black or flip-flops instead since it wouldn't be as obvious as this. I would still save this for a rainy day in my bag, afterall I did pay quite abit for this, but you wouldn't see me ever wearing it on a regular basis.. Just a penny of my thoughts 🙂