Yay! Today marks the beginning of mid-sem break and the handing in of AT assg 🙂 Past two days of blowing my top over one incompetent teammate that ultimately resulted in Vivienne and I burning the mid-night oil to redo the China imbecile's part, boy were we glad that it is finally over~~ The thought of it still makes me heaps pissed. Nonetheless, decided to pamper myself today with comfort food… I reckon I went overenthusiastic with the wine.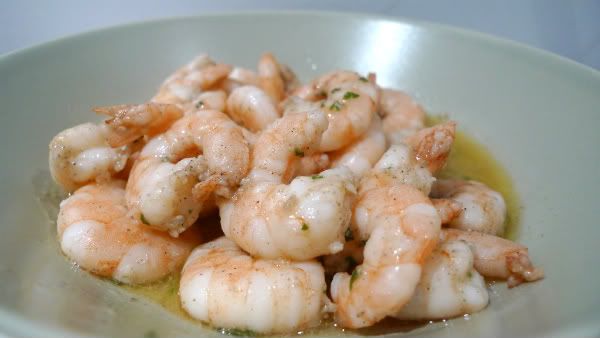 Ingredients
60ml olive oil
4 garlic cloves, crushed
1kg medium green prawns, peeled and deveined
60ml dry white wine
1/3 cup coarsely chopped fresh parsley
Salt & pepper
Heat oil in a frying pan over medium-high heat. Add garlic and cook, stirring, for 1 minute or until aromatic. Add prawns and cook, stirring, for 5 minutes or until prawns curl and change colour.
Add wine and bring to the boil. Cook for 1 minute or until sauce thickens. Remove from heat. Add parsley and stir to combine. Season with salt and pepper.